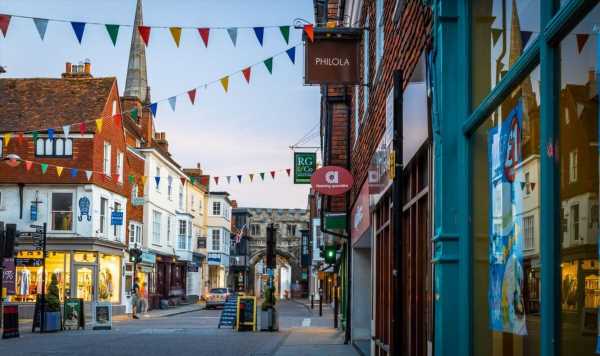 For many people the city of Salisbury conjures one main thought – and that's the tragic poisonings that rocked the UK in 2018.
Now the subject of a major BBC drama, the events that unfolded were shocking, with former Russian double agent Sergei Skripal and his daughter Yulia poisoned by nerve agent Novichok.
Police officer Nick Bailey along with two members of the public, Charlie Rowley and Dawn Sturgess, were also poisoned. Dawn – a 44-year-old mother of three – later died.
But despite the horrifying events that unfolded, the stunning location still regularly grabs acclaim for being a top place to live – including regular rankings in best place to live lists – and grabbing the Sunday Times title overall in 2019.
This year Salisbury has also been crowned as the best place to live in Wiltshire by Muddy Stillettos.
READ MORE: Locals outraged as 'absurd' council bans hanging flower baskets
Lifestyle blogger Muddy Stilettos wrote: "As Salisbury has a cathedral, it's a city – one full of medieval splendour, windy streets, gothic architecture, a large market square that plays host to festivals and markets, a cluster of funky independent shops and restaurants and a racecourse.
"Plus it's only a few short miles from the ultimate heritage attraction, Stonehenge – so when you're bored of shopping, eating and drinking you can hot-foot it there and commune with your inner druid."
House prices don't come cheap in the tiny city which has a population of just over 40,000 people.
The average house price in Salisbury is £338,512 according to Rightmove which is significantly higher than the UK average of £288,000.
Not only is it popular with those looking for somewhere to settle down – it's also renowned for its tourist attractions, being a stone's throw away from the world famous Stonehenge.
Don't miss…
Salisbury poisoning victim wants to sue Russia[INSIGHT]
Toddler drowned on family trip after being left alone for a minute[REPORT]
Warning as raging fire at military site sends smoke billowing – fea…[LATEST]
We use your sign-up to provide content in ways you've consented to and to improve our understanding of you. This may include adverts from us and 3rd parties based on our understanding. You can unsubscribe at any time. More info
It's also home to a breathtaking cathedral with Britain's tallest spire and an original 1215 Magna Carta, which is the best-preserved copy in existence.
The cathedral houses a 14th century clock – the oldest working mechanical clock in the world.
Tripadvisor users waxed lyrical about their visit to the cathedral on the site.
One said: "The cathedral is amazing.
"If you're in the area (Stonehenge) do yourself a favour and spend some time here."
Another user agreed saying: "Salisbury Cathedral is a gem.
"The Magna Carta room is very interesting.
"The people that work there are pleasant and so knowledgeable."
Source: Read Full Article