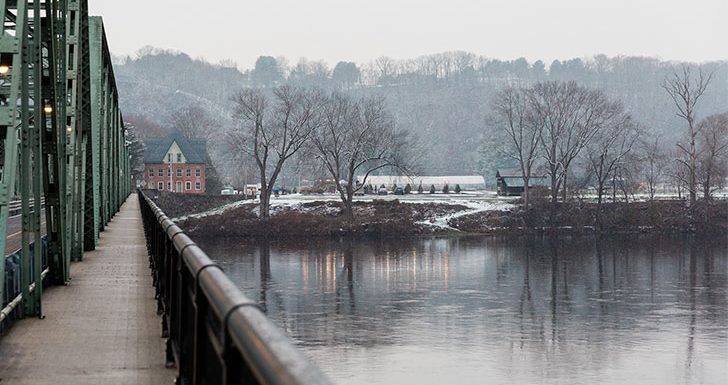 In the words of the late, great Anthony Bourdain, "To know Jersey is to love her." The state might often get a bad rap, thanks to those funky smells right along the Turnpike near Newark Airport, but once you start to explore The Garden State, you'll discover hidden treasures guaranteed to impress even the most discerning New Yorkers. Take, for example, the adorable towns on this list, which are ripe for exploration via a New York City day trip, overnight, or weekend. And, as many New Yorkers tend to do, you never know—you might end up graduating and making one of them your permanent residence one day, too. Here are 12 small towns in New Jersey that are worth checking out.
COVID-19 Update: As of press time, the below mentioned shops are operating and indoor dining is still fair game in New Jersey. Stay smart, mask up, keep your distance, and adhere to local town guidelines when you do visit.
RELATED: Your Next Weekend Escape: Princeton, NJ

© Laura Billingham


Image credit: Laura Billingham
1. Frenchtown, NJ
The French always seem to do it right. Early speakers of the love language were the influence for this town's name, and probably its spirit, too. Today, it includes a small downtown of fun bobo (that's boho chic to you and me) shops, including a gemstone gallery, a petrified wood gallery, art galleries and gift shops, plus a dedicated men's store that carries everything from glassware to vintage threads to cowboy boots. There's also a shop solely dedicated to the zodiac with tarot card readings—naturally—and a handful of tiny juice and coffee shops, including one that's dedicated to coffee and chocolate. Our must-visit, though, is Frenchtown Pottery, where you will score high-quality local, handmade bowls and plates.
Nestled on the banks of the Delaware River, Frenchtown's Warren truss-style bridge is a destination in its own right, and while we technically can't advise you to wait for the two way traffic to clear before snapping the perfect pic in front of it, you wouldn't be alone if you tried.
Where to stay: While it's not right downtown, The Carriage House is a good value choice, highly Instagrammable, and has a lovely patio view of a pond which is ideal in the warmer months.

© Middlesex County Regional Chamber of Commerce


Image credit: Middlesex County Regional Chamber of Commerce
2. Cranbury, NJ
With quiet cobblestoned sidewalks, a handsome brick-facade town hall, and the historic Cranbury Inn—which has been operational in some form since the 1750s—it's easy to see why visitors are completely spellbound by this charming Central New Jersey town. If you're partial to the outdoors, there's also a very idyllic nature preserve, Plainsboro Nature Preserve, within quick driving distance.
But there's nothing sleepy about Cranbury—just wait 'till you hear about its annual Cranbury Day, a yearly celebration taking place the Saturday after Labor Day which features live music, local vendors and crafters as well an annual duck race (!).
Where to stay: Pet-friendly modern rooms, an indoor pool and an outdoor fit pit make Townplace Suites by Marriott Cranbury South Brunswick a fine choice, and with rates currently under $100 per night, how could you go wrong?
A post shared by MONTCLAIR NOW • Montclair, NJ (@montclair.newjersey)
Lots of people will try to tell you Montclair is "the Brooklyn" of New Jersey (ditto for nearby Maplewood). And they wouldn't be wrong about it, as you can totally see a Carroll Gardens vibe all around you. Decidedly more suburban in nature, the townhouses surrounding Smith Street are a mix of well-manicured and seriously grand old homes. The town, which notably lent its high school as a filming location for Mean Girls, boasts a great farmer's market on Saturday and has a few walkable shopping districts to grab whatever your heart desires. This year, Montclair will also welcome an arts complex near the Wellmont Theater featuring plenty of outdoor space for performances and public art. That's on top of an already established arts community that includes live theater and galleries. Restaurants, movie theaters, shops and—during non-pandemic times—nightlife are other major draws. Pro tip: Don't leave without trying a meal at French Lebanese restaurant Uncle Momo, which has another outpost in Jersey City.
Where to stay: Those who get down with staying in a private room can do so on the cheap in a truly stunning, 7,000 square foot house, complete with plush rugs and bedding, a cozy fireplace, an attractive chandelier and ensuite bathroom. If you're looking for an extra plush splurge, makeup mogul Bobbi Brown's hotel venture, The George, is also available in town. It's a decor lover's dream, and since they're limiting occupancy to help fight the spread of COVID-19, you'll feel like you have the place to yourself.

© Morris County Tourism Bureau


Image credit: Morris County Tourism Bureau
4. Madison, NJ
Any town nicknamed "The Rose City" (more on that below) that boasts a Shakespeare Theater should instantly pique your interest. Said theater is located on the campus of Drew University, and while you can't take in a show there at the moment, you can catch a glimpse of it on a walk around the classic college campus that appears straight out of a film—and indeed, has been featured in them many times.
In Madison, a recognizable freestanding clock stands at the center of a charming downtown filled with gift and decor shops, a bookstore, a consignment shop, and an adorable coffee shop located in an old motor garage. Today, The Snooki Shop also has a home here as the brick and mortar embodiment of the star's online shop, but that doesn't mean this place is stereotypically Jersey in any way, shape or form. In fact, long before the Jersey Shore invaded this affluent community, wealthy New Yorkers built country estates here and looked to fill them with flowers. It increased demand so much that the area was home to many greenhouses and at the turn of the century, became internationally known for its roses, gaining its aforementioned nickname.
Where to stay: A New Jersey Transit train stop is a stone's throw from almost all that Madison has to offer, but if you do decide to overnight, the contemporary and cool Archer Hotel in neighboring Florham Park is your best bet.

© Palmer Square


Image credit: Palmer Square
5. Princeton, NJ
Gallery: The most beautiful cabins across America (Cheapism)
Easily accessible by train from Penn Station, Princeton is a crown jewel amongst all charming towns everywhere and worth making a weekend trip out of in order to take everything in. The Ivy League school of the same name brings folks from all over the world, and as a result, this town is blessed with great shopping, arts, entertainment, food, museums, orchards and wineries—and the list goes on. In normal times, a student-led walking tour of the university's campus or a stop at its gorgeous chapel would be a must, but for now, you should probably just admire the stunning Gothic architecture from afar.
Spend your time instead with a mask on, exploring the small businesses in and around the town's picturesque main square, Palmer Square. They include a fine foods store, Olsson's; an old-timey record store, Princeton Record Exchange; and a fantastic bookstore worth getting lost in, Labyrinth Books, all of which are currently open but on limited hours. Or, you could support the town's bookstore dedicated to mystery books, aptly named The Cloak and Dagger, by virtual means.
Where to stay: This polished two-bed Airbnb is steps from it all and has a dedicated desk space in case you're looking to get some work done during an extended stay in an intellectual's paradise. The Peacock Inn, one of the town's long-standing gastronomic treasures, doubles as a luxe boutique hotel, too.

© John Bohnel


Image credit: John Bohnel
6. Clinton, NJ
Clinton will charm your pants off. The Red Mill is a focal point and will quickly make its appearance on your social channels when you visit. Operating as a village museum, due to COVID-19 restrictions, you can currently walk around but not go inside all of its historical buildings, which include an old schoolhouse, blacksmith shop, and log cabin. Less than 90 minutes outside NYC, Clinton's tiny downtown will transport you to a small, country village with shops and eateries that will interest selective city slickers. Heartstrings, a jewelry, home decor and gift shop will not disappoint, nor will Fourchette, which sells everything from fine foods and beauty products to garden tools and rugs.
Where to stay: This part of New Jersey surrounding Clinton is known for its fancy pants homes, like this luxe Mediterranean-style villa.

© Monmouth County Government


Image credit: Monmouth County Government
7. Spring Lake, NJ
What's not to love about a Jersey beach town? As some NJ license plates proudly proclaim, they're "Shore to Please". But packed boardwalks, funnel cakes, and amusement rides are a far cry from what you'll find in Spring Lake, which if you ask anyone from New Jersey, seems to have a particular cachet. More Newport in nature than Seaside Heights, it's easy to enjoy a day in town just gawking at its real estate (and subsequently Zillow-ing and crying). The well-groomed beaches are a draw in any season that's not winter, especially for their quieter and more relaxing vibes come prime season. The picturesque downtown keeps visitors coming back regardless of temps, with boutiques, candy stores and a beautiful adjacent park with walking paths.
Where to stay: Home to many B&Bs and the grand dame hotel Breakers on the Ocean that's popular for weddings, we'll make your choice easy and narrow it down to just three: The Ocean House Bed & Breakfast, Chateau Inn and Suites, and The Hewitt Wellington each charm in a unique way.

© Monmouth County Government


Image credit: Monmouth County Government
8. Red Bank, NJ
Without even stepping out of the car or the adorable green-painted train stop in this town, it's immediately obvious that Red Bank oozes cool. It's adorable, for sure, but it's the mix and energy of this downtown that sets it apart from others. And that diversity can be seen in the shopping scene: Everything from a Cos Bar to a quality cheese shop to Jay & Silent Bob's Secret Stash—aka Kevin Smith's famed comic book store featured on AMC's Comic Book Men—can be found in the town. For those looking for a splurge, there's a luxury consignment shop with coveted brands, finer decor stores including a West Elm, and even a Tiffany & Co to indulge yourself. Loads of dining options, art galleries, and theaters and music venues keep this town's heart throbbing as well.
Where to stay: Red Bank's proximity to the shore gives it a leg up on accommodation options. There's the classic and historic Molly Pitcher Inn steps from downtown, as well as this luxurious, pitch-roofed and picture-perfect Airbnb to spread out in. Those looking for something ultra-modern, sleek and sophisticated will find it at Wave Resort, a short drive away in neighboring Long Branch.

© Tim Stolzenberger


Image credit: Tim Stolzenberger
9. Allentown, NJ
The Old Mill is a draw in this small town that's retained its country charm, and is lined with Victorian homes, plus a handful of shops and restaurants. Inside the original grist mill, which was powered by a waterwheel and first built in 1706, visitors will find The Moth, a friendly coffee shop overlooking the town's lake with primo blends and café concoctions, delicious vegan-friendly sandwiches, cakes and other devilishly good pastries. Upstairs and in and around the mill, you'll find shops from local artisans, of which items for sale are hand-made or vintage. A long-standing florist, art and pottery studio meets gift shop, Bloomers N Things, is another draw right in the town, but we also suggest visiting its bucolic outskirts. Here, you'll find The Horse Park of New Jersey; the Ashford Estate, a breathtaking and popular wedding venue; and, Screamin' Hill Brewery, where a family farm meets a brewery and you can reserve a "crop circle" and enjoy craft beers in a socially-distanced way.
Where to stay: Just a short drive away, a late 19th-century farmhouse with a wood-burning stove and vineyard views awaits you. Enough said.

© Richard T. Nowitz/Getty Images


Image credit: Richard T. Nowitz/Getty Images
10. Cape May, NJ
A bus from Port Authority can get you to Cape May, or you can arrive at the very Southern tip of New Jersey by car, which will take you 3 to 4 hours depending on traffic. It'll be worth it, though. The town is true seashore Americana at its finest and filled with gawk-worthy architecture and small pleasures at every turn. In the summer season, the beach is a must, with our personal favorite being the chill Sunset Beach slightly outside of the hustle and bustle of town. (Don't fret—it's still a relaxed beach town.) Highlights in and around Cape May include the Washington Street Mall, a pedestrian-friendly shopping district, the Cape May lighthouse and surrounding nature trails, or a leisurely dinner on the porch at either Ebbitt Room or Peter Shields Inn, plus touring the historical and well-preserved Emlen Physick Estate.
Observing all CDC and state health guidelines, the Zero Jazz Festival looks to dance into town April 23 to 25 this year—and we'll be honest, it's nice to have something like that to look forward to.
Where to stay: For the unique experience alone, we're partial to Beach Plum Farm, a working farm, market, and place you can stay if you're lucky enough to snag one of their adorable cottages.

© photovs/Getty Images


Image credit: photovs/Getty Images
11. Lambertville, NJ
The antiques capital of New Jersey, this is where you come if you're looking to procure an amazing second-hand piece of furniture, knick-knack or talisman. It's also a major art outpost, with galleries hugging its main thoroughfare, Bridge Street, and many walkable side streets. Like Frenchtown, Lambertville is a river town and has an adorable bridge which many people walk over and take pictures on, eventually ending up on the other side in New Hope, PA—also packed with a considerable amount of art, boutique shopping, and delicious food. Three of our favorite stops in town, even if you're just window shopping: Antique's Center at the People's Store, Pirela Atelier and Gallery Piquel. For good eats, look no further than D'floret, which could give some big city restaurants a run for their money.
Where to stay: This well-priced vacation rental with a "secret garden" has all the creature comforts. For even more charm, this converted 19th-century firehouse is the pick—but move fast because it books up quickly.
A post shared by City of Hoboken (@hobokennj)
With rapid access to downtown and midtown Manhattan (less than 10 minutes on the PATH train), many New Yorkers already consider Hoboken the "sixth borough" of NYC, and the city's cosmopolitan nature has certainly rubbed off here. But Frank Sinatra's hometown also holds onto its own unique identity and history, and is brimming with charming architecture, shops, eateries, and parks blessed with stunning views of Manhattan's twinkling skyline. One of our favorite (and free!) things to do, though: Take a walk down Hudson Street past some of the town's sparkliest West Village-like brownstones, many of which are worthy of a double take.
Dubbed the Mile Square City, thanks to its small footprint at about one square mile, you'll find crowd pleasers like an Artichoke Basile's and a (coming soon) Shake Shack in Hoboken, but you should focus your time at the delish Karma Kafe for well-priced and top-quality Indian grub, Barbès for French with a Moroccan twist, Apulia for wood burning oven pies and Italian, and Elysian Cafe for the dreamy ambiance. Hoboken is also home to many noteworthy small businesses, like the newly opened Unjumbold, a home and lifestyle store which features products from women, LGBTQ and black-owned companies; Little City Books, an independent book shop that encourages you to bring your pup inside; Galatea, a shop dedicated to lingerie and loungewear; and Washington General Store, which carries a large variety of gifts suited for any personality.
Where to stay: Should you decide the PATH ride back to the city is just too strenuous, W Hoboken can provide ample respite and the views are *seriously* unreal.
RELATED: The 16 Most Charming Small Towns in New York
Source: Read Full Article