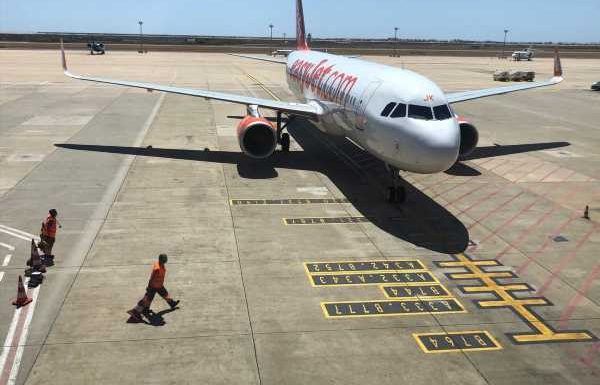 AFP via Getty Images
A brief history of quarantine?
The home secretary has told Parliament: "From January 2020, the government have had a comprehensive strategy for public health measures at the border."
Early in 2020, the UK imposed quarantine measures aimed at preventing the spread of the virus from known hotspots including China, Iran and northern Italy. On 13 March 2020 these measures ended.
The government said there was no point in continuing to insist on self-isolation because coronavirus was widespread in the UK.
Two days later, Australia's prime minister, Scott Morrison, imposed two weeks of self-isolation on arrivals from all countries. By the end of March, the law had been strengthened to make "hotel quarantine" mandatory. The measure was announced on 27 March and took effect the next day.
Three months later, on 8 June 2020, the UK government made a U-turn, going from no quarantine to quarantine from everywhere, with 14 days of self-isolation required.
A month after that, the concept of "travel corridors" took effect, allowing journeys from most European countries without self-isolation. But by late July Spain had lost exemption, and in the months since then most popular destinations have also had quarantine-free status removed.
In December, the time required for quarantine was reduced from 14 to 10 days, and in England "test to release" was brought in – allowing self-isolation to be halved for those who received a negative test result on day five.
On 18 January 2021, all quarantine exemptions were removed.
Surely no one should be travelling out from the UK?
Under current lockdown rules, no leisure travel is allowed for anyone living in the UK. 
Under proposed new measures, airlines, ferry firms and train operators will have to ask passengers departing from the UK the purpose of their journey – and turn away people who don't appear to qualify for going abroad (eg work, education, medical treatment and essential family reasons).
Clive Wratten, chief executive of the Business Travel Association, said: "Placing the burden of proof for the validity of travel onto international carriers is an untenable situation for companies and staff that are already at breaking point."
So who is coming home?
Many UK citizens and residents are currently abroad for legitimate reasons and will return home in due course.
Some of the people who are coming in now will have left the country before the third lockdown started in January and have been on long-stay trips – whether holidays or staying with family or partners they had not seen for months.
People who have been staying in a second property abroad are at liberty to return.
Some arrivals are travelling home to the UK for compassionate reasons, for example if a member of their family is dangerously ill.
A few "lost souls" are still returning to their families and homes in the UK after spending time abroad – often prolonged by lockdown measures in the location in which they were staying.
There are also some people from Commonwealth countries coming in on ancestry visas (on the basis that one grandparent was born in the UK) and family visas.
Business travel is continuing, mainly comprising professionals working in specialist fields such as medicine, media or the oil industry, or people attending job interviews. 
Some business leaders running multinational concerns are travelling, but there are very few executives visiting customers or suppliers.
Source: Read Full Article