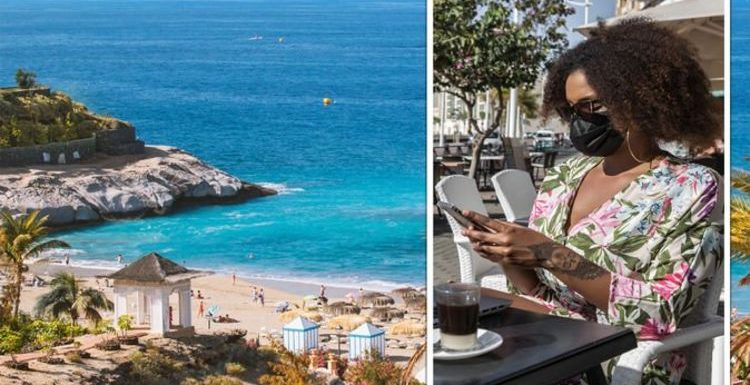 Hotel Benidorm: Staff say some Brits visit five times a year
We use your sign-up to provide content in ways you've consented to and to improve our understanding of you. This may include adverts from us and 3rd parties based on our understanding. You can unsubscribe at any time. More info
The Canary Islands in Spain are one of the UK's top winter holiday destinations. The regional Government announced it would scrap the Covid passport today.
According to a Canary Islands Government spokesperson the Covid passport will no longer be mandatory in the holiday islands.
A spokesperson said that despite ongoing hospital pressure on some of the islands, Covid cases were declining.
He said: "The situation allows us to soften some of the measures, but not to disarm us. There are areas in which it is possible.
"For this reason, we are removing the obligation to request or present the Covid certificate."
However, although mandatory use of the Covid certificate is being abolished, the Government wants to allow some businesses to use it.
This means that tourists and residents could still be required to show the Covid passport to enter hospitality establishments.
The regional Government would leave it up to individual businesses to decide whether to enforce the pass.
The Covid certificate requires users to be fully vaccinated, have a negative test result or be recently recovered.
The island of La Palma will also be under less restrictions soon as it will drop to Covid alert level three.
Gran Canaria and Tenerife are staying at alert level four while the rest of the islands remain at three.
The regional Government is also loosening restrictions on closing curfews for bars and restaurants in the Canaries.
Bars and restaurants on islands at level three will now be able to close at the later hour of 2am.
However, hospitality venues in Tenerife and Gran Canaria must still close their doors at midnight.
Bars and restaurants on islands at level two restrictions will be allowed to close at three am while level one venues can close at four.
Face masks are mandatory throughout Spain and must be worn both indoors and outdoors.
The Spanish Government voted to keep masks mandatory outdoors in a vote held on February 1.
British tourists must be fully vaccinated to travel to Spain and must have had a booster if their second jab was more than 270 days ago.
Until February 11, Britons will need to take a lateral flow test on or before day two after arrival in the UK.
British tourists should check the UK Government website for the latest information as restrictions can change rapidly.
Data has shown that Tenerife is one of the most popular destinations for Britons looking to get away on holiday in 2022.
Source: Read Full Article