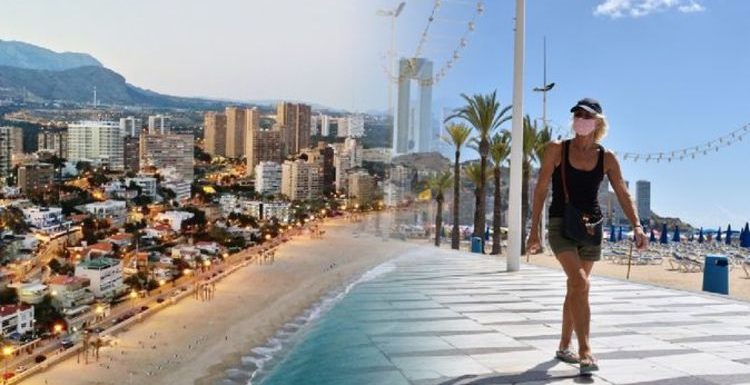 Spain votes in favour of temporary Brexit mitigating measures
Benidorm attracts an average of five million tourists every year thanks to its array of budget-friendly hotels and elaborate entertainment offering. Of these, approximately 42 percent of its tourist foot traffic comes from Britons.
However, in a recent survey conducted by Express.co.uk, 82 percent of readers said they "do not want" to visit Benidorm in the future.
Instead, it seems many hopeful holidaymakers are keen to explore other parts of Spain, as well as taking travels further afield.
One reader cited the UK's recent departure from the EU as another reason why they were switching up their holiday plans.
They wrote: "I for one haven't been back to Spain since we decided to leave the EU. The EU's attitude towards the UK is so hostile it beggars belief that anyone from the UK who DOESN'T need to go to Spain/France/Germany/ETC would ever go there again.
We will use your email address only for sending you newsletters. Please see our Privacy Notice for details of your data protection rights.
"I shall be going to Australia or New Zealand or Africa or even Asia, Not keen on the US at the moment but that may change and the same with South America.
"Enjoy the WORLD and not just mainstream Europe."
One holidaymaker described Benidorm as a "dump", while others pointed to alternative areas of Spain which provide "friendlier" holiday experiences.
In particular, southwestern Spain was described as "lovely".
DON'T MISS
Ex BA cabin crew shares why fliers must keep shoes on during flights [INSIDER]
Flights: British Airways, TUI, easyJet, Ryanair & Jet2 latest updates [UPDATES]
Holidays: France, Italy, Spain, Greece & Portugal FCDO travel advice [TRAVEL ADVICE]
"Jerez de la Frontera is a lovely place. The people there are much friendlier," the Express reader claimed.
"It is also the 'Cuna de Flamenco', the home of Sherry, the Vienna School of Horse-riding and Formula 1 racing and has its own large Moorish castle – if that is your thing.
"So, don't write off all of Spain. However, with a hostile EU one cannot blame the Brits for going elsewhere.
"Who wants to be hassled and harangued on their hard-earned holidays? No one.
"Loss for Spain and the EU, gain for the rest of the world and the Brits."
Indeed, other destinations appear to have increased in popularity for those who have ventured away from their normal holidays to Spain.
"On a whim, we went to Portugal last time instead of our usual annual Spain holiday," said one holidaymaker.
"We couldn't believe how much more friendly and welcoming the Portuguese were in comparison, and how much more bang for our buck we got.
"We're definitely out of the habit now and our eyes have been opened. Croatia is next on the list. I doubt we'll go to Spain again, to be honest."
Another said: "I have never been to mainland Spain. Prefer Tenerife where it is warm all year round. More and more people travel further afield and to more exotic places for main holidays.
"Spain is ideal for long weekend breaks. Menorca was a nice family orientated island in the 1980s."
However, there were those who defended Benidorm, highlighting some of the region's lesser-known culture.
"Half of Benidorm is a dump, the Old Town is actually very nice and plenty of Spanish culture be had," explained one advocate for the holiday resort.
"Benidorm is almost like two towns in one. You could go and stay in the very nice Old Town and have no reason to venture into the New Town.
"Just goes to show, you're never too old to open your mind and learn something new."
They added: "For some reason, the British media has had a fascination with only ever showing the New Town of Benidorm.
"Very rarely is the more upmarket and cultural Old Town shown."
Source: Read Full Article