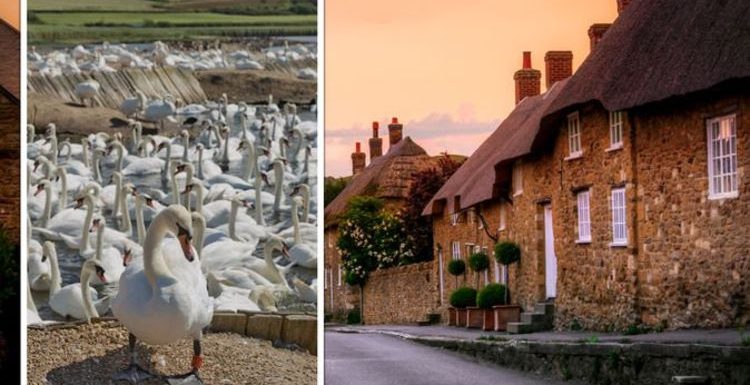 David Attenborough reveals where the Jurassic Coast is
We use your sign-up to provide content in ways you've consented to and to improve our understanding of you. This may include adverts from us and 3rd parties based on our understanding. You can unsubscribe at any time. More info
Britons looking for a UK holiday in Dorset would be hard pressed to find better than one beautiful village which has been named one of the prettiest in the country. With plenty of history, nature and popular attractions, this Jurassic Coast destination could be the perfect getaway for Britons this autumn.
Abbotsbury in Dorset is a small historic village.
Sheltered by the Ridgeway Hills, Abbotsbury enjoys a warm micro-climate and is a great place to holiday.
The history of the village dates back some 6,000 years, and there is plenty of history to discover in and around Abbotsbury.
The Jurassic Coast is extremely popular with holidaymakers.
A World Heritage Site, it provides many beautiful vistas and coastal attractions.
READ MORE: Some of the UK's best attractions are now £25 off this autumn
From Abbotsbury, visitors can walk the Jurassic Coast Path.
Other notable walks include the Hardy Way, which will give Britons a chance to explore the Wessex of author and poet Thomas Hardy.
The ancient track of the Ridgeway Path has been described as Britain's oldest road, and it's also easily accessible from the village.
Abbotsbury is also perfectly located above Chesil Beach, and the view from the coast road above the village has even been named Britain's third best view by Country Life Magazine.
The beach is a great fishing spot, with West Bexington the most popular location.
The village of Abbotsbury is home to two of the county's most popular attractions.
The Swannery is the only place in the world where visitors can walk through a colony of nesting mute swans.
On Tripadvisor, Adrian said: "Stunning spectacle.
"Beautiful, peaceful setting and a truly amazing spectacle of not just hundreds of beautiful swans but so many other lovely birds as well.
"We were so impressed we returned the following day and enjoyed it just as much."
The Subtropical Gardens are a nature-lover's haven.
Visitors can see many exotic and unusual flowers, a Victorian garden, world-famous camellias and magnolias, or walk up to the top of the Magnolia Walk for a view of the Jurassic Coast.
The gardens have won a silver medal at Chelsea and silver gilt at Hampton Court Show.
One person referenced gardener Alan Titchmarsh's visit.
Jeremy C said: "Titchmarsh is right. Alan says that this is one of the best gardens he's visited and on this occasion, I would certainly agree with him."
Abbotsbury was once the home of a great Abbey, and some of the ruins can still be visited for free.
St Catherine's Chapel was built by the monks of the Abbey and overlooks the village of Abbotsbury.
The views from the Chapel are worth the effort to go up the hill.
From Abbotsbury, it is also only a short distance to the Kingston Russell Stone Circle, an early Bronze Age circle.
History-lovers will not want to miss a visit to Abbotsbury Castle.
There isn't much left of the Iron Age hill fort, but it's still worth a stop for the beautiful vistas.
Source: Read Full Article