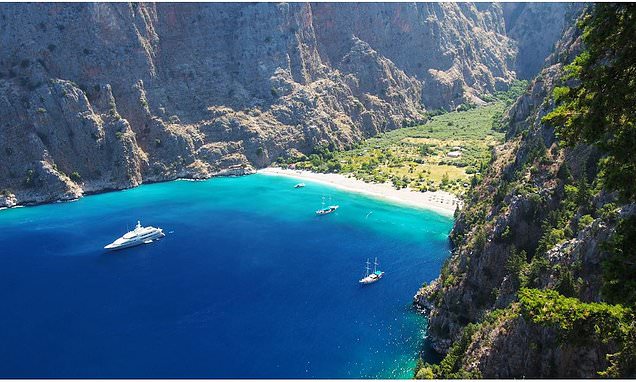 Escape to paradise! Sun yourself on pristine beaches, explore gorgeous lagoons and more in this hidden Turkish gem
Ad Feature by Jet2holidays
Aren't you glad international travel has returned? 
Brilliant weather guaranteed, inviting azure waters gently warmed by the sun and mouthwatering lunches that last for hours – nothing quite beats them. 
If you're looking to soak up some sun away from the crowds this season, Dalaman in Turkey could be your answer to an idyllic yet peaceful escape. 
And to get there, Jet2holidays can help. With 22kg of free baggage, free child places* AND transfers included, it's the ideal way to travel stress-free.
So, now that's sorted, here's everything you're going to love about Dalaman. 
Satisfy your cultural cravings 
After a little cultural enlightenment? That's something Dalaman can offer in abundance.
One of the area's most iconic historical sites is best enjoyed from the sea, so charter a yacht and head out into the Aegean where you'll find the Lycian Rock Tombs.
These perfectly preserved structures date back to the 4th Century BC, and were built in this clifftop location by the Lycians so as to make it easier for angels to collect the spirits of the dead and take them to the afterlife.
After a few snaps here, take a dip in the waters to cool off and for your chance to swim with the likes of loggerhead turtles, dolphins and all manner of gorgeous fish. 
Back on land you'll find plenty of places to enlighten your mind too. Being the birthplace of St. Nicholas (Santa Claus), the ancient city of Patara, supposedly found in the 8th Century BC, is not only famous for its dozens of unique historical ruins but also for its long and sandy beach.
Walk around this once bustling city, where old marinas and warehouses hark back to the once roaring sea trade that occurred here many moons ago, and the ruins of temples and ancient theatres offer a glimpse of the myriad of cultures and religions that operated side by side.
Adventure without limits 
Once you've had your fill of history, it's time to get the blood pumping with once-in-a-lifetime activities in the great outdoors.
With endless sea and mile upon mile of untouched wilderness to discover, you'll find that anything from a mountain hike, sailing or cycling promises the most breathtaking views in Dalaman. A welcome change from the same walk you've been doing all of lockdown!
Perhaps the most exciting thing on offer, however, has to be paragliding off Babadag Mountain. 
This majestic place has earned a world-famous reputation and Oludeniz, one of the highest commercial take-off zones in the world at a staggering 2,000 metres, is the go-to place for take-off.
Paragliding here is done in tandem with the professionals, so you can rest assured that you're in safe hands as you leap into the clouds.
From up here, you can take in the overwhelming beauty of the Dalaman Region's aptly named Turquoise Coast, and maybe even spy some of its secluded coves and golden shores.  
Beaches for days 
While you're soaring through the skies like an eagle, keep your eyes peeled for one of the Dalaman area's most famous beaches: the Blue Lagoon in Oludeniz.
This peaceful spot is a natural cove set in the heart of a protected national park, making it a great place for animal sightings above and below the waves. Think tortoises, mountain goats and vast shoals of rainbow fish.
While you're here, catch some rays while listening to the gentle sound of rolling waves, dine on fresh catch of the day accompanied by some wholesome Turkish cuisine at one of the beachside tavernas, or hire a paddle board and set out to explore the nearby sea caves and hidden beaches.
The Blue Lagoon is also conveniently close to the amazing Butterfly Valley. This quiet spot is only accessible by boat (or paddleboard!) – but the journey is so worth it for the scenes that will greet you there.
The Butterfly Valley, as its name suggests, is home to over 100 different butterfly species which flutter about in all their pretty colours. 
An unspoilt white beach fades into an emerald green valley filled with exotic flowers, as well as dozens of fruit trees, vines, and a spectacular waterfall. 
With the exception of a few bungalows, this valley has been left entirely at nature's mercy, making it a little paradise on earth. While away the hours here in the beautiful surroundings – and if you can, stay until nightfall for your chance to see one of the most stunning starscapes you'll ever set eyes on.
Plan your Turkish escape with
Jet2holidays
From pretty Alaçatı, İzmir (pictured), to stunning landscapes in Dalaman, there are loads of amazing Turkish destinations to fly to with Jet2holidays
Enthralled by Dalaman? This enchanting beauty spot if just one of the many gorgeous destinations you can escape to with Jet2holidays.
From the pretty white-washed towns of Bodrum and the bustling bazaars of Izmir, to the picturesque beaches and Roman temples of Antalya, there's a location perfect for everyone in Turkey. 
Jet2holidays fly to Turkey from 10 UK airports: London Stansted, Birmingham, Bristol, Belfast International, Leeds Bradford, East Midlands, Newcastle, Edinburgh, Glasgow and Manchester. 
It's not just convenience Jet2holidays offer for British travellers, though. Here are some of the additional benefits passengers can enjoy:
Free child places (terms & conditions apply.)*
22kg baggage included. 
Transfers included.
ABTA & ATOL protected. 
Click here to book your adventure today. 
*Terms & Conditions apply. Subject to availability. 
Source: Read Full Article