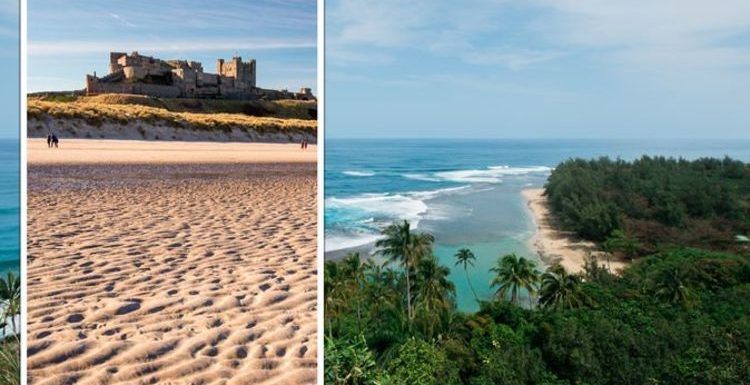 Hawaii earthquake: Naalehu residents recall 'violent' shakes
We use your sign-up to provide content in ways you've consented to and to improve our understanding of you. This may include adverts from us and 3rd parties based on our understanding. You can unsubscribe at any time. More info
A beach holiday in the sun may be on many Britons' bucket list, but with Covid changing many travel plans, the dream may be postponed. While it may not be easy to fly right now, holidaymakers in need of inspiration for their post-Covid travel can plan a getaway to one of the best beaches in the world.
The best beaches in the world have been named by Kuoni.
And among the expected such as Hawai'i and the Maldives, the UK claimed a spot.
This is good news for Britons in need of a beach holiday.
Staying in the UK can give them an experience better than jetting off to Thailand or the Philippines.
The best beach in the world was named as Niyama Private Island Beach in The Maldives.
Coming second was Al Sufouh Beach in Dubai, and in third place was Bai Sao, Phu Quoc in Vietnam.
Europe got on the list at number four with Cape Drastis in Corfu beating Pensacola Beach in Florida.
And at number six, the UK made its appearance.
Bamburgh Beach in Northumberland was lauded for its impressive castle, its "dramatic views" and its "striking backdrop".
On Tripadvisor, Richard said: "This is what comes to mind when you think of Northumberland beaches. The sea is clean and rough and the wind lets you know it's there."
While a UK holiday in Northumberland may not be the sunny, tropical getaway Britons may long for this winter, for beauty – if not for heat -, the UK can rival the best in the world.
Harry Hazel wrote: "Cannot think of a better beach – but I have been to some where there is more sunshine."
For more sunshine, Britons will have to head to the other beaches on the list.
At number seven, Numana Alta Beach in Italy beat Thailand's Railay Beach on Krabi.
Rounded up the top 10 were the Na Pali Coast on Kauai, in Hawai'i and Boracay White Beach in the Philippines.
Top 10 most beautiful beaches in the world
1. Niyama Private Island Beach, The Maldives
2. Al Sufouh Beach, Dubai, United Arab Emirates
3. Bai Sao, Phu Quoc, Vietnam
4. Cape Drastis, Corfu, Greece
5. Pensacola Beach, Florida, USA
6. Bamburgh Beach, Northumberland, UK
7. Numana Alta Beach, Italy
8. Railay Beach, Krabi, Thailand
9. Na Pali Coast, Kauai, Hawai'i, USA
10. Boracay White Beach, Philippines
Source: Read Full Article