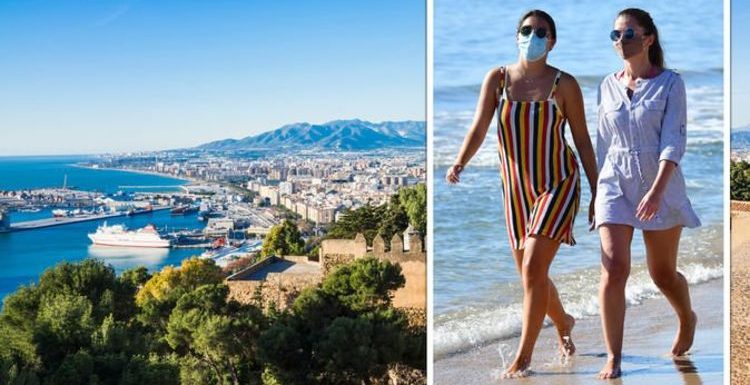 Spain: British expat questions enforcement of Covid passes
We use your sign-up to provide content in ways you've consented to and to improve our understanding of you. This may include adverts from us and 3rd parties based on our understanding. You can unsubscribe at any time. More info
Ryanair has announced it is cancelling a third of its flights in January. This comes after a wave of cancellations over Christmas and Boxing Day which caused travel chaos for holidaymakers hoping for winter sun.
Omicron is causing a wave of travel cancellations with airlines scrapping flights at the last minute.
And it's not just over the holiday period that travel is at risk, with January set to be much of the same.
Britons are banned from France and Germany, while Morocco has suspended all flights from the EU.
Ryanair has seen a huge decline in bookings over the holidays and has reacted by cutting its planned schedule in January by a third.
'It's the principle' Benidorm tourist tax divides Britons
A spokesman for Ryanair said: "The impact of these recent government travel restrictions, in particular the ban on UK arrivals into France and Germany, and the suspension of all EU flights to/from Morocco has lowered Ryanair's expected December traffic from 10 to 11 million, to a lower range of between nine to 9.5 million.
"In responding to these restrictions, Ryanair has now cut its January capacity by 33 percent, reducing its expected January traffic from approximately 10 million to six to seven million.
For Spain holidays, Palma in Mallorca will see the biggest number of cancellations with 10 routes scrapped.
Three other routes from Menorca and two from Ibiza have also been cancelled.
Twenty flights will be cancelled across three Canary Island airports and six each at Malaga and Seville.
Ryanair has not yet announced what will happen after January, saying it will look at travel restrictions nearer the time to make a decision.
The airline's spokesperson said: "In light of the current uncertainty about the Omicron variant and Europe travel restrictions, no schedule cutbacks have yet been decided for February or March 2022.
"These schedules will be revisited in January as more scientific information becomes available on the Omicron variant, its impact on hospitalisations, European population and/or travel restrictions in February or March."
British Airways has also cancelled more than 2,000 flights until March 2022.
And WIZZ Air's service between Gibraltar and London has been suspended.
A company spokesperson said: ""The uncertain outlook for the travel industry has forced us to make a number of adjustments to our programming.
"We are constantly reviewing our schedule and would like to re-enter the Gibraltar market when it makes the most commercial sense for us, as soon as possible."
Gibraltar Tourism Minister Vijay Daryanani said the decision was "disappointing" but was "understandable from a business perspective".
Britons wishing to go on holidays in Spain must show proof of being fully vaccinated.
The rule applies to all travellers over 12 years old.
On December 24, Spain has reintroduced mandatory mask-wearing in outdoors and open spaces.
Source: Read Full Article