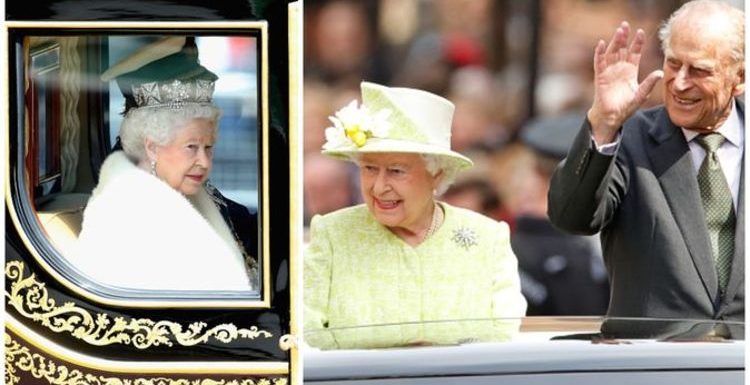 Queen ready to 'forgive' Meghan and Harry says pundit
We use your sign-up to provide content in ways you've consented to and to improve our understanding of you. This may include adverts from us and 3rd parties based on our understanding. You can unsubscribe at any time. More info
Having travelled all around the world, the Queen uses jet lag medicine to beat the jet lag when on the other side of the globe. The Queen reportedly uses homeopathic remedies, which include barley sugar candies. The sweets adjust your body clock by helping the blood sugar match the eating schedule in the destination.
The Queen also never travels without a black outfit.
Usually, Queen Elizabeth is seen wearing bright, beautiful, block colour outfits, however, always has a black outfit packed just in case a tragedy occurs.
Her Majesty was on royal tour in Kenya when King George VI died, but Elizabeth did not have a mourning outfit.
She was told to wait on board the flight when returning to Britain until a black dress was delivered.
Now, she and all the other members of the Royal Family must travel with a black outfit packed at all times.
The Queen also packs a rather strange item whenever she travels – her own toilet paper.
Gordon Rayner, a reporter who spent 20 years covering royal tours revealed Queen Elizabeth always brings her own personal toilet paper, sealed with stickers that only she and her husband Prince Philip were allowed to break.
The Queen also ensures she has several outfits packed with her for her royal tours and encourages all other female royals to do the same.
According to Rayner, the Queen brings an entire clothes rail stocked with as many as 30 outfits for her trip, all kept pristine in protective sleeves.
Even when Queen Elizabeth is flying, she never likes to miss afternoon tea.
Staff bring tea and scones, clotted cream, and the Scottish fruitcake Dundee cake, as reported by the Telegraph.
The logistics of running a royal tour are massive, and the Queen has to bring up to 34 people on her trips abroad.
She has in the past, brought with her six secretaries, eight bodyguards, two dressers, and two ladies-in-waiting.
Foreign chefs are warned ahead of time about eating habits like the foods Queen Elizabeth will never eat.
This includes garlic and shellfish, but Her Majesty's entourage will prevent food poisoning at all costs.
If there's any doubt local food will not be safe, they will pack British food and bottled water to protect the Queen's safety.
In terms of luggage, the Queen bought a set of Globe-Trotter suitcases in 1947 for her honeymoon with Prince Philip, and she has been using those same bags ever since, according to the company's website.
The Royal Family also use a colour-coded system for their luggage. The Queen's luggage tag is yellow, with "The Queen" written on it.
Each royal family member gets his or her own colour: Kate Middleton has yellow, Prince William and Prince Charles use red, Prince George uses blue, and Princess Anne has green.
The Queen is well known to always sleep with a hot water bottle between the sheets to warm a cold bed.
On royal tours, the Queen makes sure to pack a hot water bottle in case the places she is staying are not warm enough.
Queen Elizabeth officially issues British passports, so, therefore, is not required to have one herself.
Instead, she just answers basic questions, like her age and address, to confirm her identity.
Source: Read Full Article