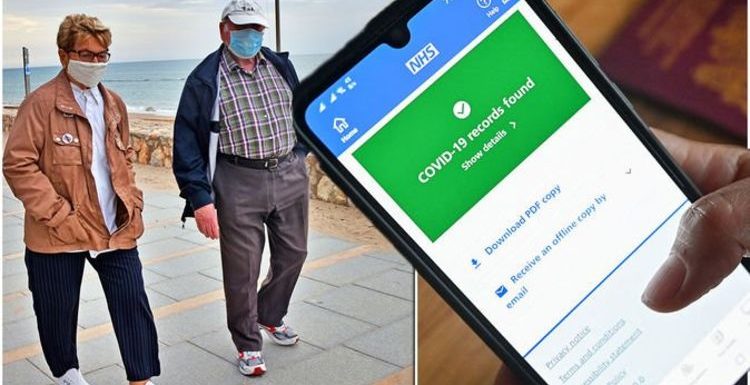 Martin Lewis discusses travel refunds and PCR tests
We use your sign-up to provide content in ways you've consented to and to improve our understanding of you. This may include adverts from us and 3rd parties based on our understanding. You can unsubscribe at any time. More info
Spain has ramped up rules for the UK and non-EU leisure travellers hoping to visit the country as concerns regarding the Omicron variant of COVID-19 mount. The latest rules come just as people around the world were gearing up to visit friends and family for Christmas, or head on seasonal holidays.
Now, only those who are fully vaccinated are permitted to enter Spain unless they are travelling for an "essential purpose" as set out by the Spanish government.
The Foreign, Commonwealth and Development Office (FCDO) has been continually updating its travel advice pages for Britons as more information is released by Spanish authorities.
In the latest update, which came on December 4, 2021, the FCDO set out the specific rules for those travelling to Spain from the UK and other non-EU countries.
READ MORE: 'Delightful' New Forest seaside town named one of the best
What are the latest rules for Britons visiting Spain?
The Spanish government now requires all UK and other non-EU citizens travelling from the UK for tourism to provide evidence of being fully vaccinated at least 14 days before arriving in Spain.
The FCDO states this must be "with both doses of a two-dose vaccine or one dose of a one-dose vaccine".
All adults and children over the age of 12 must meet this requirement.
Spain will accept the UK's COVID-19 vaccination record.
DON'T MISS
Crew member shares why living on £56m luxury yacht was 'just horrible' [INSIDER]
Expats: Where is the 'happiest' country in the world? [DATA]
Travel red list: All 11 countries facing hotel quarantine [UPDATE]
The FCDO adds: "If you are travelling with a printed PDF proof of vaccination status, it must date from November 1 to ensure that the certificate can be scanned successfully.
"Your NHS appointment card from vaccination centres is not designed to be used as proof of vaccination and should not be used to demonstrate your vaccine status."
All people travelling to Spain must complete and sign an online Health Control Form no more than 48 hours prior to arrival.
This rule also applies to children under the age of 12.
However, the rules are slightly different for people accompanying family members, residents of Spain and essential reasons for travel to Spain.
In these circumstances, travellers can enter Spain with a certificate or document certifying they are fully vaccinated against COVID-19, a negative COVID-19 test (either a nucleic acid amplification within 72 hours of travel or an antigen test within 48 hours of travel) or a medical certificate certifying that they have recovered from COVID-19 in the last six months prior to travel.
Hotel and other accommodation in some parts of Spain, including the Canary Islands, may also require evidence of a negative coronavirus test or proof of being fully vaccinated in order to check-in.
What other Covid restrictions are in place in Spain?
COVID-19 measures remain in place across Spain, though the FCDO warns that these may vary between regions.
The travel authority states: "Handwashing hygiene, air ventilation rules and the use of face masks in enclosed public spaces and in some specific scenarios outdoors, must continue to be observed at all times."
It added: "Regional governments retain legal powers to ease or tighten restrictions within their region if deemed necessary to control the spread of the virus, for example, partial lockdowns; limiting the capacity and opening hours of retail, hospitality establishments and public events."
Those who are planning to travel must be aware that restrictions may be introduced at short notice and plans could change.
Source: Read Full Article