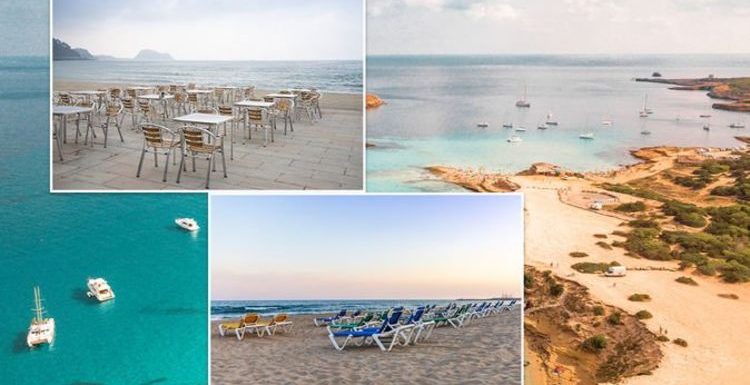 Spain: Paul Scully discusses amber list
We use your sign-up to provide content in ways you've consented to and to improve our understanding of you. This may include adverts from us and 3rd parties based on our understanding. You can unsubscribe at any time. More info
Spain is a popular haunt for British travellers, with approximately 18 million UK holidaymakers jetting off to the country pre-pandemic in 2019. However, recent developments with the traffic light system have seen the Balearic Islands rejoin the Canary Islands and mainland Spain on the amber list.
As of July 19, fully vaccinated Britons have been allowed to return from amber list countries such as Spain without quarantine on their return.
However, those who have only received one jab, or who have not had any, remain subject to vigorous testing and quarantine rules. This includes young adults who are a key target market for parts of Spain and its archipelagos.
Kate McWilliams is the associate director of Lotus, which represents both national and regional tourist boards across Spain.
She explained to Express.co.uk that changing restrictions have already "heavily impacted" the nation's tourism sector which accounts for around 2.6 million jobs.
What's more, the development of the new "amber plus list" has caused further disruption.
"[Although] double-vaccinated travellers can now return to the UK without having to quarantine, which in theory does allow travel to resume for many, the Balearic Islands' new amber listing, matched with the situation with France will heavily impact traveller confidence," Ms McWilliams told Express.co.uk.
Ms McWilliams believes the latest developments will see particular movement towards cancellations for those who "have not been double vaccinated."
She added: "Other travellers may reconsider their holidays based on their own perception of risk."
DON'T MISS
Spain amber plus could be 'clearly a concern' for British expats [COMMENT]
Spain holidays: Face masks rule reinstated for outdoor spaces [UPDATE]
Expats: US regions offering cash incentives for those who move there [INSIGHT]
One issue which remains for the nation, however, is the lack of clarity over how and why countries are moved onto the amber or newly created "amber plus list".
In the case of France, the Government cited an increase in cases of the Beta variant originally detected in South Africa.
However, according to European Centre for Disease Prevention and Control (ECDC) data, in recent weeks cases of the Beta variant in Spain are five times higher than in France.
As of July 4, 20.2 percent of confirmed cases of coronavirus were found to be a result of the Beta variant.
In France, during the same period, this figure sits at just 3.8 percent.
And although cases of Covid are rising throughout Spain, local officials have said hospitals are not overwhelmed with cases.
For Ms McWilliams, this makes it "difficult" to predict when and why Spain and its archipelagos may change traffic light colours.
"The UK Government hasn't revealed its criteria for making these decisions which is why it is so challenging for the travel industry," she said.
However, she suspects the latest change for the Balearics was directly linked to Covid cases nationally.
She pointed out: "We do know that the COVID rate of infection had increased in the Balearics Islands, specifically amongst a younger age demographic."
Although the current landscape for travel remains uncertain, Ms Williams says she has "hope" holidays will return.
Particularly because tourism "is a lifeline for many destinations and tourism businesses that rely on British tourism."
Already a number of hoteliers and tourism organisations have put in place measures to keep their staff and customers safe during the pandemic.
"There are a huge range of initiatives that have rolled out, for example, a number of Spanish regions have begun offering their own free travel insurance which covers foreign visitors in the event of a Covid-19 infection," said Ms McWilliams.
"Andalucía, the Balearic Islands and the Costa Cálida – Region of Murcia are all offering free travel insurance to foreign visitors who stay in regulated tourist accommodation.
"The policies vary in the finer details but all cover medical, surgical and hospitalisation expenses, medical expenses for transportation and repatriation, as well as the costs of extending a stay at a regulated accommodation."
She continued: "Many large Spanish hotel companies, such as Palladium Hotel Group, have started providing testing on-site to make the whole process a little smoother for those requiring a test prior to returning to the UK, while on a practical level Spanish tourism business – including restaurants and bars are embracing technology to minimise physical transactions."
As a result, Ms McWilliams is confident Spain and its archipelagos are "safe" tourist destinations.
"My personal feeling is that Spain, the Balearic Islands and the Canary Islands have an exceptional infrastructure to ensure residents and visitors are well looked after," she said.
"The COVID figures have gone up recently but for the most part, this is amongst young people who are not displaying harmful symptoms.
"The hospitals are not under pressure and the Spanish tourism industry has put in place a wide range of measures to minimise any risk of infection."
In order to get holidays back up and running, the expert believes the answer lies in "more affordable testing."
She said: "This continues to be a barrier for many people.
"A survey conducted in June by travel insurer Battleface said Britons are now prepared to pay £61 on average for all necessary testing in order to take a holiday."
Although Ms McWilliam's says the tourism industry is keen to welcome back holidaymakers, she also recognises the uncertainty ever-changing rules pose.
"As the rates have gone up, I think travellers need to make their own informed decision as to whether or not they are prepared to travel based on their own personal circumstances," she concluded.
Source: Read Full Article