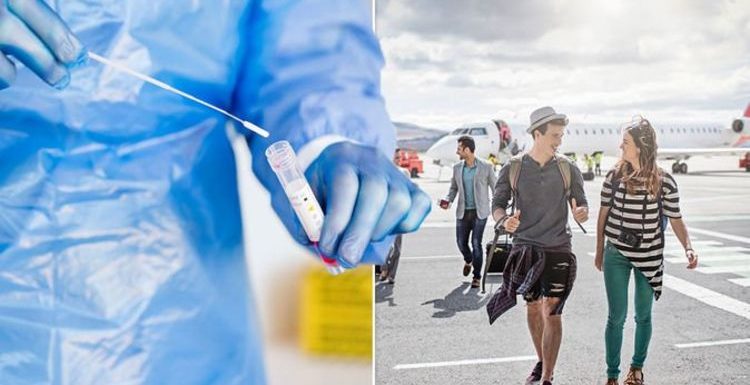 Spain: Paul Scully discusses amber list
We use your sign-up to provide content in ways you've consented to and to improve our understanding of you. This may include adverts from us and 3rd parties based on our understanding. You can unsubscribe at any time. More info
Holidaymakers returning to the UK from Spain were last week advised to take a PCR test before departure. According to travel expert Simon Calder this has caused mass confusion among holidaymakers, who scrambled to access testing they didn't necessarily need.
On Wednesday, August 4, the Department of Transport issued a statement which explained: "Arrivals from Spain and all its islands are advised to use a PCR test as their pre-departure test wherever possible, as a precaution against the increased prevalence of the virus and variants in the country."
However, as Mr Calder pointed out on his Travel Radio show, this is just advice rather than a mandatory rule.
"That is all a result of yet another fudge in Government," he said.
"People were worried about Spain's infection rate and as a result, somebody at the back of the room said, 'Why don't we tell everybody to take a PCR test?
'We're not going to order them to take a PCR test, we are just going to advise them'.
"By the way, nine out of 10 people from Spain coming back go the UK go to the immense trouble and expense of taking a PCR test rather than the painfully obvious lateral flow test which is cheap and quick."
Mr Calder claims "almost any test will do."
Though Britons can not use NHS lateral flow kits for travel, they can use private lateral flow tests which are often at a much lower price point than PCR tests.
They also show results within 30 minutes.
DON'T MISS
Which countries are on the green list? All 36 countries [FULL LIST]
Spain, France, Greece & Germany: Latest FCDO updates for travel [UPDATE]
France isn't expecting Britons back this summer: '2020 was a shock' [COMMENT]
"I think that is going to come as news to quite a lot of people who are doing these tests which I actually can't believe," said the travel expert.
"I wouldn't do [a PCR test] personally.
"You order a lateral flow test, you then take it and send a photograph of the result to some laboratory and they say, 'Congratulations, we confirm this meets the Government specification."
Britons can pre-book and order lateral flow tests before they go on holiday, and then carry them abroad on their person for use before their return flight home.
Mr Calder also pointed out that PCR tests could catch out some Britons, even if they do not have Covid.
"The Government, one side is saying, 'Yes we would really like you to join the nine out of 10 taking PCR tests coming back from Spain' but also said, ' Of course if you've had Covid please don't take a PCR test it will show up positive, so take a lateral flow test."
Currently, under traffic light rules, Britons returning to the UK from an amber list country must take a pre-departure test.
However, according to the Government website, this does not specifically need to be a PCR test.
The Government website explains: "You must make sure that the test provider you choose can meet the standards for pre-departure testing.
"The test must meet performance standards of more than 97 percent specificity, more than 80 percent sensitivity at viral loads above 100,000 copies/ml.
"This could include tests such as a nucleic acid test, including a polymerase chain reaction (PCR) test or derivative technologies, including loop-mediated isothermal amplification (LAMP) tests or an antigen test, such as a test from a lateral flow device (LFD).
"It's your responsibility to ensure the test meets the minimum standards for sensitivity, specificity and viral load details. You must check with your test provider that it meets those standards.
"You may not be able to travel if the test does not meet these standards. It's your responsibility to ensure you get the right test that meets the above requirements."
Source: Read Full Article