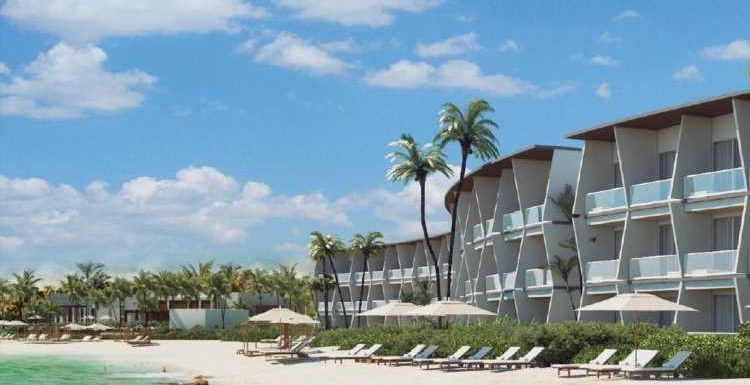 If you're saving up your Hilton points for a high-value redemption in Mexico, there may soon be more options than ever because Hilton is adding three new hotels to its portfolio: The Hilton Vallarta Riviera All-Inclusive Resort, Hilton Tulum All-Inclusive and Conrad Tulum.
The three properties are part of Hilton's expansion into Mexico, where the company currently manages 70 hotels and is developing 30 more.
This is great news since Mexico has skyrocketed in popularity since the pandemic. For many Americans who can't travel abroad, Mexico has been a welcome reprieve. It's easy to get to and offers lots of affordable options for a vacation.
While we have not heard back from Hilton about the rates (award or otherwise), Hilton generally offers reasonable cash rates at their existing all-inclusive hotels. For example, I was recently looking for a last-minute stay at the Hilton Puerto Vallarta and a room for four was $250 per night.
Considering the high number of points Hilton offers on paid rates, it might make sense to book these future properties with cash and then accrue a ton of points that make it worthwhile. We'll update this story when we know more.
In the meantime, here's a look at Hilton's new hotels in Mexico and when they're expected to open:
For more TPG news delivered each morning to your inbox, sign up for our daily newsletter.
In This Post
Hilton Vallarta Riviera All-Inclusive Resort
The Hilton Vallarta Rivera is set to open in Q4 2021. The 444-room beachfront resort will be situated between the stunning Bay of Banderas and the Sierra Madres Mountains.
The hotel will offer two pools, a full-service spa, fitness center, not one but six craft cocktail bars and seven restaurants. The restaurants will offer a variety of cuisines, including Asian, Italian, Mexican and tapas.
Targeting both leisure and business travelers, the Hilton Vallarta Rivera will have 26,000 sqft of combined indoor/outdoor event and meeting space.
Video: The Best Time to Visit Las Vegas for Good Prices and Fewer Crowds (Travel + Leisure)
British Airways Will Soon Let You Order In-Flight Food From Your Phone

Travel + Leisure


8 Cruises To Celebrate Your Retirement, According to T+L's A-List Advisors

Travel + Leisure


Harry Potter New York Is Debuting New Virtual Reality Experiences

Travel + Leisure


Disney World Announces New Holiday Festivities With Extended Hours, Fireworks, and More

Travel + Leisure


Best Places to Travel in October

Travel + Leisure


The Washington Monument Is Reopening After a 6-Month Closure

Travel + Leisure


This Brooklyn Neighborhood Gathers Some of New York's Coolest Artisans In One Place

Travel + Leisure


See the Best of the Smoky Mountains on This One-day Only Historic Train Ride

Travel + Leisure


JetBlue Is Celebrating NYC With $49 Flights and Local Deals This Summer

Travel + Leisure


This Renovated School Bus in Arkansas Is a Glamper's Dream

Travel + Leisure


The Backstreet Boys Are Planning a Christmas-themed Las Vegas Residency — Here's How to Ge

Travel + Leisure


How to Get a Spot on a Virgin Galactic Space Flight If You Don't Have $250,000

Travel + Leisure


Giant Pandas Taken Off China's Endangered Species List

Travel + Leisure


Disney's Newest Cruise Ship Will Feature an Epic Marvel-Themed Dining Experience

Travel + Leisure


You Can Now Get Directions From a Cat or a Dog on Waze

Travel + Leisure


This Brand-new Hotel in Italy Is Home to the World's First Truffle Concierge

Travel + Leisure


British Airways Will Soon Let You Order In-Flight Food From Your Phone
The new feature rolls out on July 19.


Travel + Leisure



8 Cruises To Celebrate Your Retirement, According to T+L's A-List Advisors
You've worked hard to reach this phase of life, so plan a trip that allows you to take your time exploring new destinations.


Travel + Leisure



Harry Potter New York Is Debuting New Virtual Reality Experiences
Wands at the ready! Now's your chance to fly around London on a broom and wander the halls of Hogwarts.


Travel + Leisure

Related: TPG's guide to the best all-inclusive points resorts
Conrad Tulum
The Conrad Tulum is set to open in Q4 2021. The 349-room luxury resort will be located on the eastern coast of the Yucatan Peninsula. Not only will it offer world-class amenities for vacationers looking for relaxation on the beach, but it's also located close to popular Mayan sites, creating a great base to explore them from.
The property will offer five pools (incredible, considering the 444-room Hilton Vallarta has two), seven restaurants and bars, along with a Chef's Table dining experience.
According to Hilton, the Conrad Tulum will offer a massive 21,500-sqft spa with 16 treatment rooms and a pool. There will also be a 55,000-sqft convention center and an auditorium with capacity for 400 people. Both of these spaces will be shared between guests of the Conrad and the adjacent Hilton Tulum.
Related: The zero-cost vacation: 100+ all-inclusive resorts you can book with points
Hilton Tulum All-Inclusive
The Hilton Tulum All-Inclusive will open in Q1 of 2022, offering 735 rooms, seven dining options, a water park and access to a secluded beach. This sounds like a great spot for families and hopefully, when the hotel opens, it will offer the same kids-stay-free promotion as the Hilton Cancun. This way, families can minimize the number of rooms they need to book or avoid paying extra-person fees for children.
Related: Top hotels to be saving your Hilton points for right now
Other Hilton properties opening soon
In May, we shared that the Hilton Cancun was accepting reservations for Nov. 7, 2021, and onward. The hotel website features impressive renderings of a property that resembles a Conrad more than a typical Hilton. The hotel was pricing out at 95,000 points per night, which is not bad considering room rates were pricing out at over $500 per night and a stay includes all meals and no resort fees.
As great as this property looks, another Hilton hotel opening nearby will get luxury travelers excited: The Waldorf Astoria property will be located adjacent to the Hilton Cancun and is currently accepting reservations for May 1, 2022, onward. The resort has rooms going for over $600 per night during opening week.
Award nights cost 95,000 points per night which might be a good deal, considering TPG values Hilton points at 0.6 cents each. The only downside is that this resort does not currently appear to be all-inclusive, so you're paying the same award rate as the adjacent Hilton Cancun and essentially swapping free meals for a more high-end experience.
Outside of Mexico, Hilton will be unveiling the all-inclusive Mangrove Beach Corendon Curaçao Resort in September 2021. The Curio Collection property is not currently accepting reservations, which leads me to cast doubt on a September 2021 opening date. Time will tell.
Related: Cancun essentials: Everything you need to plan the perfect Mexico getaway
Bottom line
It's great to see Hilton expanding its portfolio and giving Honors members more options to earn and redeem points in popular vacation spots. The expansion of all-inclusive hotels is especially welcome since that's an area value travelers are very interested in and one that Hyatt has executed particularly well.
I'm excited about these new Hilton properties and curious about how the experience compares to more established brands like Hyatt Ziva and Zilara. Of course, TPG will be there to review some of these properties when they open. So keep an eye out for content on that front.
Featured image of the Conrad Tulum courtesy of Hilton
SPONSORED: With states reopening, enjoying a meal from a restaurant no longer just means curbside pickup.
And when you do spend on dining, you should use a credit card that will maximize your rewards and potentially even score special discounts. Thanks to temporary card bonuses and changes due to coronavirus, you may even be able to score a meal at your favorite restaurant for free. 
These are the best credit cards for dining out, taking out, and ordering in to maximize every meal purchase.
—
Editorial Disclaimer: Opinions expressed here are the author's alone, not those of any bank, credit card issuer, airlines or hotel chain, and have not been reviewed, approved or otherwise endorsed by any of these entities.
Source: Read Full Article