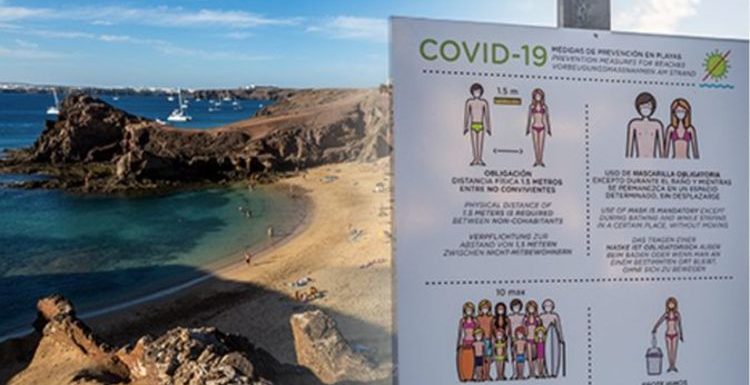 Spain announce travel ban for UK flights amid coronavirus strain
The holiday islands of Gran Canaria and Lanzarote are being put on a new alert level due to the escalating and "very worrying" number of coronavirus cases. Both will go on alert level 2, one grade higher than before, whilst Tenerife remains on the highest tier of 3.
Gran Canaria had previously got its coronavirus spread under control with special measures which were later relaxed but there have been new outbreaks and the island is on the brink of also being placed on the highest level unless the situation improves.
"Things are getting worse," said Lluis Serra, a spokesman for the Advisory Committee.
As a result, stricter measures will be introduced across the islands.
Though the UK is under national lockdown, any Britons already in the Canary Islands or who need to travel for "essential" purposes will be impacted.
In Gran Canaria and Lanzarote, there will be a new curfew from 11pm to 6am, no more than four people can meet at a time and public transport capacity is cut to 50 percent.
We will use your email address only for sending you newsletters. Please see our Privacy Notice for details of your data protection rights.
Tenerife's curfew remains from 10pm to 6am, with other extensive restrictions, including a ban on patrons sitting inside bars.
Bars may only operate for service on patios outside.
The new measures come into force from this Sunday and will remain for at least 14 days.
DON'T MISS
Travel corridors: Test to release banned for Seychelles & Mauritius [UPDATE]
Grant Shapps claims closing borders 'won't stop the virus' [VIDEO]
Holidays: How to get a covid test for travel as UK announces new rules [iNSIGHT]
However, the levels will be reviewed on a weekly basis and will be raised if necessary.
Health officials are expecting cases to rise even further due to the Christmas/New Year effect.
President of the Government of the Canary Islands, Ángel Víctor Torres said: "Decisions are being made to reverse the situation on the islands that are worse off."
This week, the Canary Islands registered 83 new outbreaks with 542 cases, of which 24 have required hospital admission.
Of these, 65 have occurred in Tenerife, 15 in Gran Canaria, one in La Gomera, one in Fuerteventura and another in La Palma.
One of the outbreaks on Gran Canaria has affected 28 people and another 18. Most are being linked to household family gatherings over Christmas.
There have been 438 deaths so far from coronavirus in the Canaries, of which 279 were in Tenerife.
There are currently 7,157 active cases, the highest number to date since the pandemic began.
A major vaccination campaign is already underway across all the islands.
Currently, Britons can not enter Spain for tourism purposes.
The Foreign, Commonwealth and Development Office (FCDO) explains: "Spain have announced they will be restricting passenger travel from the UK (by air and sea) from 22 December 2020 until 19 January 2021 with the exception of Spanish nationals and those legally resident in Spain.
"This includes flights from the UK to the Balearic Islands and Canary Islands. If you were due to travel, or transit through, Spain please contact your travel operator before departure."
Additional reporting by Rita Sobot.
Source: Read Full Article