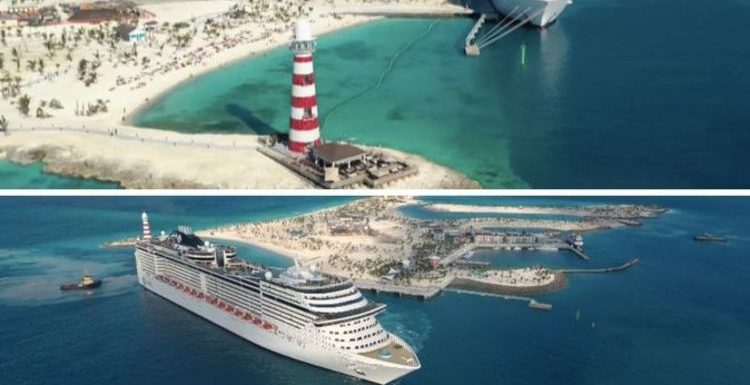 Billionaire Cruise Ship: Chef reveals how much food is cooked
We use your sign-up to provide content in ways you've consented to and to improve our understanding of you. This may include adverts from us and 3rd parties based on our understanding. You can unsubscribe at any time. More info
MSC Cruises is the proud owner of Ocean Cay, a 95 acre resort which cost a staggering £200million to create. The newly developed paradise provides royal treatment to guests who expect the very best.
The island, described as 'pristine', welcomes cruise ships of 4,000 passengers.
Greeted by applause, guests are treated like kings and queens, with every whim catered for.
A 'fantasy island like no other', Ocean Cay allows visitors to enjoy water sports, excursions, and entertainment.
One of the standout performances on the island is the light show.
A lighthouse structure, worth a whopping £1million, is 'probably the most expensive lighthouse in the world', according to Lighting Engineer Mark Watkins.
Arguably, it is also 'probably the most useless lighthouse', as it doesn't actually function as one.
Mark stated: "Ships will be careering into the edge going, 'It didn't keep me off the reef,'" suggesting that the island is more flashy than practical.
But guests appear to love the spectacle and splendour of the place, with one passenger describing it as "totally phenomenal" and an "experience of a lifetime".
There's shopping opportunities galore, with stores selling products ranging from jewellery to handmade chocolates.
Guest are 'spoilt for choice' with food and drink; the beach bar is restocked with 1,000 litres of wine, 3,000 litres of beer and thousands of pounds worth of spirits whenever the boat docks.
To feed hungry guests, 2,000 tonnes of food is unloaded from the cruise ships.
Of course, "not everything runs smoothly", and "the job never stops".
Indeed, feeding everyone is a "mind blowing enterprise".
Gareth Brown, Revenue Director MSC Cruises stated: "The expectations are high, they know what good service looks like."
One passenger said it was "absolutely beautiful" and unlike any other cruise experience she had been one.
The "totally phenomenal" staff are there to wait on guests hand and food, even providing a special service for the Yacht Club Class.
An elite 200 passengers receive an exclusive experience, and can enjoy their own private part of the ship and island.
Splashing out on suites costing in excess of £1,000 per night, the Yacht Club Class can expect their very own lounges, pool and restaurant – even their "very own butler" ensuring that "their every need is catered for".
The island resort also provides a living for those who live locally.
Operations Manager Michelle McGreggor said: "Everything is crafted and made in the Bahamas by Bahamians. How more authentic can you get?"
A heaven on earth, one visitor summed up the experience: "It's perfect. I couldn't ask for more."
Source: Read Full Article