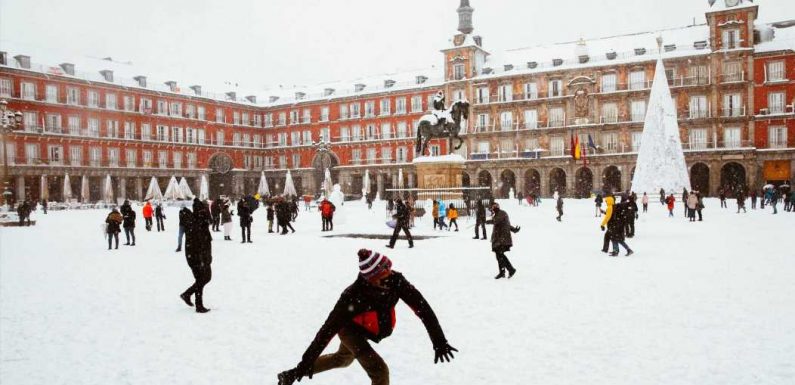 Madrid, which seldom sees so much as a flurry most winters, is shoveling out from one of its biggest snowfalls on record. Between Friday and Saturday, winter storm Filomena dumped between 12 and 20 inches on the Spanish capital, shutting down Barajas airport, hamstringing essential emergency services, and trapping hundreds of commuters in their cars overnight, many without food or heat.
But for many locals, the snowstorm in Madrid was a welcome thrill after a tremendously difficult year—at the time of publication, 11,996 Madrileños have died due to COVID-19. On Saturday morning, as the bone-chilling winds lulled, the city turned into a fantastical snow globe filled with winter shenanigans: Skiers glided down Gran Vía, Madrid's main drag; many schoolkids built their first snowmen; and toboggans were the fastest thing flying down the M-30, the city's six-lane ring road.
As the day wore on, things got a little dicier. The cops intervened to break up a hundreds-strong snowball fight that turned rowdy. Flouting COVID restrictions, dozens of people descended on Sol, the city's epicenter, for what some Spanish newspapers (hyperbolically) called a rave. And as everybody raced home for the midnight curfew, social media lit up with viral videos like this one of a man mushing sled dogs down a suburban street.
What made the snowstorm in Madrid so electrifying is precisely what makes it so worrying to many climatologists: it was a freak event—Madrid hadn't seen this much snow since 1971. The city may be in the throes of an atypical cold snap currently, with lows averaging around 17 degrees Fahrenheit, yet 2020 was Europe's hottest year on record.
Such extreme highs and lows, a hallmark of the climate crisis, have real-world ramifications that hit the poor the hardest, and Spain is no exception. On the outskirts of Madrid, in a sprawling shanty town called Cañada el Real, some 800 families including 2,000 children are presently facing below-freezing nights with no electricity. City officials are rushing to prepare a disused factory to house 600 of Cañada's residents, but according to a woman named Loubna who lives in the settlement, they won't go due to a lack of social distancing measures: "The government seems to forget we're in a pandemic," she told Spanish news website Eldiario.es.
In the city center, four metro stations are now open around the clock to shelter unhoused people, though many will inevitably spend the night outdoors. Volunteer organizations such as Bokatas, Acción en Red, and Hogar Sí, all of which accept donations, are scouring neighborhoods on foot to provide food and relief to those who need it. Many Madrileños are pitching in too, schlepping thermoses of soup and blankets to the metro stations, icy streets be damned.
The solidarity among Madrid residents over the last few days has been astonishing. With food shortages plaguing many districts—Madrid's main wholesale market is open, but delivery trucks still can't access many grocery stores as of Tuesday—neighbors are sharing food with one another, according to Público, an online newspaper. A number of barrios have created "SOS 4×4" groups on the messaging app Telegram to shepherd the sick and injured to hospitals in private vehicles, as most Madrid ambulances aren't equipped for heavy snow. And photos of the city's medical professionals trudging miles in the snow to fulfill their duties have brought many to tears.
But the most obvious display of solidarity in Madrid is the ragtag network of snow-free roads, sidewalks, and pathways that locals have chiseled out using garden spades, paella pans, buckets—whatever they could find. A friend living in the Carabanchel district posted a video of a volunteer snow-shoveling brigade outside his apartment clearing paths to the cars of elderly neighbors—one of many such groups across the city that coordinated their efforts via WhatsApp.
But solidarity is no substitute for government action, even if the regional president placed the onus on Madrid residents via teleconference to "help remove as much snow as possible." Traffic delays and power outages were inevitable, but foot-high snow banks in front of public hospitals and assisted-living facilities days after the last snowflake fell are less forgivable. In a similar vein, instead of overseeing a plan to sprinkle the city's slippery sidewalks and roads with salt, Madrid's mayor has asked that residents walk or drive to pick up free salt sacks available at 21 of locations—and do it themselves. More perplexing still is that the regional government found no use for the services of 500 forest firefighters and 60 all-terrain vehicles on Monday in spite of the snowy streets and hundreds of fallen trees lying unattended to.
As of Wednesday, most of Madrid remains snowbound. A weather advisory remains in effect due to extreme low temperatures, which have turned the snow to ice. Schools won't reopen until Monday at the earliest, and it will be weeks until the city regains its balance. In the meantime, locals will continue doing what they do best: digging one another out.
Source: Read Full Article