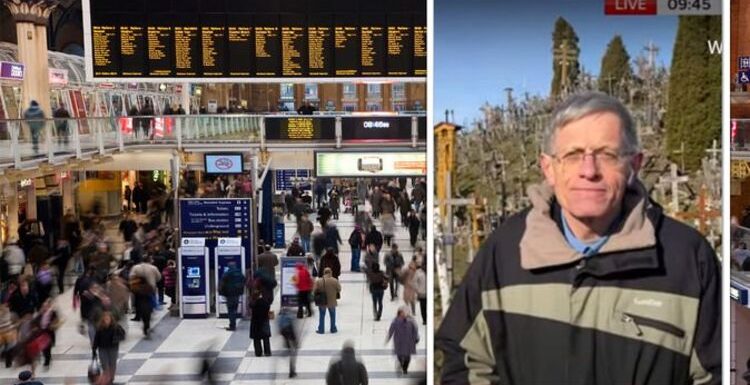 Simon Calder warns of Easter travel chaos on UK roads
We use your sign-up to provide content in ways you've consented to and to improve our understanding of you. This may include adverts from us and 3rd parties based on our understanding. You can unsubscribe at any time. More info
The Great British Rail Sale will offer over one million tickets for half price, according to the Government. Tickets go on sale today, April 19, and are available on journeys between April 25 and May 27.
However, travel expert Simon Calder has said that the ticket deal isn't as good as it appears for many passengers.
He tweeted: "A report just now claimed: 'The cost of many off-peak rail tickets is being slashed'.
"No. Some specific Advance train fares, plus a few unspecified off-peak tickets, will be halved for travel from April 25 to May 27.
"Represents perhaps one percent of all rail journeys made in that period."
To use an advance rail ticket, passengers will need to book the journey ahead of time and commit to a specific train.
The Department for Transport has said that a journey from Edinburgh to London on LNER could be just £22 with the deal.
Meanwhile, a journey from Manchester to Newcastle on the TransPennine Express could be just £10.30.
The Department for Transport said: "Great British Rail Sale tickets are not available on all routes, are limited and subject to availability and exclusions."
It is likely that many popular high demand times of day will be excluded from the rail ticket sale.
However, railcard discounts will apply so passengers with a 26-30, 16-25 or another railcard will see extra benefits.
Passengers cannot book first class deals with the Great British Rail Sale but may be able to upgrade separately.
Britons are advised to book tickets as soon as possible with the scheme as the one million tickets may sell out very quickly.
The Rail Delivery Group which is coordinating the offer with the Department for Transport said: "The number of Rail Sale tickets offered by each participating Train Company will vary and are limited in number so we're encouraging people to act quickly because when they're gone, they're gone."
Transport secretary Grant Shapps, said: "For the first time ever, operators across the rail industry are coming together to help passengers facing rising costs of living by offering up to 50 percent off more than a million tickets on journeys across Britain.
"There's no better time to visit friends, family or just explore our great country, so book your tickets today."
Train tickets are often a source of despair for British passengers as travel can be extremely expensive.
Domestic journeys can cost travellers hundreds of pounds while there are also often delays on the UK network.
Some Britons find it is cheaper to fly to a domestic destination than take the train, despite additional airport costs.
Britons can purchase the discounted tickets from participating retailers or directly with the train operator.
Source: Read Full Article