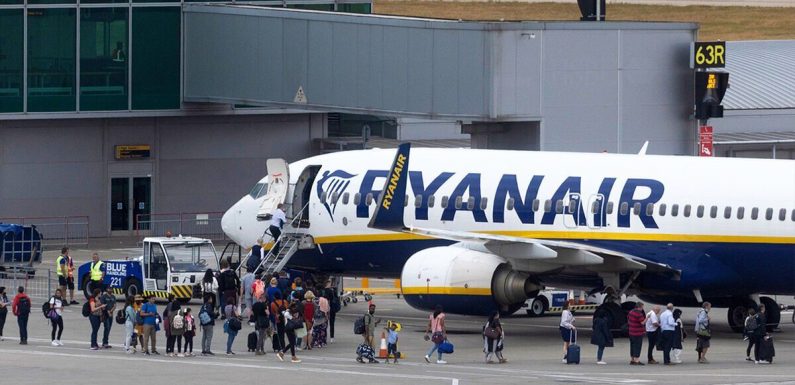 "Fed up" passengers have criticised Ryanair after their flight home to Manchester was delayed more than 24 hours. Those returning from Rhodes on Friday evening were forced to spend more than a day waiting around to board a plane.
Andrew Barlow was one of many who was due to fly back to Manchester from Rhodes on Friday night.
He explained that "security and check-in was a breeze" but when they "got to the gate and outside on the tarmac then they brought us all back in".
The passenger also said they were given "no explanation" and then later that day they were told, "there was unscheduled maintenance to the aircraft".
Passengers were then "put on a bus" and taken to "a hotel for the night" where they arrived at "3:30 in the morning".
He, along with others was told the rearranged flight would depart at 1pm on Saturday.
We use your sign-up to provide content in ways you've consented to and to improve our understanding of you. This may include adverts from us and 3rd parties based on our understanding. You can unsubscribe at any time. More info
After checking in for a second time, he and the other passengers boarded the plane before being informed that there was a "technical issue" with the plane.
"We sat on the plane for a couple of hours then they took us back to the gate," Mr Barlow revealed. "They have told us there is another plane coming from Athens and that is due to leave at 11pm."
The passengers are said to have received a voucher for four euros.
Mr Barlow, "left the hotel at 6pm" and was at the airport "nearly 24 hours".
He said "everyone [was] fed up".
"I've never experienced anything like this. I should have been home last night. It's put a blemish on the whole holiday," he told Manchester Evening News.
DON'T MISS…
It seems Jo Needler was another passenger on the same flight.
She took to Twitter and said: "So after a 35 hour airport experience we have FINALLY landed and on way home! @Ryanair from Rhodes to Manchester!
"Feeling done in! Little girl feels ill, no food provided since breakfast apart from a 4€ voucher issued at 4pm! Communication & Customer service is key! Up your game."
Sam Foster wrote: "By far the longest delay I've ever experienced coming home from Rhodes, @Ryanair 26 hours!! What the actual sh*t!"
Jay Adair tweeted during the delay and said: "@Ryanair still sat in Rhodes airport, now 24 hrs later. Charging passengers for water after being delayed for 17 hrs at the time was real classy."
Phil Jones commented: "@Ryanair been sat in Rhodes airport for over four hours .. 2 hours delay so far – no updates given – shambles flight ref FR9077."
He later tweeted an update: "@Ryanair 24 hours after arriving for our flight home and we are still here, to and from emergency hotel over night, on and off a faulty plane .. very poor service."
Ryanair has been contacted for a comment.
Source: Read Full Article