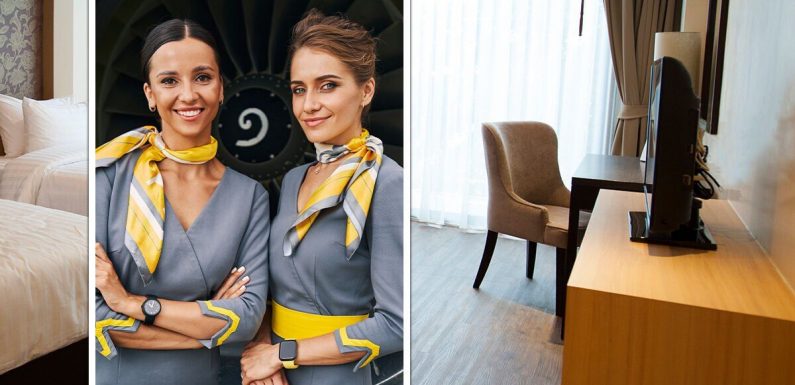 We use your sign-up to provide content in ways you've consented to and to improve our understanding of you. This may include adverts from us and 3rd parties based on our understanding. You can unsubscribe at any time. More info
Former flight attendant Celina Bedding exclusively shared with Express.co.uk her tips to stay safe while holidaying abroad.
The first thing to do to ensure that you're staying safe on holiday, according to the flight attendant, is to locate "the nearest fire exit" as soon as you get to the hotel.
Celina explained "everybody does this on the plane" but not a lot of people take the time to familiarise themselves with the hotel's emergency plan.
The crew member explained: "After being in so many different hotels and places around the world, working as a crew or travelling as a tourist, I have learned, wherever I am, to make sure I see the nearest fire exit as well as the route I would have to follow in a case of an emergency.
"You hear that on board every time you fly, but that is actually a good hack for life."
Celina also recommended: "Before I go to a different hotel I Google it and check the 'Street View' so I am aware of my surroundings."
This is especially important during the summer months when wildfires are dangerously common in warm countries such as Spain, Italy and Portugal.
In terms of staying safe at night in the hotel room, Celina advised holidaymakers to "always use the chain or lock the door".
She said: "If the hotel door has a chain I will use it."
However, many hotels don't allow guests to lock the doors and don't have any chains fitted meaning anyone who has the key can access the room while holidaymakers are sleeping.
Celina said: "If not, you can place your suitcase or a chair behind the door.
"Just in case, you know?
"Always trust your gut feeling," she said.
By placing a chair behind the door, guests will be able to hear if someone is trying to open the door and trying to enter the room while they are sleeping.
Most hotels have a chair in their rooms which is usually located near the desk or table.
Flight attendant Nassim previously shared with Express.co.uk the same hack.
She explained: "I would place my bag by the door.
"In case someone would open it from the outside so that it would make a noise."
The flight attendant also advised travellers to always inspect the room as soon as they check in.
"I would check the bathroom, under the bed, inside the wardrobes, under the table and behind the curtains to make sure that no one was in there.
"I would never ever enter a room without doing that," she explained.
Source: Read Full Article