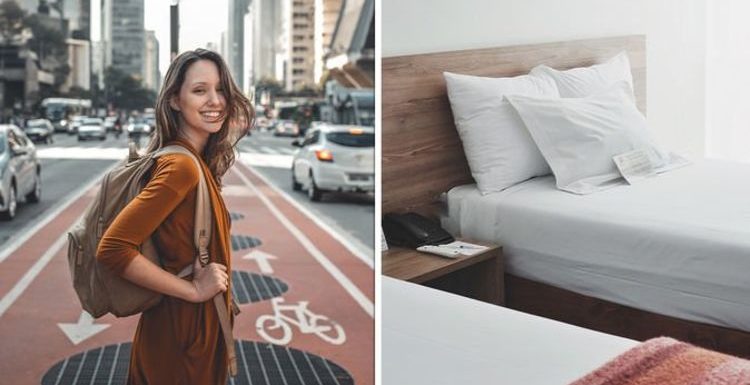 Flight attendant gives examples of what not to do on an aircraft
We use your sign-up to provide content in ways you've consented to and to improve our understanding of you. This may include adverts from us and 3rd parties based on our understanding. You can unsubscribe at any time. More info
While hotels try to keep the rooms clean and disinfected, they remain a closed space where germs easily accumulate. A savvy traveller has shared what guests should avoid at all costs while staying at a hotel.
Miguel is a flight attendant and travel expert who has stayed in hundreds of hotels across the globe.
After years of exploring all kinds of accommodation, from luxury hotels to dreadful hostels, he has become a savvy traveller who believes people should be more careful than ever when booking their next holidays.
Miguel shared some insight on what travellers should do at all times during their hotel stay to avoid catching Covid.
"The most important thing in terms of hotels is to watch out for the small things.
"When you book a hotel, to me, it's very important that you can open the windows in the room," he said.
Although many hotels have fixed windows, during the Covid pandemic it is essential guests make sure their hotel allows them to open the windows in order to ventilate the room and have fresh air.
"I personally like to use flip flops in the hotel shower," Miguel added.
But most importantly, he warned against touching bedspreads or bed runners: "Never sit on those covers they place on top of the duvet because trust me, they never wash them.
"So never touch it!
"Since Covid, I started carrying with me those disposable toilet seat covers.
"I also carry my own mug, salt and pepper, my own bamboo cutlery set, and coffee sachets as some hotels don't give you any," he explained.
"You don't want to get up in the morning, realise you missed breakfast and not have any coffee in the room!"
Miguel continued: "I also carry a small towel in my bag in case the hotel doesn't have any or I need it when I'm somewhere else.
"During these uncertain times, I recommend always having your embassy's phone number saved on your phone.
"It may sound extreme but you never know.
"Nowadays with all the wars and natural disasters…
"It is important in case you need to let your country know if they have to repatriate you.
"I also carry disinfectant wipes, of course, and on the plane I always wipe the armrest, and the seatbelt, because that is never cleaned.
"Ah and all the wall and window area too.
"Although I used to do this before Covid too," Miguel explained.
Source: Read Full Article