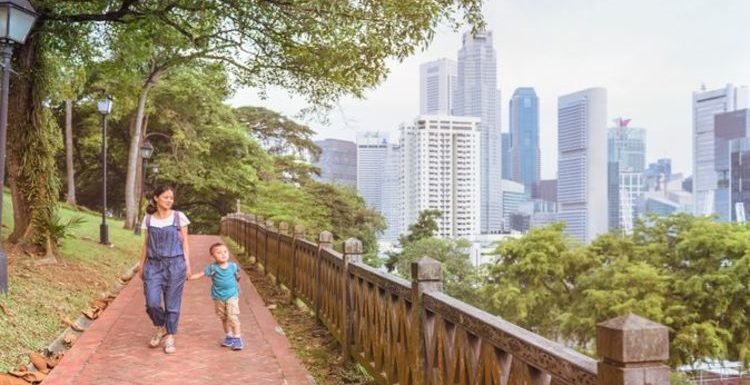 Brexit: British expat discusses difficulty of living in Spain
We use your sign-up to provide content in ways you've consented to and to improve our understanding of you. This may include adverts from us and 3rd parties based on our understanding. You can unsubscribe at any time. More info
The InterNations Expat Insider survey asked expats to rate their city based on several key factors. The 57 cities were ranked based on how safe they were for expat residents.
The expats rated their city's security level based on personal safety and political stability.
Singapore was rated the safest city in the world for British expats as nearly all the expats felt safe there.
Over 90 percent of the expats thought Singapore was very politically stable with 77 percent giving Singapore's political situation the highest rating possible.
One expat said: "Singapore has a very open and vibrant culture, and the quality of life is excellent."
British expats might be surprised by some of Singapore's laws. Chewing gum is illegal on the island nation.
Many people credit the city's famously clean streets with the country's ban on chewing gum.
Feeding pigeons and making noise after 10pm could also see expats receive a hefty fine in Singapore.
It's a good idea for any new expats to familiarise themselves with Singapore's legal system before relocating.
The second safest city for British expats was the Middle Eastern hub of Dubai. A popular tourist destination, Dubai has become increasingly popular with expats.
One expat said that people in Dubai were "warm, welcoming and friendly" and helped people to feel at home.
Dubai is seen as a safe destination for foreigners and violent crime or theft is relatively rare in the busy city.
Drinking alcohol or being drunk in public is a punishable offence in Dubai and British citizens have been arrested for doing so.
Basel in Switzerland was ranked as the third safest city in the world for foreign residents.
The pretty Swiss city sits on the banks of the River Rhine and is close to the borders with France and Germany.
Nearly all the expats said they felt safe in Basel while 90 percent were happy with its political stability.
Switzerland's crime rate is relatively low and the country is considered to be one of the safest in Europe.
The fourth safest city for British expats was the Middle Eastern city of Abu Dhabi. The capital of the UAE is a very safe city to travel to.
One expat said: "It is safe for my daughters and me here, and the healthcare is of high quality and efficient."
Over 90 percent of expats felt safe living in Abu Dhabi and the city has a low rate of violent crime.
Safest cities in the world for expats (InterNations)
Singapore
Dubai
Basel
Abu Dhabi
Zurich
Muscat
Copenhagen
Lausanne
Doha
Munich
Source: Read Full Article