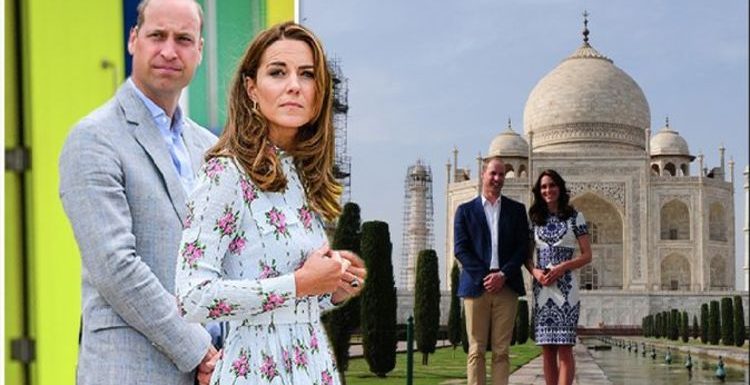 Kate Middleton and William: Expert on family's engagements
Prince William, 38, and the Duchess of Cambridge, 39, take on the majority of international appearances for the Royal Family. They have appeared more and more frequently since Queen Elizabeth, 94, and Prince Phillip, 99, stood down from duties which involve world travel.
Though Prince William and Kate have been known to jet off on incredible adventures, from Canada to India, the duo rarely get to enjoy the usual perks tourists relish in.
According to a royal expert, this is due to the specific plans which are laid out for every trip.
In fact, royal reporter Gordon Rayner, who has attended 20 royal tours, says he has "no envy" for the way in which the Duke and Duchess of Cambridge, along with other royals, must travel when on tour.
Rayner explained to the Telegraph, royal tours are "choreographed to the minute."
We will use your email address only for sending you newsletters. Please see our Privacy Notice for details of your data protection rights.
Guidelines are so specific that meetings and appearances are scheduled right down to the second, including when the Royal Family members sit down to dinner, and when they must whizz off.
"Touring the world meeting heads of state and being shown cultural treasures sounds like a wonderful life," continued Rayner.
"Yet I have no envy for the Royal Family.
"Their visits to world-famous sites rarely last more than 40 minutes, and the chances are they will never return."
DON'T MISS
Google Maps Street View: Man wearing sinister mask seen hiding – why? [PICTURES]
Kate Middleton and Prince William ALWAYS broke royal travel rule [INSIGHT]
Spain BLOCKS UK travellers as Covid travel ban extended [UPDATE]
According to the expert, the royal tour schedule planning can begin as far as six months in advance.
In fact, the planning of their trips is often a major factor for both UK and international authorities involved in the tour.
In 2016, ahead of Prince William and Kate's tour of Canada, a Canadian government spokesperson told CN Traveller of their greatest challenges.
This included "ensuring all the engagements run smoothly, are on time, safe, and successful."
There are also plenty of people who jet off alongside the royal couple to ensure things go off without a hitch.
When it comes to the Queen's entourage, for example, it can be made up of as many as 35 people.
Robert Hardman, the author of 2019 book Queen of the World, explained: "Throughout the reign, the entourage has been around 35 for a typical state visit, including the foreign sec, two ladies in waiting, two private secretaries, an equerry, a doctor, a press office team, four police officers, the Queen's dresser, the Duke of Edinburgh's valet, a hairdresser, several secretaries, plus a page or two and a handful of luggage orderlies.
"That might rise if the Queen was going to be entertaining on a major scale, as she might at a Commonwealth summit, and did not have the Royal Yacht at her disposal."
It seems these travel additions have not been missed by the Duke and Duchess of Cambridge.
Along with their communications team and security guards, Kate also often takes her own personal hairdresser along for the journey.
Amanda Cook Tucker is the Duchess' trusted hairstylist and has been known to fly around the world with the royal couple on tours including trips to India and Scandinavia.
Ms Cook Tucker is on hand to ensure there isn't a hair out of place before Kate steps out in front of foreign media and photographers.
Source: Read Full Article