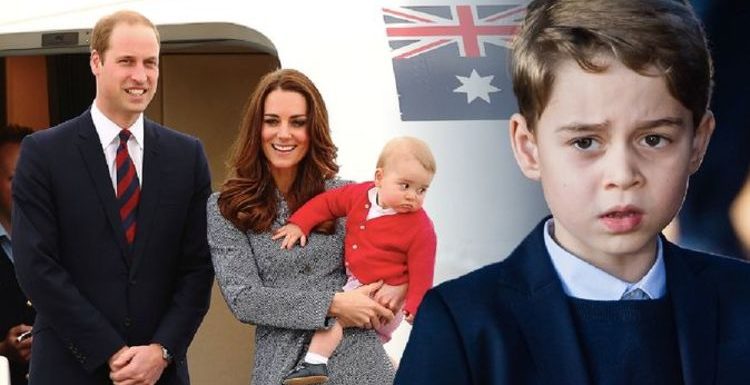 Kate Middleton 'pushed' for royal tour of Australia says expert
Prince William and his wife Kate, the Duchess of Cambridge, will one day be the King and Queen consort of the United Kingdom, and as such must follow a number of Royal Family traditions and protocols.
One such rule break happened just months after their first son Prince George, seven, was born.
Both Prince William and Kate are world travellers, jetting off to represent the UK during global appearances, as well as for their own leisure time.
Before they had children, the duo did not need to worry about any rules pertaining to travelling with offspring.
However, just eight months after Prince George's birth, the couple to embark on an official tour of New Zealand and Australia.
We will use your email address only for sending you newsletters. Please see our Privacy Notice for details of your data protection rights.
According to royal tradition, two heirs to the throne can not fly together, and as a result, Prince William would be expected to board a flight alone.
Under the rule, Kate could fly with the young Prince George but would have to do so separately from her husband.
The tradition is thought to date back to the early days of air travel when accidents and fatalities were much more common.
Despite this, the royal couple made the decision to fly as a family unit on their tour of Australia.
DON'T MISS
World's sexiest countries unveiled with kinky Google searches [DATA]
The Mallorca Files: Mallorca travel guide as season two starts [TRAVEL GUIDE]
UK holidays latest: Grant Shapps on why borders won't be closed [COMMENT]
It is suggested Queen Elizabeth II was the one to have the final say on whether or not the unwritten rule could be broken.
Luckily, the royal press office confirmed the arrangements had been given the go-ahead.
Speaking to BBC Newsround, a spokesperson said: "They had to ask the Queen for permission, but she said yes.
"While there is no official rule on this, and royal heirs have travelled together in the past, it is something that the Queen has the final say on."
Since then, Prince William and Kate have flown all around the world with all three of their children on multiple occasions.
On a 2016 tour of Canada, the Duke and Duchess boarded flights together with both Prince George and Princess Charlotte.
Some sources have suggested this decision could be to keep costs down and lessen the environmental impact of travel.
Ahead of their New Zealand and Australian tour, in 2013 a royal aide told The Mail on Sunday: "It's a long way to fly, and there's a cost implication if they travel separately."
However, there is some speculation the rules may change when Prince George turns 12-years-old.
He may then be required to fly separately from his father, although this has not been confirmed by palace officials.
The family have also been known to break away from private jets and fly commercially with their children too.
In August 2019, the royal couple and their children took a Flybe jet from Norwich Airport to Aberdeen.
Tickets for the economy seats were sold at £73.05 per person, according to Flybe's website at the time.
Source: Read Full Article