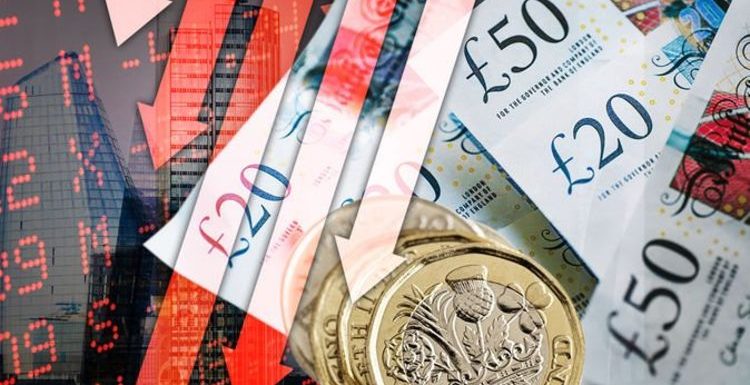 Holidays: Michael O'Leary slams UK travel restrictions
When you subscribe we will use the information you provide to send you these newsletters. Sometimes they'll include recommendations for other related newsletters or services we offer. Our Privacy Notice explains more about how we use your data, and your rights. You can unsubscribe at any time.
The pound had an "extremely sluggish" start to the week, according to one expert, and it has not moved much since. Sterling has been steadily decreasing against the euro over the past few days. What does this mean for your travel money?
The pound is trading at a rate of 1.1623 against the euro at the time of writing, according to Bloomberg.
This is slightly lower than yesterday morning's rate, where the pound was trading at 1.1647 against the euro.
Sterling's value was higher again on Monday, which means that it has been gradually decreasing since the start of the week.
Boris Johnson announced on Monday that most coronavirus rules will remain in place for another four weeks in England, instead of being eased on June 21 as previously planned.
Michael Brown, currency expert at Caxton FX, commented on the pound to euro exchange rate this morning.
He said: "Yesterday was yet another subdued day for the cross, with the market continuing to do little of any interest, and idly treading water around the €1.16 handle.
"Given the quiet European calendar today, and the fact that the attention of market participants lies elsewhere with today's FOMC decision, more of the same could lie in wait."
The decision Mr Brown referred to is that of the Federal Open Market Committee, who is meeting today to discuss interest rates and the growth of money supply in the United States.
DON'T MISS:
Queen Elizabeth: Why the monarch has not visited Greece on state visit [EXPLAINED]
Britons staggered as they agree with Theresa May's brilliant summary [INSIGHT]
Holiday in Spain is 'absolutely worth it' despite being on amber list [ANALYSIS]
Yesterday saw the pound trade at a similar rate to today, with Mr Brown saying the week had got off to "an extremely sluggish start".
He added: "There is, sadly, little on the docket that suggests today will be any different, with this morning's UK labour market data likely to be ignored, and GBPEUR happy to do little more than tread water around €1.16."
After the prime minister's announcement on Monday, some currency experts noted that the Government's decision to delay the lifting of lockdown rules could negatively impact the pound to euro exchange rate.
George Vessey, UK currency strategist at Western Business Solutions, shared his insight with Express.co.uk at the start of the week.
He said: "On the data front this week, jobs numbers are due out first thing Tuesday morning, and should show more signs of improvement.
"Inflation data drops in on Wednesday morning and retail sales wraps up the week on Friday morning.
"Against the euro, sterling has risen for five weeks on the bounce and lingers just under the €1.17 handle.
"Strong UK data this week could be enough to trigger a breakout north of this current resistance level."
So, what does all this mean for your travel money?
With the news that the easing of lockdown has been delayed by four weeks, Britons are again faced with uncertainties surrounding international travel this summer.
Ian Strafford-Taylor, CEO of travel money specialist FairFX advised last week: "Britons hoping for an overseas break should keep an eye on any announcements and watch the pound closely to make sure they're getting more bang for their buck by securing the best rates available for their travel money."
Mr Stafford-Taylor commented again after the Government's announcement yesterday, saying the confirmation of a delay to the easing of lockdown rules "didn't come as a shock to many".
He added: "It seems the pound is weathering the storm too, with almost no movement against the euro compared to this time yesterday.
"Brits are yet to see how this delay to restrictions at home will affect their chances of an overseas summer holiday.
"However fresh speculation that foreign travel is unlikely to reopen to popular European destinations before August won't do much to ease people's minds.
"This comes as major airlines including British Airways, Virgin Atlantic and easyJet have started cancelling flights set to take off before July 19."
Mr Stafford-Taylor added: "Although it's yet to be confirmed, this news will be a big blow for holidaymakers who have their hopes pinned on a summer break after so many months in lockdown."
Source: Read Full Article