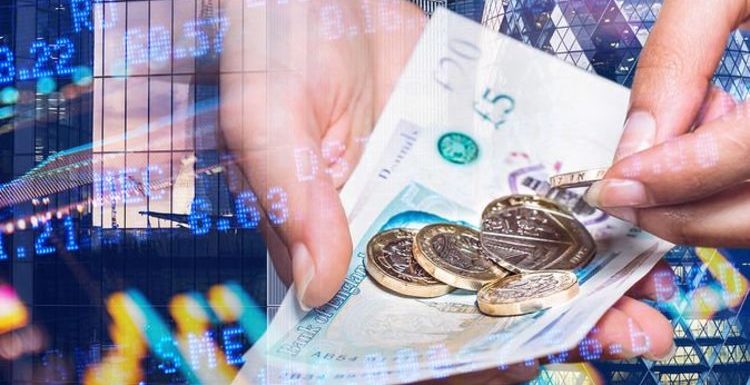 Travel: Grant Shapps issues warning on booking holidays
When you subscribe we will use the information you provide to send you these newsletters.Sometimes they'll include recommendations for other related newsletters or services we offer.Our Privacy Notice explains more about how we use your data, and your rights.You can unsubscribe at any time.
The pound to euro exchange rate spent much of last week fighting to achieve the 1.17 mark. Though sterling has begun the week "rangebound", it could be set for change with a "busy slate of UK data" in the coming days.
The pound is currently trading at a rate of 1.1655 against the euro according to Bloomberg at the time of writing.
Michael Brown, currency expert at CaxtonFX spoke exclusively with Express.co.uk to share his insight into the current exchange rate.
"Sterling continues to trade in the mid-€1.16s this morning, as the turgid and rangebound conditions that dominated the FX market last week, look set to continue into this one," he explained.
"There is a busy slate of UK data due this week – highlighted on Wednesday by this month's flash PMIs – though it remains questionable how much economic data matters to the market these days.
"As a result, we may be in for another subdued week, unless developments surrounding the pandemic can provide any impetus one way or the other."
Last week, sterling managed to maintain its position against the euro despite the Bank of England's monetary policy announcement on Thursday.
"Sterling had two attempts to convincingly break the €1.1710 resistance yesterday, but failed both times, settling back into the top end of the range that we have now traded within for some time," Mr Vessey explained at the time.
While Britons may not be allowed to jet off on leisure holidays just yet, the current exchange rate may seem rather favourable.
DON'T MISS
Post covid travel: Which airlines require a vaccine to fly? [INSIGHT]
Are summer holidays banned? Minister refuses to rule out travel ban [COMMENT]
Google Maps Street View: Sinister figure lurks behind window in creepy [VIRAL]
The Post Office is currently offering a rate of €1.1223 for amounts of £400 or more, and rates of €1.1444 for amounts of £1,000 or more.
Despite the rates on offer, James Lynn, co-CEO and co-founder of travel card Currensea, said Britons should not rush to change money in advance of holiday plans.
He explained: "It may be tempting to take out foreign currency in anticipation of a future holiday, while the exchange rate is favourable.
"However, I would advise against this. Market movements are often more marginal in reality than they appear.
"Especially during this volatile time, it's safer to keep hold of your money in your UK bank account than purchasing or exchanging for holiday money."
There is one situation in which Britons may want to consider using a travel money service, particularly if their holiday plans have been shattered.
According to a recent report by the Post Office Travel Money, a huge portion of Britons could be missing out on money as a result of currency "hoarding".
The research found that over four-in-five (82 percent) of 2,080 adults surveyed had taken
overseas holidays in the past but only 22 percent of them changed leftover foreign currency back into sterling when they returned home.
What's more, over half of holidaymakers (51 percent) kept hold of their leftover currency, worth an average of almost £155 each.
Around 18 percent of Britons who had been on holiday said they "forgot" about their leftover money.
Others said they were holding on to their foreign currency in the hopes of another holiday in the future.
Nick Boden, Head of Post Office Travel Money, which accounts for one-in-four UK currency transactions said: "Our research shows that there are billions of pounds worth of foreign cash hidden away at home so now might be the time to check how much you have.
"If it turns out to be currency for Australia, New Zealand, Norway or Sweden and you are not planning to travel to these countries in the forseeable future, now might be the time to change it back into sterling.
"These have risen in value against sterling, and you will get more cash back.
"Equally, if you are planning a holiday abroad when the rules allow it, it is worth considering destinations where sterling has risen most in value.
"The pound is worth over seven per cent more against the euro than a year ago, but other currencies have weakened more.
"The Turkish lira is down by over 37 per cent and Caribbean currencies have weakened by 18-28 per cent.
"There will be big gains too in popular long haul destinations like Kenya, Mauritius and Dubai."
Source: Read Full Article