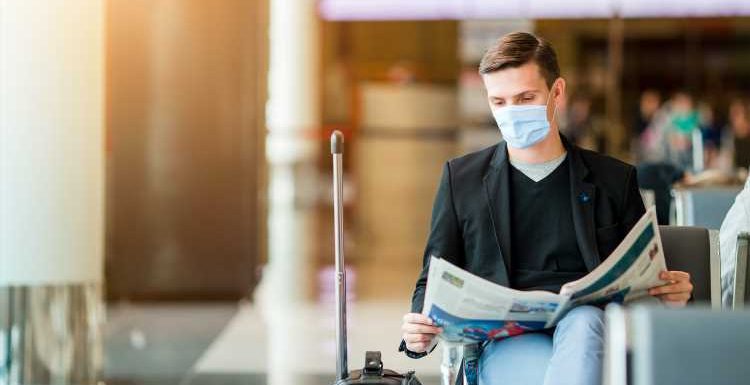 © Photo by Shutterstock
Planes, Trains, and . . . National Parks? Yep, Masks Now Required for Travel in U.S.


Photo by Shutterstock Wearing masks at U.S. airports is now a must.
Load Error
The new mask order was issued by the agency on January 29 and goes into effect on February 2; it remains in effect until further notice. It makes official a mask mandate that was signed by President Joe Biden on January 21, marking the first time the federal government has established an official directive on mask wearing during the coronavirus pandemic.
The executive order on Promoting COVID-19 Safety in Domestic and International Travel made it obligatory to wear a mask while traveling through the country's airports and on airplanes, trains, and public transportation.
Masks must be worn over the mouth and nose, according to the CDC order. For those wearing cloth masks, the masks "should be made with two or more layers of a breathable fabric that is tightly woven (i.e., fabrics that do not let light pass through when held up to a light source)"—that goes for gaiters, too, which should have two layers of fabric or be folded into two layers, according to the agency. Medical masks, such as surgical or N95 respirator masks, also pass muster.
Masks or face coverings that don't cut it? According to the CDC, these are a no-go:
Face shields
Scarves, ski masks, balaclavas, or bandannas
Turtleneck collars pulled up over the mouth and nose
Masks containing slits, valves, or punctures
Children under the age of two, as well as those with a disability that prohibits them from wearing a mask, are exempt. Masks can be briefly removed while eating, drinking, or taking medication; to verify someone's identity such as during Transportation Security Administration (TSA) airport screenings; and when oxygen masks are required on an aircraft.
The order is enforceable by TSA agents, as well as by federal, state, and local authorities—though it does not go as far as to say precisely what the repercussions are or will be for those who do not comply.
The mask mandate for travel and transport came one day after Biden also signed an Executive Order on Protecting the Federal Workforce and Requiring Mask-Wearing that applies to federal employees, buildings, and lands. Federal lands include the country's National Park System, a network of 423 national parks, monuments, memorials, historic sites, and nature reserves. 
Up until now, mask-wearing rules and enforcement have been left to a patchwork of state and local governments as well as to private enterprises, such as U.S. airlines, which have been requiring that all passengers wear masks since early May. 
The mask initiatives are part of the Biden administration's 200-page National Strategy for the COVID-19 Response and Pandemic Preparedness, the country's pandemic-fighting road map.
"Beating this pandemic will be one of the most difficult operational challenges we have ever faced as a nation," the president wrote in the opening letter of the new coronavirus national strategy. But, he added, "I believe we are ready."
This story was originally published on January 21, 2021, and was updated on February 1, 2021, to include current information.
>> Next: Our Picks for Face Masks to Buy—and the Latest Rules for Wearing Them
Source: Read Full Article