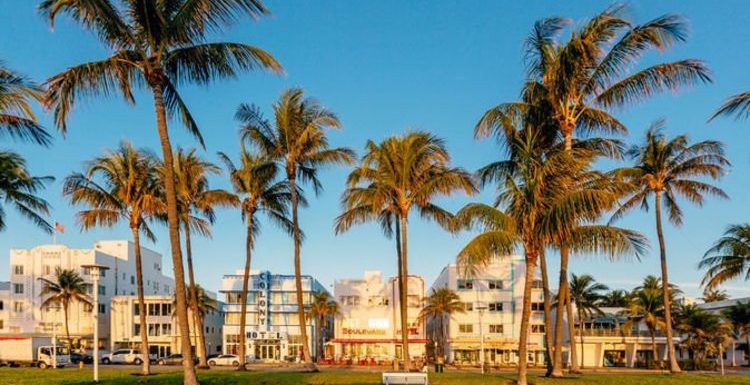 We use your sign-up to provide content in ways you've consented to and to improve our understanding of you. This may include adverts from us and 3rd parties based on our understanding. You can unsubscribe at any time. More info
Passengers had to be removed from an American Airlines flight from Miami to Houston when they refused to wear masks. The flight was delayed for nine hours, and while it is unclear whether the refusal to wear masks was the only issue, it seemed to have contributed to the problem.
Two American Airlines passengers refused to wear face masks.
On top of their refusal, they seemed to have had a lengthy dispute with staff and possibly another passenger.
Twitter user ONLY in DADE posted a video on the platform and claimed three people were "kicked out".
They said: "Two for not following mask rules and another person for arguing with them."
READ MORE: US holidays- when will Brits be allowed to visit?
The airline confirmed two people had been removed from the plane for refusing to wear masks.
They said: "Prior to take-off, American Airlines Flight 1469, with service from Miami (MIA) to Houston (IAH), returned to the gate to deplane two customers who failed to comply with crew member instructions and refused to adhere to federal face covering requirements."
What the official statement did not mention was the reaction of some of the passengers.
In the video shared by ONLY in DADE, mask-wearing passengers could be heard singing.
Accompanying the unruly passengers while they collected their hand luggage, other passengers sang Steam's 1969 song, "Na Na Hey Hey Kiss Him Goodbye".
One passenger could also be heard laughing.
Issues surrounding compliance with Covid restrictions and regulations are unfortunately common.
A couple was banned from low cost American airline JetBlue last week.
The issue seemed to have stemmed from the incorrect wearing of face masks and the ensuing argument.
United Airlines CEO Scott Kirby said his airline had to ban 1,000 people since the pandemic started.
The unruly behaviours that get people banned, including refusal to wear masks, had dropped in 2021, however.
While being banned from an airline may seem like the end of the world for some travellers, they should be thankful it's all it is.
Last month in Singapore, a British man was jailed for not wearing a mask on a train.
He was sentenced to six weeks in jail but was released "due to time served while remanded in detention, which included two weeks in a mental health institution," said Reuters.
The latest news was that the man was being deported.
Source: Read Full Article