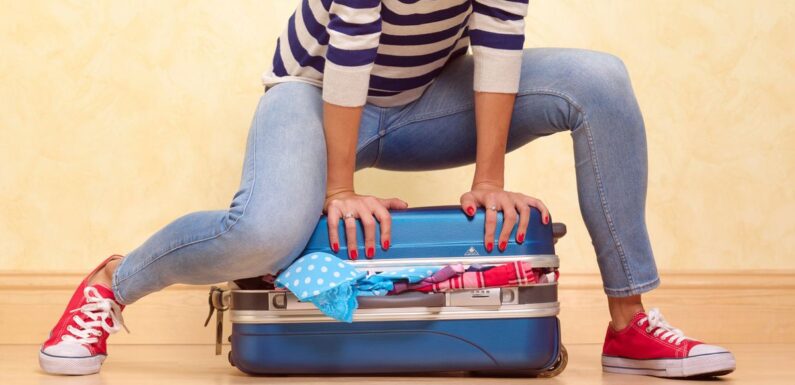 Packing for holidays can be time-consuming and stressful, especially if you have lots of items and very little suitcase space.
While you can of course splash out on checked luggage not everybody wants to add to the cost of an already expensive trip or have to wait on the other side for their suitcase. Luckily, the packing experts at Wild Packs have shared some one essential packing tip that can stop you from having to shell out extra for hold luggage.
It could help you to pack as much as possible into your cabin bag meaning you can save cash and time at the airport, and involves using compression bags. Simply place these into your carry-on, creating more space for other items. Plus, it will help you swerve those hefty airline luggage fees that could see you having to pay up to £65 to check a bag into the hold.
READ MORE: Packing expert warns passengers to always pack a soft toy in their suitcases
The packing experts explained: "It's common when packing for a holiday to expand your luggage into a suitcase for check-in, but this means risking additional costs when flying. If you haven't pre-booked hold luggage with your flight, purchasing a check-in bag for additional clothes can cost you £65.
"But by flat-packing all your clothes with compression bags to place in your carry-on, you can save on your flight! Carry-on luggage can be as large as 56cm x 45cm x 25cm depending on the airline. Regardless, you will be able to neatly fit between 4 and 5 compression bags sized around 25x 16x 4.6cm filled with clothes into the carry-on. Pants are longer and heavier than tops so you will naturally fit fewer jeans into the carry-on compared to t-shirts."
They also shared a handy seven-step process to help you maximise your time and space:
Place two to three pairs of jeans or four to six tops into a compression bag
While unzipped, roll the compression bag up, which will remove any excess air
Unfold the bag and the contents should be flat-packed
Zip up the compression bag and neatly place it in your carry-on bag
This process can be repeated with up to five compression bags
Make sure to leave room in your carry-on for other items like shoes and makeup bags
Also, consider packing a small travel steamer to iron out any creases in your clothes once you unpack on your travels
It's not the first time a frequent flyer has revealed their tips for maximising space. Travel presenter Hayley Sparkes spends her time around the world as part of her job, and she previously shared her secrets for efficient packing.
She told the Daily Star: "Packing Cubes are really popular right now, they are a great way to keep your clothes crease free, save space and keep all of your holiday items super organised. Compression packing cubes take space saving to another level."
You can find out more on wildpacks.com.
Source: Read Full Article