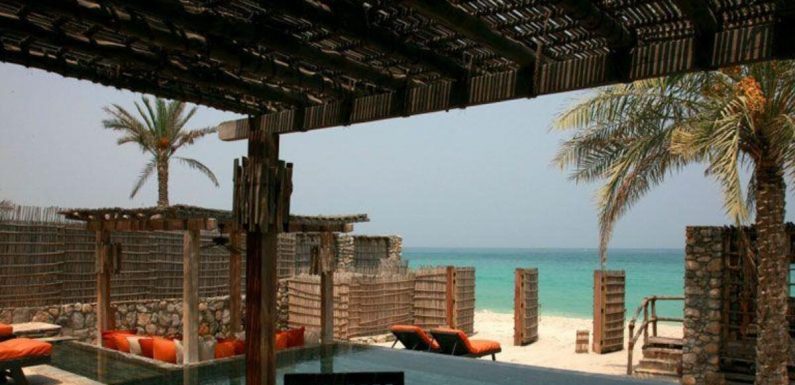 Six Senses Zighy Bay also launches new carbon-neutral rate, pledging to donate $10 per room per night to wind turbine projects in Turkey
One of Oman's most popular tourism destinations, Six Senses Zighy Bay, has announced that it will be re-opening its doors on October 15 following an enforced closure due to the global coronavirus pandemic.
With the checkpoint in the nearby town of Dibba currently still closed for tourists, the resort will temporarily be bringing guests through the northern border of Khasab.
A six-hour journey from Dubai, guests will drive to the Al Dhara border, where the resort 4×4 vehicles will be waiting to take them on a three-hour off-road journey that's not for the faint-hearted.
The resort said in a statement that all guests must receive a negative PCR test within 72 hours of arrival at the border, and as soon as the Dibba checkpoint re-opens, the resort will revert to their usual method of transfer with or without an arrival by paraglider.
It added that while closed, the resort has refurbished its four and three-bedroom beachfront villas.
A resort built upon sustainability for environmentally conscious travellers, Zighy Bay has also launched an industry-leading carbon-neutral rate, pledging to donate $10 per room per night to wind turbine projects in Turkey to offset the amount of carbon produced during their stay at the resort.
Andrew Spearman, general manager, said: "We are all thrilled to be able to welcome guests back to the resort. It's been a long 18 months where we've been unable to see and share guests' smiles, laughter, and sense of wonder when they visit us, and so we can't wait to get back to what we do best, providing memories that will last a lifetime.
"We've worked incredibly hard to maintain the resort during our hiatus, and we're looking forward to showcasing it both familiar faces and new guests, for what will be a new chapter in the story of Six Senses Zighy Bay."
Six Senses Zighy Bay is nestled in Oman's Musandam Peninsula and offers 82 indigenous style pool villas.
Source: Read Full Article