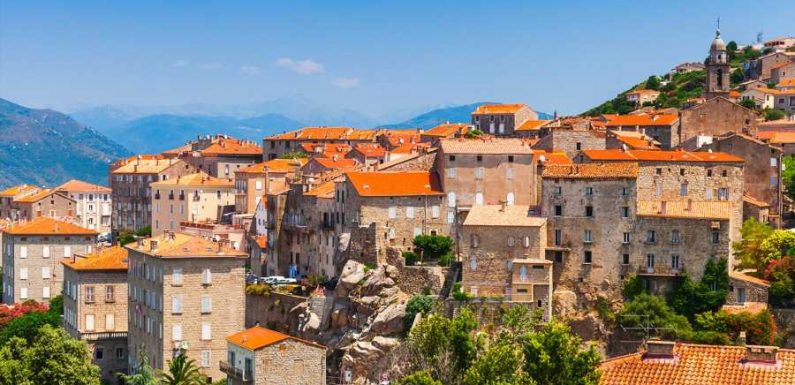 There's more to France's stunning island-region of Corsica than catches the eye of the occasional tourist eager to sunbathe and indulge in succulent cold cuts.
Corsica is one of the world's most stunning paradise-like islands but it also features remote hilltop villages stuck in the countryside that harbor a dark past.
So, for just a second forget the shimmering beaches, the pristine shores, translucent water, and the tropical vibe—those postcard clichés that make the Mediterranean's fourth-largest isle a holiday hotspot.
Beyond the popular attractions and picturesque seaside towns loved by tourists, there's an off-beat, deep, wild, and lesser-known patch of Corsica far from the madding crowd. It's the so-called "bandit land", where for centuries outlaws, revolutionaries, secessionists, and common ruffians hid in the wild vegetation and caves, finding shelter in a secluded hamlet, fighting against invaders, and dying for independence.
Locals here can be fiery, who have a strong sense of identity and are proud to feel and call themselves Corsican, not French. They have their own dialect (more Italian-sounding) and flag. And even though they have a lot in common with Italians living on the nearby Italian island of Sardinia (the two isles were actually stuck together at the dawn of time) Corsicans don't feel one bit Italian.
Not a surprise though.
Corsica has had a long history of occupation and violence: raided by pirates during the Renaissance, it was taken over by the Italian kingdom of Genoa then sold back to the French for a handful of coins only to be occupied by fascist troops during the Second World War.
As the island passed from one foreign rule to another and in between the invasions, locals were also caught up in territorial feuds among opposing landlords and clans. They've had their fair share of bloodshed and still nowadays occasional shootings occur. A sort of small-scale mafia world lingers.
So my first visit to Corsica's bandit land turned out to be quite an adventure. Leaving behind the gorgeous beaches of Bonifacio, Palombaggia, and Santa Julia swarming with families and kite-surfers, I was in the mood for a bit of silence and peace so I set aside one summer day in June for visiting semi-deserted towns with quirky and spooky writings on the wall in a territory dotted with primitive archaeological sites and miniature Stonehenges.
With a long history of piracy and banditry, Sartène embodies the authentic island identity that used to be bandit capital. In this once gangsters' paradise, a sleepy, frozen-in-time vibe welcomes visitors.
Gallery: 10 Magical Fairy-Tale Towns in a Country Otherwise Known for Being Spooky (Fodor's)
Best & Worst Refinance Mortgage Companies of 2021


Ad
Microsoft

Seniors Are Getting These Unsold 2020 SUVs For Dirt Cheap


Ad
Microsoft
10 Magical Fairy-Tale Towns in a Country Otherwise Known for Being Spooky
While Bram Stoker's 1897 vampire novel "Dracula" may have painted Romania, or, more specifically, Transylvania, as a dark and scary place, that couldn't be further from the truth.
The Eastern European country is brimming with picturesque small towns, complete with grand town squares, riotously colorful buildings, myriad castles and fortresses, and rich forests, making it nothing short of a fairy tale. Here are just 10 to fuel your Romanian daydream.
Sighișoara
Mark our words: Sighisoara will be on the lips of every influencer within the next few years. The main three cobblestone streets of the citadel boast Crayola-colored houses that are chock-full of photogenic cafes and boutiques. If you can tear yourself away from street level, the Clock Tower (easy to find—it's visible from almost anywhere in town), the Sighisoara History Museum, or the Church on the Hill all offer beautiful views of Sighișoara. If you're around during the final week of July, plan to attend the annual Medieval Festival. If not, you can always visit one of the many medieval Guild Towers or the birthplace of Vlad Tepes (also known as Count Dracula).
Brasov
Most travelers use Brasov as a base to explore the nearby Bran Castle (also known as Dracula's Castle, as Vlad the Impaler was once imprisoned there), but we'd be surprised if you didn't at least consider extending your stay in the charming, ancient town. Visit the narrowest street in Europe (Strada Sforii, or "Rope Street"), sip coffee near the 13th-century clock tower or in brick basement cafes, climb to the White or Black Towers to watch the sun set on the city, or venture into the Carpathian Mountains to hike between villages nestled between vast forests and towering peaks.
Sibiu
When you hear that the houses in Sibiu have windows that look like eyes and a bridge that purportedly creeks when you tell a lie on it, you may assume the Transylvanian town has an air of spookiness to it. But instead, it's the cultural capital of the region, with multiple squares that act as the center of city life, centuries-old churches, and a myriad of museums. The town is separated into Lower Town and Upper Town. The former is where most of the historic sights are, whereas the latter is home to more cozy cafes and families.
Sinaia
Though small in size, Sinaia is fit for a king. Literally. The town of just 11,600 in the shadows of the Bucegi Mountains, is where Romania's first king, Carol I, spent his summers. Peles Castle–the brainchild of a myriad of artists', architects', and woodsmiths' work over the course of 40 years–is reason enough to visit. The 150 rooms are a buffet of different decorating styles ranging from Art Nouveau to Gothic Revival. While grandiose wood carvings, stain glass windows, and marble stairs dominate the building, what you'll remember of your tour of the residence is the armor room (for both men and horses), larger than life portraits of the royal, and several secret passageways.
Viscri
Unlike the riotously colorful Sighisoara and Sibiu, most of the buildings in Viscri are a more muted blue topped with uniformly red roofs. It was lesser-known until Prince Charles expressed his love for the quiet getaway. Still, the tiny village (with a population of 400), is where you can see what life is really like in rural Romania. Many workers participate in traditional craftsmanship, like the blacksmiths who forge horseshoes and the artists who make tiles in earthen kilns. Breeze down the cycling trails that cruise by pastures or explore the area on horseback.
Suceava
Suceava has changed hands numerous times over the years. For nearly 200 years, it belonged to Moldova before being controlled by various groups associated with Austria-Hungary until 1968, when it was relinquished to Romania. It makes sense that the buildings are wildly diverse. But the main attraction in Suceava is the 14th century Royal Citadel, and rightfully so. Where else is it encouraged to climb on the rocks and poke around various chambers unguided?
Busteni
With a name that literally translates to "tree-logs" it makes sense that Busteni works in tandem with nature. Squirreled away in the Bucegi Mountains, it's a popular ski and climbing town, with a bevy of romantic resorts and cottages. Spend the day hiking amongst the waterfalls or, if that's not your thing, take the cable car to the top of the mountain for a panoramic view of the valley.
Sucevita
This little village is practically synonymous with explosively colorful frescos. The painted monastery here is arguably the most popular of Bucovina's (and inarguably the one with the most paintings), all of which are known for the quality of the artwork and the fact that, despite hundreds of years of being exposed to the elements, the external paintings are still largely intact. Both the Old and New Testament find homes on the densely-packed outer walls (both the cheery ones and those that are decidedly not), with the exception of the western one; the story goes that after the original painter fell from the rafters, other artists weren't keen on finishing the gig.
Hunedoara
Corvin Castle, the largest secular Gothic building in all of Transylvania, is the number one reason to visit Hunedoara. Built on a rock looming over the city below, this imposing fortress has multiple circular and rectangular towers (some of which were used as prisons once upon a time), stone balconies, and an actual drawbridge.
Caransebes
Technically, the newly-discovered Tunnel of Love (not to be mistaken for the similar one near Klevan, Ukraine) is just outside of Caransebes, but finding it adds to the magic of the place. Their trees intertwine to create a botanic tunnel that surrounds an old section of the railroad where you can walk for miles under the greenery. As you leave town, go east along Road 68 and look for the original railroad station near the Obreja commune. From there, just follow the tracks into the woods.
A bumpy road winding through the wild vegetation of the Mediterranean bush and surrounded by huge rocks with stunning views of the sea leads me to the town of Sartène, dubbed "the most Corsican of all Corsica towns."
With a long history of piracy and banditry, Sartène embodies the authentic island identity that used to be bandit capital. In this once gangsters' paradise, a sleepy, frozen-in-time vibe welcomes visitors. Despite rare vendettas between criminal clans, the population today kills time in a more happy and profitable way—producing a premium wine and hosting traditional food fairs.
Sartène's old part of the village, the borgo, is fascinating. It's a maze of cobbled alleys with rough, uneven steps connecting tall dwellings built with gray granite rocks from the nearby mountains, clustered at the feet of a 16th-century watchtower which is all that remains of the old defensive walls.
I get lost in the labyrinth of arched passageways with massive, jutting stones. The houses, built within the rocks of the hill on which they are perched, seem part of the landscape. Silence rules. It's midday and there's hardly anyone around under the sultry sun, just cats and a few stray dogs.
Founded by the Genoese on the ashes of primitive settlements it looks like the idyllic, picture-perfect hilltop town. But the gangster heritage can be felt and seen. The main public square, lined with shops and cafés, is where the guillotine was once located. Hangings and decapitations were executed in front of the public to dissuade them from committing crimes.
At a certain point I get to a huge wall covered in separatists' graffiti and read, written in black spray: "Death to all Italians" (in Corsican dialect, of course). I freak out and look over my shoulder, praying that nobody has heard me chatting in Italian with my Italian friends who came along on this journey. We look at each other and keep staring at the wall. Obviously, someone here does not much like Italians despite all the things we have in common (Corsican dialect is almost identical to Sardinian).
But how could you blame locals?
We (Italians) did conquer Corsica and founded this particular town, then sold them over to Paris, and much later occupied their land again during the war, so I understand why they're still mad at us.
We start debating whether it's best—you never know!—if we leave straight away and go back to the safe beaches. But our original plan is to spend the night in Sartène, so despite the freaky writing on the wall and the feeling of being "outsiders," we decide to stick to it and even have dinner in town. Somehow we're caught up in the thrill of the situation and attracted by the dramatic beauty of the village.
As I wander around I spot old ladies staring at us out of windows or scurrying away in alleys covered in black shawls. None of the residents we come across smiles or says "hi." I keep anxiously looking over my shoulders and when night falls we're all a bit scared of going out.
In Sartène there's a special vibe of mystery imbued with folklore that lures the stranded visitor oblivious to its dark past.
But most villagers are welcoming and willing to rub shoulders with visitors. They rent their private homes and rooms to raise extra money. The bed and breakfast where we stay is part of an old house connected to the main building through an arched, dark passage swarming with hens, chickens, and ducks. The henhouse is at our front door. The rooms are simple, with small beds and little furniture.
The owner is a rather nice lady who keeps to herself but suggests we try out a traditional tavern serving local specialties for dinner. It also happens to be one of the few places open that evening. In fact, there are just two other Corsican diners at the restaurant. The wooden tables are covered in red and white paper cloth and the decor is rustic. The waiter speaks to us in French with a strong local accent and doesn't dwell too much on the usual chit-chat. Ravenous, we want to have a bite of Sartène's iconic recipes so we decide to opt for the plate of the day: The Hunter's Dish, a stew of wild boar with herbs, which we gulp down with a nice glass of local red wine.
The walk back to the bed and breakfast is in utter darkness, but it's a total throwback. At any minute I expect some bandit to pop out from a street corner, his face covered in a handkerchief, and kidnap us for ransom. It's actually funny.
In Sartène there's a special vibe of mystery imbued with folklore that lures the stranded visitor oblivious to its dark past. Despite the eerie feeling of being stuck in bandit land at the end of the weekend, I was won over and didn't feel like leaving.
Source: Read Full Article