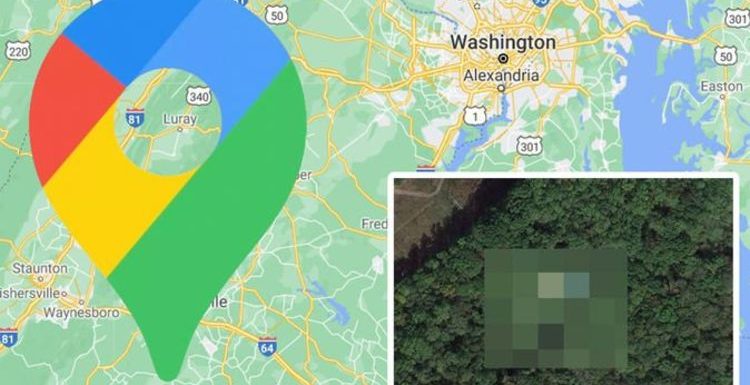 Google Maps introduce their new 'Live View' feature
Google Maps is a highly useful tool for those looking to locate somewhere in the world or simply for users keen for some diversion. The satellite function helps viewers see the world from a unique viewpoint from above. This means sights can be spotted that would never be seen from the ground.
One such spectacle has gone viral after being posted on US content-sharing site Reddit.
The image was taken in Virginia in the USA.
It shows an aerial view of dense, green wood.
A plane can be seen amid the trees.
We will use your email address only for sending you newsletters. Please see our Privacy Notice for details of your data protection rights.
However, it looks like no ordinary aircraft.
Behind its white wings are a rainbow of colours.
It is as though the plane has been replicated in red, green and blue creating a truly otherwordly image.
The photo was captioned on Reddit: "Disco airplane from above (sic)."
Viewers wondered whether the plane had crashed in the woods.
"So did the plane crash there somehow and is held by trees?" one Redditor posted.
However, other users explained the plane was moving.
The way the images are taken by the Google satellite has resulted in the bizarre multi-coloured effect, they said.
"If I recall correctly, the satellite takes different image colors in a sequence then overlaps them, hence the RGB and black and white of the plane; as it's in motion, it moves between the different frames (sic)," one Reddit user claimed.
Another added: "You also have the issue that the satellite is also in motion.
"The images are adjusted so that the motion of the satellite is removed at ground level; but anything not at ground level then doesn't ave the images line up.
"All fast moving aircraft have this effect due to their own motion, but it gets worse as the aircraft gain elevation and the motion of the satellite then adds to it.
"And I think you understood it, but to be clear for others; there is also usually a monochrome camera in addition to the three colour filters, thus why you usually get four images instead of three (sic)."
Others made more light-hearted comments on the photo.
"The power within," one wrote
"That's a big butterfly!" a second posted.
Source: Read Full Article