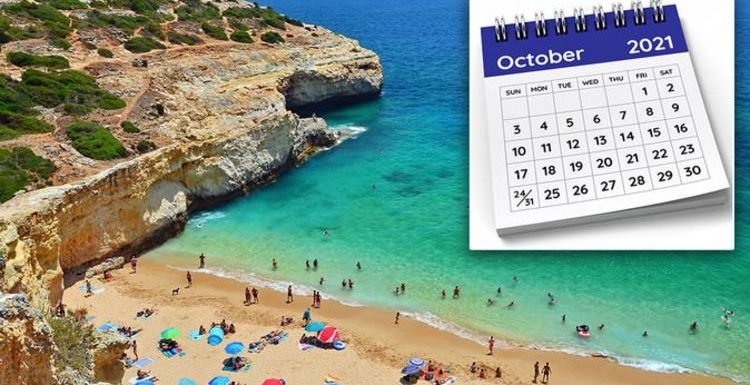 Lee Juggurnauth discusses government's 'unfair' travel advice
We use your sign-up to provide content in ways you've consented to and to improve our understanding of you. This may include adverts from us and 3rd parties based on our understanding. You can unsubscribe at any time. More info
Whether you're taking the family away for an October half-term holiday, or you just fancy a bit of sunshine as the weather in the UK gets colder, we've rounded up the best holiday destinations in Europe. Read on to find out about six of the hottest getaways for October
If you're planning an Autumn getaway from the UK, make sure you are up to date with all the latest entry requirements for your destination. The UK Government website has the full guidance for each destination.
Rome
The average temperature in October in Rome is a pleasant 18 degrees. It can rain occasionally, but there's plenty to do indoors in Rome, such as visiting the Vatican or holing up in a lovely trattoria.
The Italian capital is a historic and romantic destination at any time of year, but Rome is a particularly atmospheric early Autumn holiday.
According to Kayak.co.uk, flights from London to Rome in October are an average of £100.
Gran Canaria
Gran Canaria's average temperature for October sits at a very comfortable 23 degrees. Rainfall is rare, and you'll see around seven hours of sun per day.
The third-largest canary island boasts beautiful beaches and relaxing resorts. Whether you're here to sunbathe or to dance the night away, Gran Canaria has something for everyone.
CheapFlights.co.uk say the average cost for a flight from the UK to Gran Canaria is £209.
Kos
The average temperature in Kos in October is 19 degrees, with highs of 22.
With 290 kilometres of coastline, there's no shortage of beaches in Kos. Famous for its nightlife, you can find great spots for dancing and karaoke in Kardamena. If you fancy a more serene holiday, try Kos Town for harbourside candle-lit dinners.
Flights to Kos in October from the UK cost an average of £238.
Lanzarote
Enjoy an average temperature of 23 degrees in the Canary Island of Lanzarote.
Lanzarote is one of the original European beach break destinations. Favoured by holidaymakers since the 1970s, this island is ideal for watersports.
According to Skyscanner, you can fly from Doncaster to Lanzarote for as little as £28.
Barcelona
Barcelona's average October temperature is a relaxed 18 degrees.
With tasty tapas, amazing architecture and an impressive beachfront, Barcelona has a lot to offer. For football fans, the Nou Camp football stadium is a must-see.
Kayak.co.uk lists the average price of a flight to Barcelona from the UK in October as £81.
Gibraltar
Gibraltar has an average daily temperature of 20 degrees, and highs of 23, throughout October.
Gibraltar offers Brits the unique opportunity to enjoy all their home comforts, while leaving the British weather at home. Enjoy the sight of red post boxes and a number of fish and chip shops, while sunning yourself on a sandy beach.
The average cost for a flight to Gibraltar from the UK in October is £115, according to Kayak.co.uk
Source: Read Full Article