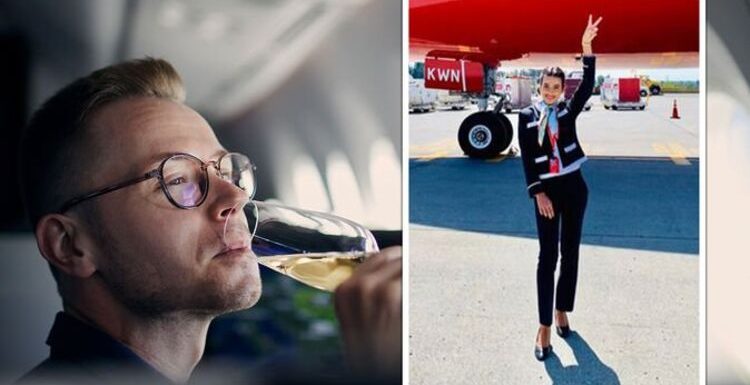 We use your sign-up to provide content in ways you've consented to and to improve our understanding of you. This may include adverts from us and 3rd parties based on our understanding. You can unsubscribe at any time. More info
Flight attendant Helena Afroughi started by sharing what senior travellers should be doing as soon as they get on the plane: "I would first say that it's completely normal to ask the crew about anything if they are unsure and to feel comfortable in doing that, even maybe asking other passengers, as a lot of people are frequent flyers nowadays. So they might even be able to answer their question."
She added: "Also, I would suggest them to familiarise themselves with the plane, as in to just have a look at the safety card in front of the seat pocket, see the safety demonstration just so they are more aware of how things work, exits etc."
The flight attendant warned travellers often suffer injuries on the plane, and shared her best tips to avoid these: "As the space is very small, just be extra careful where you are stepping to avoid injuries.
"The carpet on the plane can make people trip sometimes. Also stepping in and out of the plane, there are gaps etc.
"So look down where you are stepping."
Helena continued: "Not many people know this, but if you are travelling (especially on longer flights) and you are elderly, it would be helpful to let someone in the crew know about any underlying health conditions.
"Like if you've recently had a stroke or heart attack.
"Because in the rare case something like that goes to happen again on the aircraft, at least they will know what is going on a lot quicker instead of taking all possible scenarios into account before giving you first aid."
Flight attendant Miguel Munoz unveiled the one thing travellers can get for free on the plane, especially the "elderly".
He said: "You can ask for a glass of water if you need to take medication, don't be afraid!"
Most airlines, especially low-cost carriers, don't offer any complimentary water and only sell small bottles.
However, according to the cabin crew member, travellers who need a glass of water to take a medication just need to ask for one.
"That's the only thing they can get for free," he said.
Helena agreed: "If someone asks me nicely or any crew, you must be really a bad person to say no.
"UNLESS there's a senior manager right next to you and you say no.
"But I always go back and give them a meal or what they asked for and I'm like shhh!
"With that being said, I mean I'm not gonna give them whiskey Coke because they asked nicely.
"But some Coke or juice whatever.
"Especially the elderly, they are more fragile etc so yeah I would be more accomodating if I was asked nicely.
"I would suggest then going to the crew who looks the nicest (maybe is smiling more or looks happier).
"Don't go and ask the b*** looking ones," she advised.
Source: Read Full Article