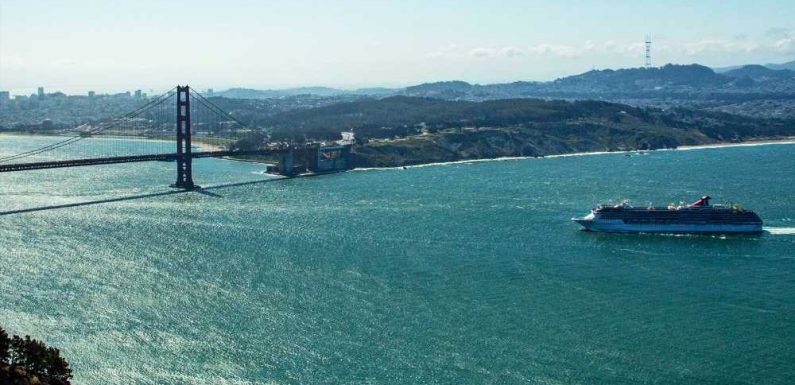 Cruise lines are California dreamin' this year, with ports up and down the state benefiting both from Asia's closures and demand for domestic cruising. 
With continued uncertainty about reopening plans in many Asian countries, several cruise lines have pulled those itineraries and redeployed those ships to the California coastline. 
Beyond that, the pandemic has driven a preference for domestic departures, and the Golden State offers several draws, including an ability to attract customers from the western half of the country and itineraries that stretch from Alaska to Mexico.
"It's a great way for consumers to test-drive a cruise vacation," said Vicki Freed, senior vice president of sales at Royal Caribbean International. 
Royal returned to California in November with the Navigator of the Seas, ending a decadelong hiatus from sailing Los Angeles. Freed said Royal was seeing so much demand for those L.A. departures, it moved up its launch by seven months.
Aside from four ships sailing Alaska, Royal hadn't had much presence on the West Coast before moving the Navigator. The ship had received a $115 million renovation in 2019 and now sails a string of three-, four-, five- and seven-day itineraries.
It is among many ships adding to a huge increase in sailings this year from L.A.'s San Pedro cruise port. The port had 124 ship calls and about 650,000 passengers in 2019 and is projected to have 200 calls and up to 900,000 passengers this year. Those numbers are anticipated to grow to more than 1 million cruise passengers by 2023.
Carnival Cruise Line is currently the brand with the most passenger embarkations from California this year; its recent launch of the Carnival Miracle from San Francisco marked Carnival's first time homeporting in the Bay Area in its 50-year history.
The Carnival Radiance and Carnival Panorama are both operating year-round from Long Beach, Calif., on itineraries to the Mexican Riviera.
Moving from Asia to the West Coast
Celebrity Cruises was among the first to announce it would abandon its Asia itineraries in favor of the West Coast. Moving capacity to California was always part of the plan as the line brought on more ships, CEO Lisa Lutoff-Perlo said, but uncertainty about a resumption of operations in Asia sped up that timeline.
"We keep thinking about new places to bring Celebrity that we don't currently go to because we don't have enough ships, and the West Coast was at the top of the list," she said. 
Previously, Celebrity would graze the West Coast when repositioning to Alaska or Hawaii. In April, Celebrity announced it would cancel the Celebrity Solstice voyages from Asia and redeploy the 2,850-passenger ship to the Mexican Riviera when it finishes the Alaska season. Lutoff-Perlo said she intends to make this new investment on the West Coast permanent. 
With California comes the promise of wine country, favorable climates and visually attractive destinations, said Lutoff-Perlo. While travelers from Boston might not be inclined to fly to California for a cruise, she said she expects to be able to source most customers from the western half of the country. 
Princess Cruises also canceled its Asia itineraries and shifted capacity to the West Coast this year. Of its 15 ships, eight of them will sail California during the prime fall season. That's up from 2019, when the line sailed seven ships there, although two of those ships have left the fleet. 
Princess has historically sailed from Japan, Taiwan and Singapore, but it was natural to bring the Los Angeles-based line's ships "home," said Jan Swartz, president of Holland America Group, which includes Princess, and enables the line to build upon its extensive Alaska offerings. 
"We have a whole bunch of really unique experiences all up and down the West Coast that allow us to expand them," she said. 
Princess itineraries range from roundtrip voyages from San Diego, San Francisco, L.A. and Vancouver to one-way sailings between Vancouver and L.A. 
Swartz wouldn't comment on bookings for the West Coast but said that "Alaska and the West Coast of the U.S. will always be crucial markets for Princess and Holland America Line, so we're going to continue to invest in expanding our offering on that coast."
California is not the only place that gained from Asia's loss: Holland America moved the Westerdam to Australia and New Zealand; Norwegian Cruise Line will send the Norwegian Sun to the Canary Islands; and most recently, Windstar will redeploy the Star Breeze to Tahiti. 
All had planned to sail Asian itineraries.
Source: Read Full Article