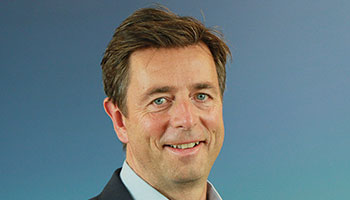 Startup carrier Norse Atlantic Airways plans to operate a transatlantic network using an all-Boeing 787 fleet. Senior airlines editor Robert Silk caught up with the carrier's CEO, Bjorn Tore Larsen, to discuss the launch plan and his broader goals for U.S.-Europe service.
Q: The DOT recently approved your application to fly to the U.S. When will you begin service?
A: It is important not to start flying until travel restrictions have somewhat lifted. We are very much at the very final approach for getting ready for launch. Hopefully within a few weeks we will be able to announce a date.
Q: How many aircraft do you plan to fly in your opening operational period?
A: We have 15 aircraft leased from two different companies. We will be flying with limited capacity initially, but we will keep them flying to ensure they are ready and airworthy. We plan to [ramp up] during the summer. We won't be at full capacity, we think, until 2023.
Q: On your DOT application you talked about Fort Lauderdale; Ontario, Calif.; and Stewart Airport, north of New York, as potential early U.S. stations, with Oslo on the European side. Is that still your plan?
A: We will launch from Oslo to one of those places. And we will hopefully quickly go into other cities, as well. We will gradually expand the network to include other cities in the U.S. as well as other cities in Europe.
Q: Based on those three airports, it would appear a portion of your strategy will be to service secondary airports in big markets. Is that right?
A: We don't really have a strategy on primary or secondary airports. For us, what's most important is to find an airport that is good for our passengers. The experience a passenger has when he or she comes to that airport, combined with how they will get to their final destination downtown, for example.
Q: You've been compared by some to Norwegian, which was never a moneymaker as a transatlantic operator. How will you be different than they were?
A: We are nothing like Norwegian in terms of strategy. Norwegian was basically a hub and spoke operator flying multiple types of aircraft. We are a dedicated, long-haul carrier only, and we will be flying exclusively one aircraft type. So we have a very focused operation. I think there are no similar operations to compare us with in the market today. I don't think there have been in the past either.
Q: What are you planning inside the aircraft? My understanding is you'll have a premium economy cabin and an economy cabin?
A: On most of the aircraft, we have 56 premium seats and about 219 economy seats. We also have three 787-8s. They are basically the same aircraft, they're just little shorter. They have 35 premium seats, and the remaining are economy.
Q: Do you think of yourselves as a an ultralow-cost carrier?
A: I don't think so. I think we are a focused long-haul airline that will operate between Europe and America. Certainly, we will have lower costs than probably all other airlines in the same space. And therefore we also think we will have more affordable fares. We have cost benefits because we have an off-the-shelf, very modern system, and we have a very efficient utilization of our crews. We have aircraft acquired at record low rates, and so on. But it's not like what you typically would think of as a low-cost carrier.
Related: New airline will fill long-haul gap left by Norwegian Air
Q: If you look five years down the road, how many cities on each side of the Atlantic would you like to be serving.
A: We would like to go to places where other people aren't necessarily serving today to offer a wider range of options for our customers. The more point to point the better so that you don't have to self-connect or make stopovers. We haven't made a five-year plan for exactly where we will fly. The only thing we do know is that we have 15 aircraft and we want to employ those aircraft profitably.
Q: Will you mainly service Northern Europe or will you be expanding across Southern Europe, as well?
A: We are looking at ourselves as a European-American service company. We're seeing the entire United States of America as our potential market. And the same goes with Europe. We don't have a particular preference for one region or the other except, of course, that we are a company headquartered in Norway, and we would definitely like to have a significant presence in Norway. We have stated that Paris is going to be one of our destinations, but the rest of Europe is also on our radar.
Q: What plans do you have as far as working with travel advisors and selling in GDS or via direct connect?
A: We'll be doing both. Primarily, we would like to sell through our own channels — website, apps and so on. Our product will be found elsewhere, as well. We will be announcing that when we are publishing fares and tickets. 
Source: Read Full Article