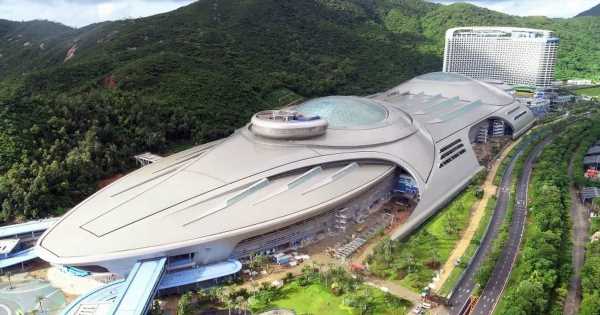 Theme park fans are about to be blown away by the sight of a massive "spaceship city" built to look out of this world. The theme park has opened in Zhuhai, China, and promises holidaymakers an otherworldly day out.
Chimelong Spaceship Theme Park has also broken a whopping seven world records since its soft launch, reports the Sun. The park is not only filled with rides and amusements but also an enormous aquarium filled with over 100,000 animals.
Inside the theme park – which is believed to be the world's largest indoor park – an enormous glass ceiling lets light into the massive main chamber. It will welcome more than 50,000 guests everyday.
READ MORE: Thorpe Park gives glimpse at new roller coaster which will be tallest and fastest in UK
Check out our travel section for more holidays, travel news, hacks, flight secrets and more…
Inspired by science fiction, the hotspot has over 4million square feet of space. Anyone who loves space, aliens and has always wanted to sail through the universe will be in entertainment heaven.
The spaceship cost a massive $1.1billion (£816million) to build making it one of the most expensive in the world too. The "alien spaceship" is 650m long and has not only rides, but also thousands of underwater animals too.
There's a living coral reef exhibit and 16,574,889 gallons of water are used in 38 huge tanks. On top of that there's a marine science museum and over 300 species of fish and other animals.
In terms of rides, you'll find those in Universe Paradise, which features China's first underwater submarine ride, Deep Sea Submarine, reports themeparkinsider.com. As well as the world's largest motion simulator attraction – Bermuda Storm.
Up to 304 people can ride on the single motion-base platform and watch the simulation on a curved 1682sqm screen which makes you feel as though you're sailing through a raging storm. The high tech ride is unlike any other!
On top of the two major rides, there are carnival-style rides that rock, drop and spin guests. Plus play areas that children are bound to love as well as sandy outdoor areas and a large theatre stage.
The park initially planned to open in 2021 after 10 years of planning and five years of construction. However, the main structure was only completed last year and so the spaceship launched in 2023 instead.
The complex is the second phase of the Zhuhai Chimelong International Ocean Tourist Resort which also includes the Chimelong Ocean Kingdom. The first park opened in 2014 and accepted over 10million visitors last year.
The next part of the resort is expected to be finished in 2027. It will see even more incredible attractions brought to the site including a mountain park, sightseeing cable car, the Chimelong Tourism Academy, and a garden home to rare plants.
Currently, the resort in also contains two theatres and three themed hotels – these include the Penguin Hotel, Circus Hotel and Hengqin Bay Hotel.The Penguin Hotel is filled with references to the arctic bird with illustrations and murals everywhere from the bedrooms to the hotel's facade. Statues of penguins, mantras and more can also be seen around the lobby and restaurants.
Meanwhile, the Circus hotel is filled with bright colours, carousel designs, bright lights, rainbows and even an elephant statue. Hengqin Bay is ocean-themed with fish and sealife the main event. Another hotel – the sci-fi themed Spaceship hotel – is under construction.
Transport around the resort is primarily by car or bus, but you can also take a boat down the central canal, the train or, in future, a cable car.
What do you think of the park? Let us know in the comments below.
Source: Read Full Article