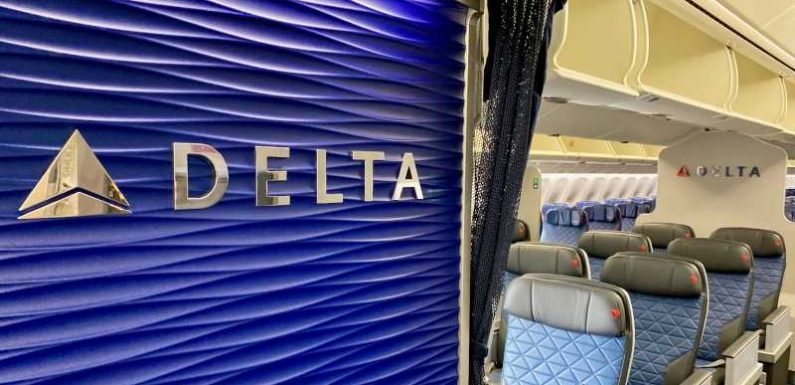 Delta Air Lines continues to tweak its schedule in response to the pandemic.
Over the weekend, the Atlanta-based carrier cut four routes, two of which are poor performing domestic services — one transborder route to Canada and one fifth-freedom international jaunt between South Korea and the Philippines.
The routes getting axed from now through the end of the schedule in May 2022 including the following, as confirmed by a carrier spokesperson:
Atlanta (ATL) — Vancouver (YVR)
Detroit (DTW) — Quad Cities/Moline, Illinois (MLI)
New York/LaGuardia (LGA) — Chattanooga, Tennessee (CHA)
Seoul, South Korea (ICN) — Manila, Philippines (MNL)
For more TPG news delivered each morning to your inbox, sign up for our daily newsletter.
Load Error
Service between Detroit and Moline as well as between New York-LGA and Chattanooga both performed quite poorly for Delta during 2019, well before the pandemic started. Department of Transportation data analyzed by Cirium shows that both routes came in the bottom 50% of estimated profitability for the carrier's domestic network.
The Moline flight hasn't operated since May 2020, while the Chattanooga service hasn't taken off since March 2020. Now, what started as pandemic-related service suspensions have become long-term cuts.
Though Delta's cutting these routes, the carrier will still blanket each outstation with service from other hubs. Both cities will be served from Atlanta (ATL), as well as from Detroit (DTW) to CHA and from Minneapolis/St. Paul (MSP) to MLI.
Service from ATL to Vancouver (YVR) has likewise been suspended since March 2020 due to the pandemic. With the U.S.-Canada border closed for the foreseeable future, Delta's seemingly made the decision to axe its second-longest Canada route, after the 2,449-mile seasonal service between New York-JFK and YVR, which hasn't operated since the summer of 2019.
Gallery: These were the busiest airports in the world in 2020 (USA TODAY)
Delta is still planning to fly to Vancouver from three U.S. hubs, including Minneapolis/St. Paul (MSP), Seattle (SEA) and Salt Lake City (SLC), per Cirium schedules.
One city, however, is losing Delta service indefinitely.
Delta's fifth-freedom service between Seoul (ICN) — Manila (MNL) is being cut for good. (A "fifth freedom" route is when an airline flies between two foreign countries on the way to or from its home country.) In a statement, the airline said:
With continuing travel restrictions and uncertain market situations caused by the COVID-19 pandemic, Delta will indefinitely suspend Seoul (ICN)-Manila (MNL) service. Passengers holding tickets will be eligible to receive a refund. Delta will continue to serve Manila via our trans-Pacific partners, including our joint venture partner Korean Air.
Previously, Delta was planning to resume MNL flights in November 2021.
When Delta announced in August 2019 that its transpacific gateway was moving from Tokyo-Narita (NRT) to Seoul, the carrier also shifted its fifth-freedom sector to Manila to connect through the South Korean capital. Flights were supposed to start in March 2020, but the pandemic upended those plans.
Related: History of Delta's Tokyo-Narita hub
Cirium schedules show that Delta ultimately operated just ten frequencies on the route in January 2021. A three-cabin Airbus A330-900neo flew the 1,615-mile intra-Asia hop. Going forward, Delta will rely on its joint-venture partner Korean Air for service to the Philippines.
Despite cutting four routes, Delta is leaning into growth elsewhere. Internationally, the carrier is adding flights to Iceland, Greece and Croatia, three countries that are reopening to vaccinated Americans. Closer to home, Delta is adding 39 new and expanded routes to 22 destinations just in time for summer.
Featured photo by Zach Griff/The Points Guy
SPONSORED: With states reopening, enjoying a meal from a restaurant no longer just means curbside pickup.
And when you do spend on dining, you should use a credit card that will maximize your rewards and potentially even score special discounts. Thanks to temporary card bonuses and changes due to coronavirus, you may even be able to score a meal at your favorite restaurant for free. 
These are the best credit cards for dining out, taking out, and ordering in to maximize every meal purchase.
—
Editorial Disclaimer: Opinions expressed here are the author's alone, not those of any bank, credit card issuer, airlines or hotel chain, and have not been reviewed, approved or otherwise endorsed by any of these entities.
Source: Read Full Article