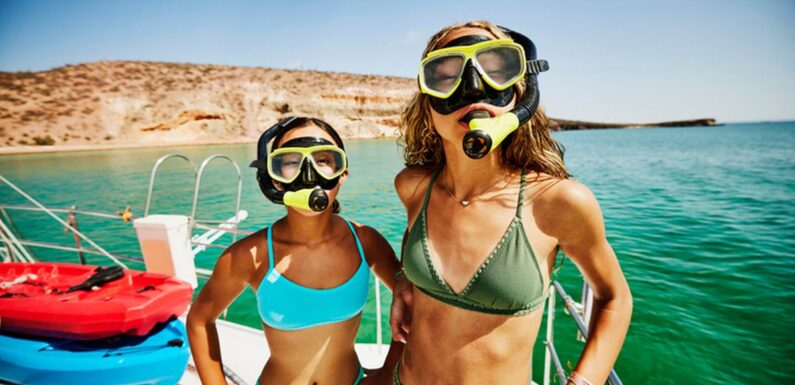 An Australian holidaymaker who came to Europe for a four-week trip told her followers about the major mistakes she made while here. Izzy Fraser, 24, planned for months ahead of flying – but it wasn't enough to avert disaster.
Sharing her story on TikTok, Izzy, @Izzyfras, made a list of everything that went wrong. She included warnings for fellow long-haul flyers attempting to have a "Euro Summer".
Everything from broken bones to lost luggage and even horrible food affected the lass who was on holiday with her mates. Despite one thing after another going wrong, Izzy still insists she had an incredible time.
READ MORE: 'I was running late to catch my flight – then I found quick way to airport'
In the video clip, she noted the first hurdle was discovered when they reached the airport for their flight out of Australia. Two of her pals had forgotten to book extra luggage – and so had to shell out another $250 (£127) to take their stuff abroad.
That's an extra expense you don't need ahead of a month-long holiday. But, it only got worse – when they arrived in Europe poor Izzy claims she has either an allergic reaction or was bitten by bed bugs in her accommodation.
She said: "I blamed the lady at the accommodation for bed bugs, obviously." Plus, she said the issue lasted five whole days.
From there, the girls' luggage was lost for a whopping 10 days on one of their flights. As they hadn't kept their boarding passes some of them struggled to claim from their insurance companies.
Izzy said next time she would pack light and take cabin luggage only to streamline the process of hopping from country to country. They even stayed an extra night in Zagreb, Croatia, to get their luggage which still didn't arrive – leaving them scrambling to buy clothes and toiletries.
That wasn't all that went wrong in the Croatian city though as Izzy says they chose a questionable meal. She says they ordered in pizza which was "inedible" with "disgusting cheese".
Plus, that their accommodation was "dodgy" with unhelpful staff in an unsafe feeling area. Scary stuff. They had a similar experience in Dubrovnik with "creepy" workers.
They were also plagued by cancelled and delayed buses and planes. Izzy told DailyMail: "Most of my flights were delayed, the buses were just super inconsistent."
One person broke an ankle on a boat trip while a terrifying jet boat ride made Izzy fear for her life. They also accidentally booked a 2am bus and lost their luggage once more two days before heading home.
Plus, one of the women received an electric shock, another hurt their knee and a third received a bottle top to the eye! Poor Izzy even lost her AirPods ahead of the long flight home.
All in all, the trip didn't go smoothly – but she claims she would still do it all again in a heartbeat. Though, we'd maybe suggest researching accommodation ahead of time on websites like booking.com or TripAdvisor.
In the comments of her video, people were gobsmacked at Izzy's terrible luck. One person said: "Lost luggage and dealing with the bad customer support has to be the worst experience."
While a fellow Aussie added: "Literally everyone gets sick. I thought I had Covid." And a third noted: "Dubrovnik – my sister and I went there had many disasters."
Source: Read Full Article