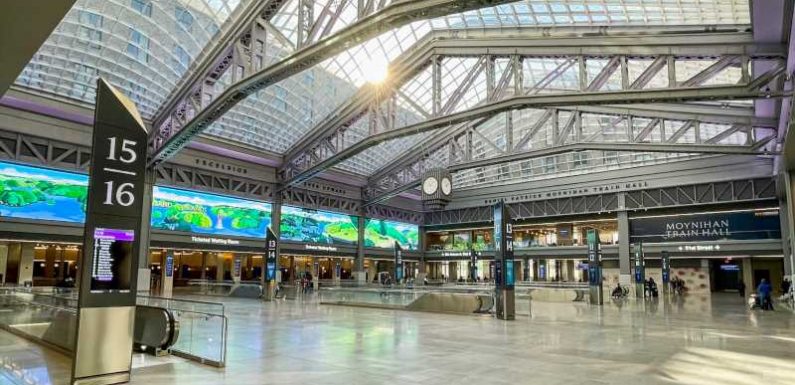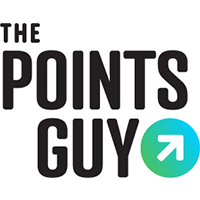 The next time you travel through New York's Penn Station will be like never before. On Jan. 1, the long-awaited Moynihan Train Hall officially opened to travelers following a $1.6 billion renovation and expansion project.
The stunning new hall, once home to a mail-sorting facility, now welcomes arriving and departing Amtrak and Long Island Rail Road riders. It's an addition to the existing Penn Station complex, which will continue to serve New Jersey Transit commuters, as well as overnight Amtrak travelers when the Moynihan Train Hall is closed.
For more TPG news delivered each morning to your inbox, sign up for our daily newsletter.
In This Post
The basics
Moynihan Train Hall, named after New York Sen. Daniel Patrick Moynihan — a fierce advocate of the expansion project — is located inside the former James A. Farley Post Office building, between 31st and 33rd Street directly across 8th Avenue from the existing Penn Station structure. The building, designed by the same architects as the original Pennsylvania Station, mimics the original Penn's Beaux-Arts style, though that structure was demolished in the 1960s.
Related: What it's like to take Amtrak during the pandemic
As previously mentioned, Moynihan is not replacing the old Penn Station underneath Madison Square Garden. While Amtrak and Long Island Railroad passengers will be able to board at the new train hall, New Jersey Transit passengers will continue to use the old concourses, as will subway riders. Additionally, Moynihan is only open from 5 a.m. to 1 a.m., so anyone traveling overnight will need to use the old facilities.
You can walk between the two facilities via a passageway or by exiting onto 8th Avenue and crossing the street.
Related: TPG's guide to Penn Station in New York City
Upon entering the Moynihan Train Hall, you're immediately greeted by natural light pouring in from gigantic skylights above the main concourse. The jaw-dropping 92-foot-high ceilings are a welcome addition for anyone who's traveled through the underground Penn Station.
All in all, the new 255,000 square-foot facility is larger than Grand Central Terminal's main concourse and expands Penn Station's concourse space by 50 percent. It also provides 40 additional escalators and stairs to platforms.
Although most riders now buy their tickets online, there still are manned ticket counters, as well as self-service kiosks.
Related: The best credit cards for train travel
Around the corner is a baggage claim area with a luggage retrieval carousel, similar to what you'll find in an airport.
Although the new train hall relieves passenger congestion and eases boarding, it doesn't actually expand Penn Station's rail capacity. The new hall still uses the same tracks and platforms as before.
Amenities
Video: NYC bar declared 'autonomous zone' looks to reopen (FOX News)
Toys for Tots has 'adapted and overcome' COVID-19 challenges during Christmas season

FOX News


Cancelled in 2020

FOX News


'Fox & Friends' crew model 'ugly' Christmas sweaters

FOX News


Top 2020 Christmas toys

FOX News


Great last-minute gifts for the one who has everything!

FOX News


Last-minute holiday gifts from Bass Pro Shops & Cabela's

FOX News


A holiday wreath 'Pavlova'

FOX News


Franklin Graham on the power of faith this Christmas

FOX News


Inside Alveda King's home for the holidays!

FOX News


Ultimate gift guide for Christmas 2020

FOX News


Mall Santa says 'no' to a Nerf gun for Christmas

FOX News


Joe Concha slams 'woke' mall Santa for saying no to boy's nerf gun wish

FOX News


Judge wants evidence for LA's outdoor dining ban

FOX News


Steve Spangler's DIY science experiments for at-home learning

FOX News


Christmas specials coming to Fox Nation

FOX News


How is Santa adapting to a COVID-19 Christmas?

FOX News


Toys for Tots has 'adapted and overcome' COVID-19 challenges during Christmas season
Toys for Tots President and CEO Lt. Gen. Jim Laster gives an update on toy collection and donation efforts on 'Fox & Friends.'


FOX News



Cancelled in 2020
Cowboy comedian Chad Prather discusses the politically correct culture this Christmas.


FOX News



'Fox & Friends' crew model 'ugly' Christmas sweaters
Hosts Will Cain and Pete Hegseth show off Fox News' holiday sweaters and swag.


FOX News

As you might have noticed, there's virtually no seating in the main concourse area. Instead, ticketed passengers are invited to sit in dedicated waiting areas. Much like the original Penn Station, these areas feature wooden benches, albeit much more modern with built-in power outlets and USB ports. There are also private restrooms here.
There are also several counters in the main concourse area with built-in outlets for those looking for a quick charge. Other amenities include free Wi-Fi everywhere and a lounge for nursing moms.
Amtrak's new Metropolitan Lounge
Perhaps the most exciting amenity of the Moynihan Train Hall is Amtrak's new flagship Metropolitan Lounge.
Access is available to passengers traveling in first-class or sleeper cars. Additionally, Amtrak Guest Rewards Select Plus and Select Executive elites get unlimited access, while Select members get two single-visit passes each year.
Related: The complete guide to Amtrak Guest Rewards
The light-filled space features an elegant, contemporary design similar to what you'd expect from a premium international airline lounge.
Related: Which airline lounges in the U.S. are currently open?
There are plenty of seating options, all offering easy access to power outlets and USB ports. There's also seating on a balcony overlooking the main hall, as well as a dedicated family waiting area.
Services of the new lounge include improved food and beverage offerings and priority boarding.
Food and beverage
The only food-and-beverage outlet currently open in the new train hall is a Starbucks. However, there's a food hall and other retail spaces slated to open on a rolling basis over the next 12 months. Expect names like Blue Bottle Coffee, Magnolia Bakery, H&H Bagels and others.
Botton line
Despite the massive aesthetic upgrade, the work at Penn Station isn't done yet. Gov. Andrew Cuomo announced plans to expand the depot's capacity by 40% through acquiring an entire city block to the south to build eight new tracks.
For now, though, the Moynihan Train Hall is a stark contrast to the old Penn Station, which Cuomo referred to as a "national laughingstock" in 2016. The massive revamp addresses much of the criticism about the old station, such as lack of space and lighting, while paying homage to its original design. Once all of the retail spaces open, it will truly offer a vastly improved travel experience.
All photos by Benji Stawski/The Points Guy unless otherwise noted.
SPONSORED: With states reopening, enjoying a meal from a restaurant no longer just means curbside pickup.
And when you do spend on dining, you should use a credit card that will maximize your rewards and potentially even score special discounts. Thanks to temporary card bonuses and changes due to coronavirus, you may even be able to score a meal at your favorite restaurant for free. 
These are the best credit cards for dining out, taking out, and ordering in to maximize every meal purchase.
—
Editorial Disclaimer: Opinions expressed here are the author's alone, not those of any bank, credit card issuer, airlines or hotel chain, and have not been reviewed, approved or otherwise endorsed by any of these entities.
Source: Read Full Article