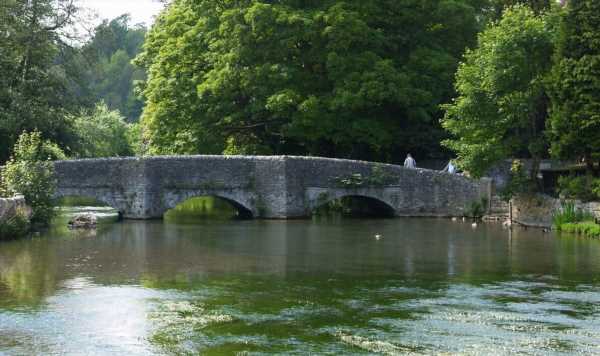 In the beautiful Derbyshire Peak District sits a lovely overlooked village. The pretty, chocolate box village of Ashford-in-the-Water, nestles on the River Rye very close to the pretty village of Bakewell, famous for its tarts.
It is also home to the much-photographed, low-arched Sheepwash Bridge which spans the crystal-clear waters of the River Wye. 
It is overhung by willow trees and was built in the 17th century was once used by the pack horses who carried malt from Derby.
The name, Sheepwash was literally coined from the act of washing sheep in the river's waters before chemical dips were introduced. 
These days, it's a favourite spot from where to watch the rainbow trout swim by and there is now no traffic on the bridge. 
READ MORE Inside super yacths with belly-dancers and entire nightclubs on board
The village itself is made up of picturesque cottages, a couple of pubs, and a lovely church which is home to relics that date back to the 1200s.
One superb piece is a laid tabletop, as well as ancient pottery. Garlands that date back to ancient times, made from white paper which were carried at the funerals of unmarried girls are still strung from the rafters. 
It was a thriving village in the past thanks to lead mining and candle making and Candle House sits on the site of the old factory. 
In the 19th century, the village also had a thriving stocking industry and the area of the village where the factories were was called Rattle because of the noise the machines created. 
Don't miss…
Spain's pink lake is home to thousands of flamingos – but tourists rarely go
Charming Spanish city is warm until November
UK city is a thriving metropolis, brimming with history and great charisma
We use your sign-up to provide content in ways you've consented to and to improve our understanding of you. This may include adverts from us and 3rd parties based on our understanding. You can unsubscribe at any time. More info
The village's limestone cottages were once owned by the spectacular Chatsworth estate but due to expenses incurred, the estate had to sell them off in the 1950s so lucky locals could buy them for themselves. 
One of the most charming homes in the village is The Rookery – an imposing residence dating back to the 16th century and was the first home of the Duke and Duchess of Devonshire.
The town is also an ideal place to base yourself for exploring the neighbouring areas such as the market town of Bakewell and Monsal Dale which is home to a beautiful viaduct. Here you'll also find great biking trails and walking routes. 
Source: Read Full Article