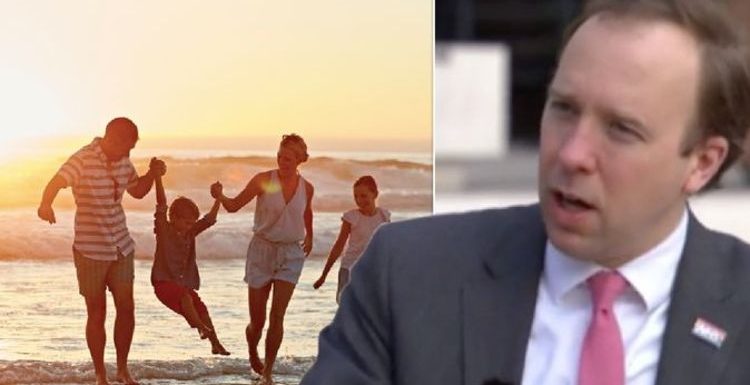 Holidays: Matt Hancock shares concerns over international travel
When you subscribe we will use the information you provide to send you these newsletters.Sometimes they'll include recommendations for other related newsletters or services we offer.Our Privacy Notice explains more about how we use your data, and your rights.You can unsubscribe at any time.
Many hopeful holidaymakers have their eyes firmly on April 5 when Prime Minster Boris Johnson is due to announce plans to resume international travel. Though travel restrictions are ongoing and could be in place for some time, Secretary of State for Health Matt Hancock has shown some hope.
Speaking on ITV's This Morning, the health secretary said a "relaxed approach" to international travel may be possible "if all goes well" with the vaccine roll-out.
In particular, he pointed out to the vaccine's effectiveness against foreign strains of the virus.
"The two that we are most worried about started in South Africa and Brazil but they have spread a bit around the world," he said.
Mr Hancock explained the Government and scientists are "not sure" about the status of our vaccine against those variants.
He added: "But we are doing the science and we are watching very closely.
"If that all goes well then we haven't got a problem and we will be much more relaxed about international travel."
Plans are in place to develop and roll out a third "booster" vaccine in the autumn months, which may combat variants.
"We are also working on a new vaccine that we might have to roll out in the autumn to give people a third dose that will deal with this problem," he said.
DON'T MISS
Flights: easyJet, Ryanair, Jet2, BA & TUI updates [UPDATE]
Holidays: France, Italy, Spain, Greece & Portugal FCDO advice [TRAVEL ADVICE]
Holidays: Britons advised not to exchange travel money early [COMMENT]
"We're working on that now. There might be a third jab in the autumn."
Though Mr Hancock was unable to confirm whether or not foreign holidays would go ahead, he remains confident Britons will be able to enjoy UK staycations this summer.
"I'm very confident that we are going to have great British summer. We are going to have great holidays here, the cases are coming right down," he said.
"I am highly confident we are going to be fine here."
Self-contained domestic holidays in England are due to be given the go-ahead from April 12.
More restrictions will be lifted from May 17, to allow groups of up to six to stay in rented accommodation together.
Hotels and B&Bs will also be allowed to reopen from May.
The near future of travel remains uncertain, with some experts suggesting they could be in place as late as August.
An anonymous Government source told The Times that expecting holidays in June is "very optimistic".
The source added: "August is looking most likely at the moment."
The Global Travel Taskforce is due to resume meetings from April 12 to discuss the possibility of international travel.Ahead of this, the Prime Minister will give an update on plans on April 5.
There has been speculation of a traffic light system, which will categorise nations as "Red", "Amber" or "Green" based on their Covid risk.
Source: Read Full Article