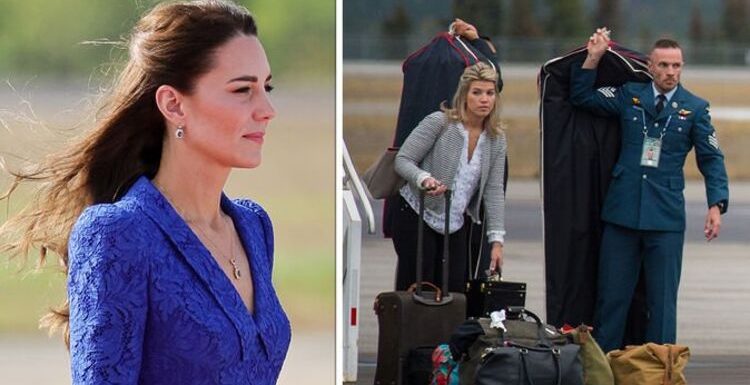 We use your sign-up to provide content in ways you've consented to and to improve our understanding of you. This may include adverts from us and 3rd parties based on our understanding. You can unsubscribe at any time. More info
Daena Borrowman, Marketing Manager at jewellerybox, explained: "There are dozens of protocols in place that stylists and dressers of the royals have to familiarise themselves with."
The expert said rules must be followed during official trips so "working royals represent their Queen and country in the best light while travelling".
However, there is one specific rule which was introduced in 1952 after a devastating event.
Daena explained: "While the Queen favours bold colours and prescribes them to her family because royals are meant to be easily distinguishable in a crowd, a tragedy delivered a life lesson giving rise to a whole new travel protocol that applies to this date.
"When Queen Elizabeth's flight landed in England on the death of her father, her dresser realised they hadn't packed a black mourning outfit for the new mourning Queen to be received by her ministers.
"Ever since then, Royal Family members have to compulsorily pack a black outfit when travelling."
Elizabeth and Philip were in Kenya on February 6 1952 when her father King George VI died.
The couple were meant to start their Australia tour via Kenya.
The young royal flew back to Britain from Kenya and was then crowned Queen Elizabeth II on June 2, 1953, at age 25.
Therefore, the Duchess of Cambridge is required to always carry a black outfit in the event this happens again and her stylists have most likely packed at least one black dress for their ongoing Caribbean tour.
Daena unveiled other style rules royals must follow while travelling.
She explained: "Royal women are expected to keep their coats on at social events."
The expert said this is because "disrobing in public is perceived as distasteful according to royal protocol".
"This would explain why so many royal women prefer coat dresses," she added.
Daena explained, however, Kate has broken this rule many times.
She said: "However, more recently, the Duchess of Cambridge has bent this rule and taken off her coat whilst attending indoor events."
Daena added: "Whilst touring abroad, royal protocol dictates that royal women also honour local history and traditions by sporting the colours of the country they are in."
They often "wear jewellery gifted to the Queen by that country".
Royals are also expected to respect local customs and they do so by "covering the head with a scarf" in certain countries, for example.
Source: Read Full Article