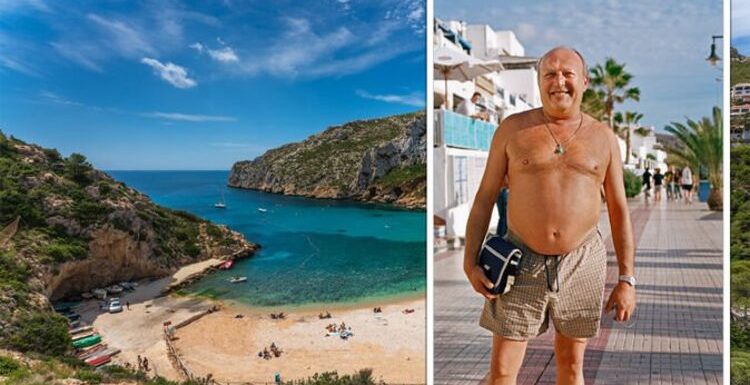 Jet2 passenger removed from flight after hitting fellow traveller
We use your sign-up to provide content in ways you've consented to and to improve our understanding of you. This may include adverts from us and 3rd parties based on our understanding. You can unsubscribe at any time. More info
According to easyJet data, over 30 percent of Britons are planning a holiday in Spain this year. But they'll need to watch out for a few unusual laws.
The last thing any British tourist wants is to end up on the wrong side of the law while on holiday in Spain.
In the UK, it's not uncommon for people to take off their shirt or wear a bikini in public on a hot day.
However, this action could get Britons in trouble on a Spanish holiday. Wearing a bikini or swimwear is absolutely fine on the beach in Spain.
But, Britons in Barcelona or Majorca will need to cover up on the streets as they could be fined up to 300 euros (£250) for doing so.
Wearing a bikini or swimming trunks on the streets in these Spanish areas is likely to incur a fine.
Men are also banned from walking around topless on the streets in some parts of Spain so British tourists should remember to bring a t-shirt to a beach day.
In recent years, there have been several tragic accidents where British tourists have died falling from hotel balconies.
'Balconing' is when people try to jump into a hotel swimming pool from their balcony and is extremely dangerous.
Britons attempting 'balconing' in Spain's Balearic islands could be fined up to 60,000 euros (£49,940).
Fines aside, tourists should never attempt to climb on balconies as they could put themselves and others in extreme danger.
Although smoking is fairly common in Spain, the country has some of Europe's toughest anti-smoking laws.
Smoking is banned on some beaches in Spain, including in Barcelona, the Balearic islands and the Canary islands.
Some beaches may have designated areas where smoking is allowed. These will be clearly marked.
Cigarette butts have sadly become a major source of pollution in recent years and authorities are attempting to crack down on waste.
Spain's local councils can fine smokers 2,000 euros (£1,665) for breaking a beach smoking ban.
Tourists travelling to some areas of the Balearic islands, including Magaluf, will also face new laws on drinking this year.
Party booze cruises, all-you-can-drink deals and pub crawls have been banned in an attempt to crack down on rowdy drunken behaviour.
The rule came in a while ago but 2022 is expected to be the first year tourists feel the impact due to the pandemic.
While individual bars and hotels will be responsible for enforcing the rules, British tourists will also need to take care.
All-inclusive hotel packages will still be able to serve unlimited alcohol in most cases and the rule only impacts certain resort areas of the Balearics.
Source: Read Full Article