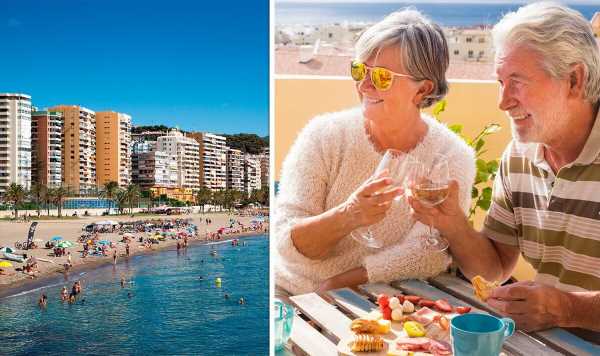 We use your sign-up to provide content in ways you've consented to and to improve our understanding of you. This may include adverts from us and 3rd parties based on our understanding. You can unsubscribe at any time. More info
The legislation bans happy hours, pub crawls and two-for-one drinks, as well as the sale of alcohol in shops between 9.30pm and 8am, and forbids the advertising of party boats in designated areas.
The Tourism Minister of the Balearic Islands Iago Negueruela said the region "wants British tourists" but "doesn't want this type of tourism".
He explained: "British tourism is essential for our islands.
"We share with the British Government the view that some images of British tourists are embarrassing.
"We want to put a stop to bad behaviour.
"From April to May this year we will increase the police presence in these areas and the number of inspectors.
"We will have zero tolerance for tourism excesses."
Holidaymakers recently visiting the Balearic Islands have slammed the law as they found that their all-inclusive plan was not what they expected.
All-inclusive hotels are strictly limiting drinks to six per day, three at lunch and three at dinner.
Regional newspaper Diario de Mallorca claimed "the new regulations must be better advertised" as "this can no longer be sold as an all-inclusive vacation, but as half board or something like that".
A tourist in Majorca told the publication: "I understand that they are trying to stop alcohol abuse and noisy behaviour, but I think this has been done without the necessary publicity: we were not informed and we did not know anything about the new law."
Another one said: "We didn't budget that much money for this trip because we thought all of our food and drink would be covered."
A Twitter user agreed: "I pay all-inclusive to drink what I want when I want. I'm a f*** adult.
"This new rule of only six drinks in all-inclusive in Ibiza, Mallorca, etc. is a joke."
Britons are now seeing the new law impacting their holidays as travel gets back to normal after the Covid pandemic, but the legislation was actually first implemented in 2020.
Express.co.uk reader 'Allonesided' commented: "Is it just a Brit thing or do these limits apply to all nations? Also, tour operators need to highlight more clearly which hotels and resorts these new rules apply to.
"I would like to add not all Brits go on holiday to get blind drunk every day – some of us can act in a more sensible way and treat whichever country we visit with respect.
"This new rule is tarring us with the same brush and it's discrimination, just because some people don't know how to behave it's not fair on the ones who do behave. If the Spanish don't want our custom then the answer is hit them where it hurts and choose an alternative destination."
Another reader, 'tempramarea', said: "I was in Malaga recently. It's full of Dutch, Germans, Scandinavians etc.
"So, no: they are not desperate for British tourists. Although the British pubs selling pints and all-day breakfasts probably are."
'LindsayH' added: "Problem? Don't go there, stay away from Spain! Simples!!!"
Source: Read Full Article