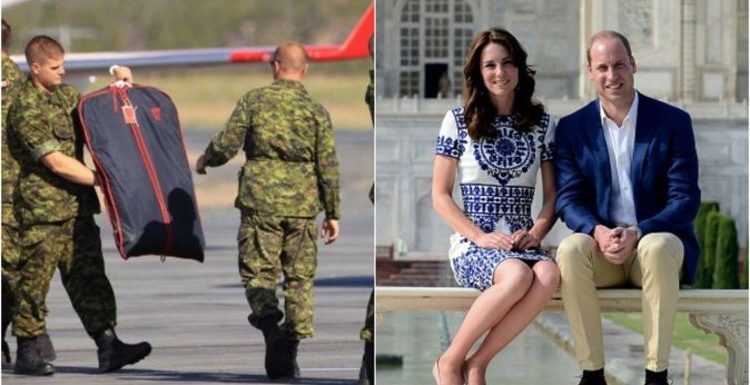 Kate Middleton and William criticised by caller over royal tour
We use your sign-up to provide content in ways you've consented to and to improve our understanding of you. This may include adverts from us and 3rd parties based on our understanding. You can unsubscribe at any time. More info
Kate Middleton and Prince William in particular are known for travelling in style, and the Duchess's personal assistant has been seen carrying lots of beautiful bags of luggage when travelling on royal tours. On Prince William's trip to Australia, royal watchers were given a glimpse of his luggage which was emblazoned with the letter W and a crown. This monogrammed luggage was so popular it started a royal trend of personalising suitcases and travel bags across the country.
Kate has had a more eclectic mix of bags and suit carriers, but will need more bags than her husband due to the number of outfits she needs for the royal tours.
For example, the Duchess of Cambridge had 25 bags during her tour of California and Canada in 2011.
The royal couple also has a cute colour-coded system when they go travelling, which even involves their children's luggage.
The Duke and Duchess have an organised luggage tag system with a different colour label for each family member, and Prince George has baby blue.
This means Kate will never get her luggage mixed up with William's on their royal tours.
The Duchess makes no secret of her obsession with nylon holdalls by French luxury brand Longchamp.
She, her sister Pippa, and her mum Carole own several hues and sizes, and Kate is never seen travelling without one.
Christine Gray, the editor of LuxuryTravelMagazine.com, says Kate's enduring affection for these bags stems from her simple, un-flashy nature.
Not only do they hark back to her country roots, but their plain block colours are easy to pair with an outfit.
They are also foldable and wipe-clean, which would make it easier for a mother-of-three.
"The colours are subdued, and the materials are sturdy and timeless," said Christine. "It's a sensible, classic style."
William not only uses monogrammed suitcases but also has monogrammed clothes covers.
These royal blue carriers, one for a suit and the other for a pair of black patent Oxford-style shoes, are monogrammed with the letter 'W' under a small crown, clearly labelling them as William's.
The larger cover has been spotted on the tarmac before when the Cambridges' landed in Australia in 2014.
Prince William is clearly a fan of the monogrammed style and has three in the same colour.
A pale blue 'C' could be seen on a black dress bag draped over Kate's stylist Natasha Archer's arm in 2016, meaning it contained a gown belonging to Kate.
Sam Hood, the founder of luxury brand Amara, told the Daily Mail carry-on clothes covers are favoured by high-end travellers.
"They're especially useful when excess luggage isn't an issue," she added.
Marking luggage with an official insignia is a regal trait.
The Queen and Prince Charles, who has a silver plaque bearing his title on his suitcase, also travel with their initials on show.
"Monogrammed luggage is traditional among the upper classes," explains Sarah Bryans, the head of International Compliance.
"The real elite traveller prefers small and discreet lettering, rather than big bold colours."
It is believed to be a subtle reminder of their important status.
Source: Read Full Article