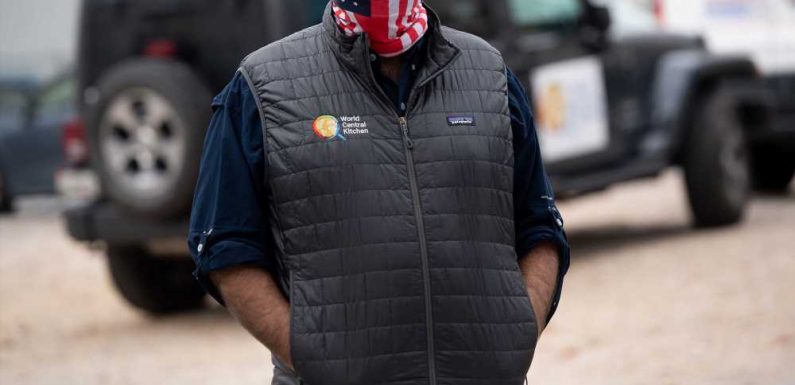 As President-elect Joe Biden is set to be sworn in tomorrow, and with the recent storming of the Capitol adding a deadly development to an already contentious election, the National Guard has been on high alert. Over 20,000 National Guard members have reportedly been stationed in Washington, D.C.—resulting in the now-famous viral photo of troops sleeping the marble Capitol floor. But though finding beds for everyone isn't easy, Chef José Andrés and his charity organization World Central Kitchen have been working to assure that these soldiers at least have access to decent meals.
Whenever disaster strikes, World Central Kitchen (WCK) has made it its mission to be at the ready with food for those in need—whether it's Lebanon, Australia, or The Bahamas; California, Nebraska, or Louisiana (and the list goes on and on). But the District of Columbia is Andrés' home, so when the riots broke out on January 6, the chef and WCK went straight to work—with Andrés delivering pizza that very night.
That work has continued, and over the weekend, WCK began tweeting out their support of troops stationed in the city. "Sandwich and hot meal prep under way this morning for our National Guard and other first responders in DC!" the organization posted on Saturday. "On the menu: Roast beef, sun-dried tomato with basil aioli on ciabatta & tomato braised vegetable stew with cannelloni beans (plus a version with chicken!)"
Not long after, Andres turned to his account to post from WCK headquarters at Jaleo.  "Our WCK kitchen truck is outside cooking," he wrote. And in the video, he added, "I think the National Guard is taken care of so don't worry, guys. It's very complex because everything is shut down."
By lunch on Saturday, the WCK twitter account post video as the troops received their meals. According to a tweet from WCK CEO Nate Mook, the charity "served nearly 4,000 fresh meals to National Guard troops & many other first responders" just on Saturday.
"This is a situation that nobody's had to face before; it's being figured out minute by minute," Mook told the Los Angles Times. "And we know—because we see this in all types of crises and emergencies—that food can sometimes be an afterthought, and sometimes people are left working long shifts without food."
On Sunday, everyone was back at it again with a new menu. "Beef bourguignon with roasted potatoes and steamed broccoli & a turkey swiss sandwich with homemade slaw! Plus fresh fruit & cookies from our friends @DogTagBakery @BttrcrmBakeshop," WCK wrote. By Sunday evening, WCK posted that they had "prepared & served 8,000 hot meals & fresh sandwiches" across the two days.
And unsurprisingly, the hard work continued into Martin Luther King Jr. Day. Even at 11 p.m. last night, Andres was still tweeting out video. "Hello from the security perimeter," he began. "Cold night in DC so @WCKitchen is delivering hot soup & sandwiches for the men & women standing watch until morning. I have met so many amazing National Guardsman—including immigrants from around the world. Good night everybody!"
WCK's efforts will apparently continue until at least the end of Inauguration Day.
This story originally appeared on Food & Wine .
Source: Read Full Article