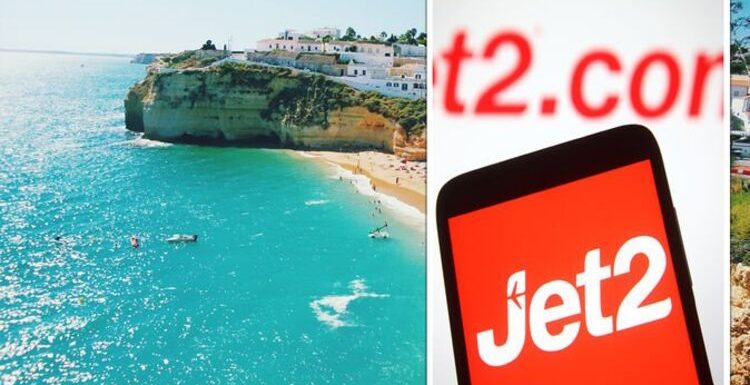 Heathrow: Chaos with travellers bags as BA cancels flights
We use your sign-up to provide content in ways you've consented to and to improve our understanding of you. This may include adverts from us and 3rd parties based on our understanding. You can unsubscribe at any time. More info
Holidaymakers have had to wear face masks on planes since the pandemic began. There have been numerous incidents involving masks which have seen some passengers ejected.
Jet2 said on its website: "It's no longer a legal requirement to wear a face mask at our airports or onboard our planes.
"However, as per UK Government guidance, we recommend that you continue to wear a face mask in these spaces, and you will need to wear one when you get to your overseas destination."
Passengers travelling from Scotland will still be required to wear a face mask during Jet2 flights.
Customers were also warned they would need to wear a mask at their holiday destination.
The move comes as many Covid restrictions on travel have been scrapped for British tourists.
Spain has recently announced it will allow some unvaccinated British adults to enter if they have proof of a recent recovery from Covid.
The country blocked unvaccinated Britons in December after the Omicron variant was identified in the UK.
The ban hit many British families until a controversial restriction on unvaccinated teenagers was lifted.
British teenagers aged between 12 and 17 will now be able to travel to Spain if they provide a negative PCR test from the last 72 hours.
The UK has also ditched post-arrival testing for passengers arriving in Britain and is likely to scrap passenger locator forms soon.
According to MailOnline, Transport Secretary Grant Shapps is planning to scrap the complicated forms in time for the Easter holidays.
As restrictions lift, holiday bookings have surged with British tourists eager to get away after the pandemic.
However, British tourists have been warned of an increasing number of scams targeting holidaymakers.
Which? said that several scams are targeting tourists who are owed refunds from cancelled pandemic travel.
It added that other companies are charging customers for free services such as registering for a Global Health Insurance Card (GHIC).
British tourists can register for a GHIC for free on the NHS website and third parties cannot fastrack applications.
Which? also said customers should be wary of holidays advertised on social media which could be scams.
It said British tourists should check if a company is registered with ABTA or Atol before booking a holiday.
British tourists will need to fill out a passenger locator form after arriving back in the UK from a holiday.
Although many countries have relaxed travel restrictions, British tourists may still need to take Covid tests to enter some destinations.
Source: Read Full Article