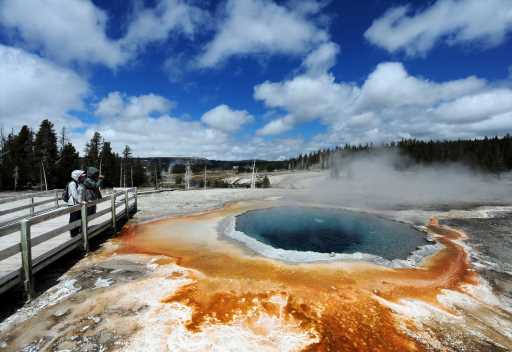 After historic flooding in 2022, Yellowstone National Park is fixed up and ready for visitors this year.
"All major road in the park are now open, including the North and Northeast entrance roads, which were washed out due to the historic floods last year," said Linda Veress, spokesperson for Yellowstone National Park. "Visitors to Yellowstone should anticipate delays due to road improvement projects and allow for extra time and flexibility as they travel throughout the park."
Veress recommends that visitors go to the park's website for the latest road improvement updates.
"The National Park Service did a great job of mobilizing contractors and getting funding," Rick Hoeninghausen, director of sales and marketing at Yellowstone National Park Lodges, said of the repaired roads. "The main item still in progress is the wastewater treatment plant in Mammoth where the hotel remains closed until the system is fully operational."
The Mammoth Hot Springs Hotel is expected to reopen this summer, though there is not a set date yet.
All five park entrances are open this summer, so you can choose to start your trip in one gateway town and end in another, depending on where you are coming from and how much time you have.
To make the most of your next trip to Yellowstone National Park, consider these tips:
1. Cody, Wyo., is the gateway town with the closest access to the park's East entrance, about a one-hour drive. The Buffalo Bill Center of the West in Cody is home to five museums that make for a perfect pre-park visit so visitors can become educated about this special place. My personal favorites here were the Whitney Western Art Museum, with a small room dedicated to art of the park — including a neon sculpture of Old Faithful — and the Draper Natural History Museum, where visitors learn about the animals that live in the park as well as the whole Yellowstone ecosystem in hands-on exhibits. If you time it right, there is a twice-daily raptor show with live rescued birds in the courtyard of the museum.
The Plains Indian Museum is worth a visit when there is time to listen to the stories being told in audio recordings about the people who lived in this area before and when Yellowstone became a national park in 1872. It's easy to spend an entire day at this museum, and if that's the plan, make a reservation for a Chuckwagon dinner on the museum grounds in the evening.
2. Download the free TravelStorys app to listen to the new Tour of the Chief Joseph Scenic Byway, which was just released this summer. There is no cell service required for listening to this once it's been downloaded. For about 45 miles, the recording is triggered by GPS spots and provides stories about wildlife and human history at the exact moment you are driving past specific places. Although the scenic byway and story end before you reach the park, this route from Cody toward the park brings travelers through Cooke City and the park's Northeast entrance.
3. To reinforce how to respectfully behave in Yellowstone National Park, take a look at what people have done wrong lately.
Go to the Instagram account Tourons of Yellowstone. The made-up word "tourons" is a hybrid of tourist and moron, and sadly it was created to show people what not to do when visiting the country's first national park because so many visitors engage in harmful activities. Posts on this social media platform will show tourists standing far too close to bison and other wildlife, walking in areas of thermal activity and geysers, putting coins in geysers and thermal features, and in general not obeying signs warning them of slippery or dangerous surfaces. In many instances, people appear to do these things for photos of themselves or, in a couple of recent incidents, because they think they are helping an animal by removing it from its habitat. Basically, don't be a touron.
People have been seriously injured and animals have died as a result of tourists being in contact with them. There are hefty fines and possible jail time for those who are caught violating park policies, which are intended to protect visitors as well as the place itself. "I still can't understand why people would turn their backs and get closer to wild animals just to get a selfie," said Hoeninghausen.
4. If you want to have a chance at avoiding crowds and traffic in the park, get up very early and aim to be at the entrance of your choosing well before 9 a.m. "To avoid traffic and maximize opportunities to see wildlife, or the more popular natural features as well, get up early and get out," said Hoeninghausen. "Have a late breakfast, enjoy the midday on the east side of the park near the lake, which is less busy, or go hiking somewhere, then go back out in the evening when the day-trippers have returned to their gateway community lodging."
5. July is the busiest month in Yellowstone National Park, with the number of visitors significantly higher than any other month. If possible, plan your trip for August or September. Or, next year make it May or June when the weather is still slightly cooler and the number of people in the park is less by hundreds of thousands.
6. Seeing the sights — geysers, wildlife, waterfalls — is even better in person, but to truly experience the park, get out of the car and on a trail. Yellowstone National Park is 3,472 square miles or 2,221,766 acres, and is 80% forest, with only a small percent of the whole park developed. With 1,000 miles of backcountry hiking trails and 92 trailheads, there are many opportunities to see something that thousands of others might not venture off the road to witness. Always check in at a ranger station, or at least the park's website, for current trail conditions. Make sure to pack bear spray for all hikes and let someone know when you expect to return from your day hike.
Yellowstone National Park is open this year and has nearly fully recovered from the floods, and there are hotel reservations still available for this summer in the park and nearby gateway towns.
Subscribe to our weekly newsletter, In The Know, to get entertainment news sent straight to your inbox.
Source: Read Full Article