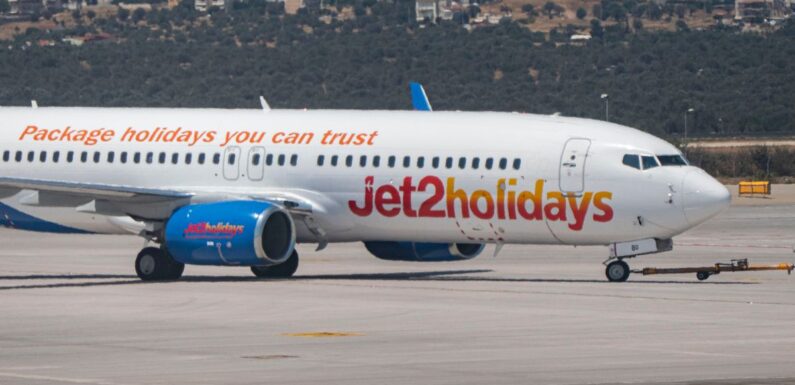 Brits who have booked a holiday with Jet2 or Jet2Holidays to Skiathos, in Greece, may no longer be able to travel abroad. The holiday company has cancelled any and all flights and holidays to the Greek island until next week due to the severe weather affecting the hotspot.
Skiathos, off the Aegean Sea, has been battered by dangerous floods which has seen tourists stranded and several people dead. Hundreds of Brits are currently stuck on the island due to the torrential rain and flash floods.
Police have ordered all residents and tourists to stay off the streets and the island's mayor has put in a request to declare a state of emergency. Homes and businesses owned by locals have been damaged by the floods and powercuts are also hitting the usually sunny island.
READ MORE: Holidays 'ruined' as UK airspace closes – leaving Brits trapped for hours without food
Anyone who has booked to fly to Skiathos or stay on the island should check with their airline or travel agent to see how to proceed. IF you are unable to get in touch with your airline contact your travel insurer or the website where you booked your trip.
A spokesperson for Jet2Holidays said: "We are continuing to closely monitor the weather conditions that have been affecting Skiathos.
"Due to these extraordinary circumstances, and with our customers' best interests in mind, we have taken the decision to cancel all flights and holidays that are due to depart to Skiathos up to and including Tuesday 12th September.
"As well as providing certainty for our customers, we believe that this is the right thing to do in terms of allowing the island and its population to quickly return to normal following this week's events.
"We will be contacting affected customers with regards to their refund and rebooking options. We plan to fly our scheduled programme of aircraft to Skiathos with no customers onboard, so that we can bring customers back to the UK. We will review this flying programme closely and may put on additional aircraft to fly customers home if required.
"This announcement comes in addition to the cancellations to Skiathos that we have already made this week (six flights operating between Monday 4 and Wednesday 6 September). We will fly all customers affected by these cancellations back to the UK too, and we will communicate directly with them to let them know.
"We are continuing to closely monitor the situation on the island and have been in touch with customers in resort to advise them of the situation, and to ask them to follow the advice of the local authorities as well as their hoteliers. In addition, our in-resort teams are working tirelessly to visit and look after customers despite infrastructure challenges caused by the weather.
"We recognise that this is an extremely difficult and unpleasant experience for our customers, and we of course are extremely sorry to hear this. Although extraordinary events such as these are completely outside of our control, our absolute focus is on doing everything we can to look after everyone."
Source: Read Full Article